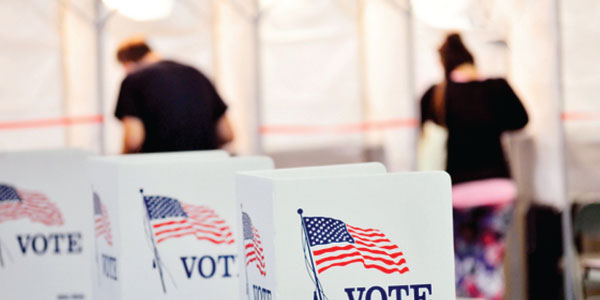 There are more than 50 races on Nov. 2 ballots across our bistate metro area. More than a dozen cities will elect mayors; a number will elect councilmembers, commissioners, school board members, college board trustees and water board members; and several jurisdictions will decide ballot propositions.
It's too late for Kansans who didn't register to vote in the Nov. 2 election. The deadline was last week. Advance or early voting begins this week. Missourians had until Oct. 6 to register. Voters who met certain criteria could request an absentee ballot from their local election authority. Oct. 20 was the deadline.
Historically, local elections draw fewer voters than general and midterm elections despite the weighty impact local officials have on daily quality of life issues. They determine local tax rates. They set policy and create rules and regulations governing neighborhoods, parks, buildings, businesses, traffic and more. They oversee community college operations. They approve public safety practices and expenses. They decide what students in public schools, grades PreK through 12 are learning; set school district policies, curriculum, budgets and calendars; and approve funding for enrichment programs.
Political science researchers point to several factors affecting voter apathy in local elections. A study at Johns Hopkins University in 2018 showed that many Americans lack civic knowledge regarding local institutions. For instance, 25 percent of those polled didn't know which level of government is responsible for law enforcement, and 30 percent couldn't identify whether it was city, county or state government that creates and enforces local zoning laws.
Other factors researchers cited for low voter turnout in local elections include a dearth of media coverage; absence of citizen interest in maintaining or improving the community; insufficient campaign spending; and a feeling of helplessness and hopelessness for some folks who feel that local election outcomes have never changed or improved conditions.
Local elections do matter; they directly affect our day-to-day quality of life. And in fact, because voter turnout rates for local elections are so low, the importance of each vote cast is greater, giving voters a more powerful voice in local issues that directly affect our respective communities.
There are resources to help become an informed voter. Check with the local election office for a list of candidates and issues and a sample ballot. Find out from the election office voting hours and locations. Use candidate names and an online search engine to learn about the candidates and their positions on issues from their campaign websites. Explore their social media accounts for a more personal look into their views. The League of Women Voters Vote 411 initiative (https://www.lwv.org/elections/vote411) offers nonpartisan information on candidates and issues. The website provides some sample ballots and personalized voting information.
The Nov. 2 election is an opportunity to really make a difference in our immediate environment and local laws and leadership.
---
2 de noviembre: la participación pública informada es de suma importancia
Hay más de 50 carreras en las boletas electorales del 2 de noviembre en nuestra área metropolitana de dos estados. Más de una docena de ciudades elegirán alcaldes; algunos elegirán miembros del consejo, comisionados, miembros de la junta escolar, fideicomisarios de la junta universitaria y miembros de la junta del agua; y varias jurisdicciones decidirán las propuestas de votación.
Es demasiado tarde para los residentes de Kansas que no se registraron para votar en las elecciones del 2 de noviembre. La fecha límite fue la semana pasada. La votación anticipada comienza esta semana. Los residentes de Missouri tenían hasta el 6 de octubre para registrarse. Los votantes que cumplían con ciertos criterios podían solicitar una boleta de voto ausente a la autoridad electoral local. El 20 de octubre era la fecha límite.
Históricamente, las elecciones locales atraen a menos votantes que las elecciones generales y de mitad de período a pesar del gran impacto que tienen los funcionarios locales en los problemas diarios de la calidad de vida. Ellos determinan las tasas de impuestos locales. Establecen políticas y crean reglas y regulaciones que gobiernan vecindarios, parques, edificios, negocios, tráfico y más. Supervisan las operaciones de las universidades comunitarias. Aprueban prácticas y gastos de seguridad pública. Deciden lo que están aprendiendo los estudiantes de las escuelas públicas, desde PreK hasta el grado 12; establecen políticas, currículo, presupuestos y calendarios del distrito escolar; y aprueban fondos para programas de enriquecimiento.
Los investigadores de ciencias políticas señalan varios factores que afectan la apatía de los votantes en las elecciones locales. Un estudio de la Universidad Johns Hopkins en 2018 mostró que muchos estadounidenses carecen de conocimientos cívicos sobre las instituciones locales. Por ejemplo, el 25 por ciento de los encuestados no sabía qué nivel de gobierno es responsable de la aplicación de la ley, y el 30 por ciento no pudo identificar si era el gobierno de la ciudad, el condado o el estado el que crea y hace cumplir las leyes de zonificación local.
Otros factores que los investigadores citaron para la baja participación de votantes en las elecciones locales incluyen la escasez de cobertura de los medios; ausencia de interés ciudadano en mantener o mejorar la comunidad; gasto de campaña insuficiente; y un sentimiento de impotencia y desesperanza para algunas personas que sienten que los resultados de las elecciones locales nunca han cambiado ni mejorado las condiciones.
Las elecciones locales sí importan; afectan directamente nuestra calidad de vida diaria. Y de hecho, debido a que las tasas de participación de votantes en las elecciones locales son tan bajas, la importancia de cada voto emitido es mayor, lo que les da a los votantes una voz más poderosa en los asuntos locales que afectan directamente a nuestras respectivas comunidades.
Hay recursos para ayudar a convertirse en un votante informado. Consulte con la oficina electoral local para obtener una lista de candidatos y problemas y una boleta de muestra. Infórmese sobre los horarios y lugares de votación de la oficina electoral. Utilice los nombres de los candidatos y un motor de búsqueda en línea para obtener información sobre los candidatos y sus posiciones sobre temas en los sitios web de sus campañas. Explore sus cuentas de redes sociales para tener una visión más personal de sus puntos de vista. La iniciativa League of Women Voters Vote 411 (https://www.lwv.org/elections/vote411) ofrece información no partidista sobre candidatos y temas. El sitio web proporciona algunas boletas de muestra e información de votación personalizada.
La elección del 2 de noviembre es una oportunidad para realmente hacer una diferencia en nuestro entorno inmediato y en las leyes y el liderazgo locales.