By Tere Siqueira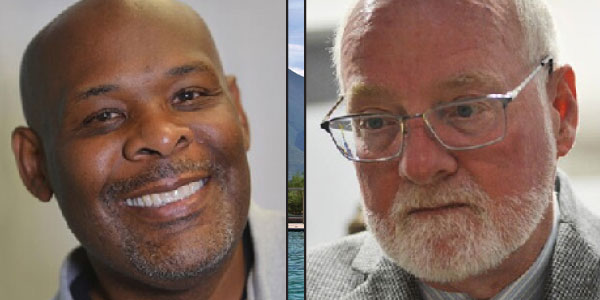 Voters can head to the polls for a few major elections in the Kansas City area.
One of those elections is the general election for mayor/CEO of the Unified Government of Wyandotte County/Kansas City, Kansas, scheduled for Nov. 2. Early voting began on Oct. 23.
The candidates are incumbent David Alvey and Tyrone Garner.
Alvey was elected Mayor/CEO in 2017, defeating then-Mayor/CEO Mark Holland. Before becoming mayor/CEO, Alvey served eight years on the Board of Public Utilities and as a Rockhurst High School administrator.
Alvey is focusing on "improving the look, feel and function of Wyandotte County," as his campaign website states. One of his strategies toward pursuing that goal is focusing on continuing to bring jobs to the county and city.
According to Alvey's website, some of the work that displays his leadership skills includes "rapid response to the pandemic," being "the first mayor to put neighborhoods at the center of city planning" and his "commitment to safe communities."
Garner is a longtime Wyandotte County resident, his campaign website states. A Wyandotte High School graduate, he is a U.S. Army veteran and retired Kansas City, Kansas, Police Department deputy chief.
According to Garner's website, his platform includes improving county and city infrastructure; providing tax relief; conducting audits to make the Unified Government more efficient; and improving economic opportunities for small businesses, minorities and women.
Both candidates sent a message to Dos Mundos' readers and Wyandotte County's Hispanic community:
Garner: "In unity, we have the opportunity to stand up for families, workers, small businesses, our immigrant community, neighborhoods, the disinvested, the disenfranchised, the marginalized and those who desire a better Wyandotte County for all of its residents."
Alvey: "I am very proud of the many accomplishments of the Hispanic community in Kansas City, Kansas! I am honored to be able to assist you in developing strong neighborhoods, successful businesses and prosperous families! We need you, and we appreciate you! Please consider supporting me with your vote on Nov. 2, so we can continue our progress in building thriving communities in KCK."
To learn more about the election and how to register to vote, visit www.wycovotes.org.
---
Conoce a tus candidatos: Elección del alcalde para el Unified Government
Los votantes pueden dirigirse a las urnas para algunas elecciones importantes en el área de Kansas City.
Una de ellas es la elección general para alcalde/CEO del Unified Government
de Wyandotte/Kansas City, Kansas, programada para el 2 de noviembre. La votación anticipada comenzó el 23 de octubre.
Los candidatos son el actual alcalde David Alvey y Tyrone Garner.
Alvey fue elegido alcalde/CEO en 2017, derrotando al entonces alcalde/CEO Mark Holland. Antes de convertirse en alcalde/CEO, Alvey sirvió ocho años en el Consejo de Public Utilities y como administrador de la escuela Preparatoria Rockhurst.
Alvey se está centrando en "mejorar el aspecto, la sensación y la función del condado de Wyandotte", como dice el sitio web de su campaña. Una de sus estrategias para lograr ese objetivo es enfocarse en seguir trayendo puestos de trabajo al condado y a la ciudad.
Según el sitio web de Alvey, algunos de los trabajos que demuestran su capacidad de liderazgo incluyen "la rápida respuesta a la pandemia", ser "el primer alcalde en poner los barrios en el centro de la planificación de la ciudad" y su "compromiso con las comunidades seguras".
Garner lleva mucho tiempo residiendo en el condado de Wyandotte, según indica la página web de su campaña. Se graduó en el Wyandotte High School, es veterano del ejército de EE.UU. y subjefe retirado del Departamento de Policía de Kansas City, Kansas.
Según el sitio web de Garner, su plataforma incluye la mejora de la infraestructura del condado y de la ciudad; proporcionar reducción de impuestos; la realización de auditorías para que el Unified Government sea más eficiente; y la mejora de las oportunidades económicas para las pequeñas empresas, las minorías y las mujeres.
Ambos candidatos enviaron un mensaje a los lectores de Dos Mundos y a la comunidad hispana del condado de Wyandotte:
Garner: "En unidad, tenemos la oportunidad de defender a las familias, a los trabajadores, a las pequeñas empresas, a nuestra comunidad de inmigrantes, a los vecindarios, a los desposeídos, a aquellos sin representación, a los marginados y a los que desean un mejor condado de Wyandotte para todos sus residentes."
Alvey: "¡Estoy muy orgulloso de los muchos logros de la comunidad hispana en Kansas City, Kansas! ¡Me siento honrado de poder ayudarlos a desarrollar vecindarios fuertes, negocios exitosos y familias prósperas! ¡Los necesitamos y los apreciamos! Por favor, consideren apoyarme con su voto el 2 de noviembre, para que podamos continuar nuestro progreso en la construcción de comunidades prósperas en KCK."
Para obtener más información sobre las elecciones y cómo registrarse para votar, visite www.wycovotes.org.