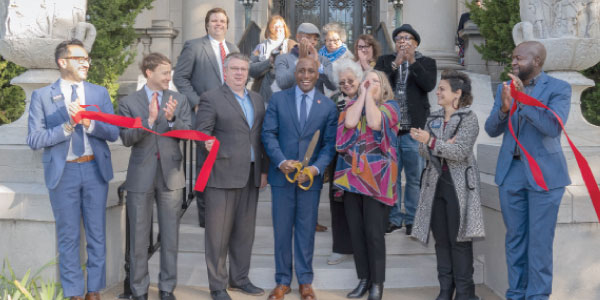 By Tere Siqueira
After seven years of renovation efforts, the Kansas City Museum staged a ribbon-cutting and dedication ceremony on Oct. 21 to celebrate its reopening.
The reopening follows the completion of work on Corinthian Hall, one of five buildings that comprise the museum. Built in 1910 and occupied for 20-plus years by Robert Alexander Long and his family before eventually becoming a science museum, Corinthian Hall cost $22 million to revamp, the museum's website states.
The Corinthian Hall project is the first stage of "a multi-year, multi-stage project," museum information states. Other parts of the museum campus slated for renovation include the gates and fence on the boundaries of the property, located at 3218 Gladstone Blvd. in Kansas City, Missouri's Northeast area, its website states.
Additional parts of the museum are slated for reopening in 2022. Early next year, the museum plans to reopen its soda fountain, Elixir, with "a limited food and drink menu," it states. Café at 3218 also is scheduled for a 2022 opening.
Community members are encouraged to visit the museum, which aims to share the "unfolding stories about the city's vibrant history, cultural heritage and pride," it states. Attractions include galleries, the JE Dunn Construction Theater, the boutique Wisteria and a billiard room.
A city-owned facility, the museum is run "through a cooperative agreement" between the Kansas City, Missouri Parks and Recreation Department and the Kansas City Museum Foundation, its website states.
---
El Museo de Kansas City reabre sus puertas tras siete años de reformas
Tras siete años de trabajos de renovación, el Museo de Kansas City celebró el 21 de octubre una ceremonia de corte de cinta para celebrar su reapertura.
La reapertura se produce tras la finalización de las obras del Corinthian Hall, uno de los cinco edificios que componen el museo. Construido en 1910 y ocupado durante mas de 20 años por Robert Alexander Long y su familia antes de convertirse en un museo de ciencias, la renovación del Corinthian Hall costó 22 millones de dólares, según indica el sitio web del museo.
El proyecto del Corinthian Hall es la primera fase de "un proyecto de varios años y varias etapas", según la información proporcionada por el museo. Otras partes del campus del museo que se van a renovar son las puertas y la valla de los límites de la propiedad, situada en el número 3218 de Gladstone Blvd. en la zona noreste de Kansas City, Missouri.
Está previsto que otras partes del museo se reabran en 2022. A principios del próximo año, el recinto planea reabrir la fuente de sodas, Elixir, con "un menú limitado de comida y bebida". El Café at 3218 también tiene prevista su apertura en 2022.
Se anima a los miembros de la comunidad a visitar el museo, cuyo objetivo es compartir las «historias que se presentan sobre la vibrante historia, el patrimonio cultural y el orgullo de la ciudad". Las atracciones incluyen galerías, el Teatro JE Dunn Construction, la boutique Wisteria y una sala de billar.
El museo, que es propiedad de la ciudad, se gestiona "a través de un acuerdo de cooperación» entre el Departamento de Parks and Recreation de Kansas City, Missouri, y la Fundación de Museos de Kansas City.