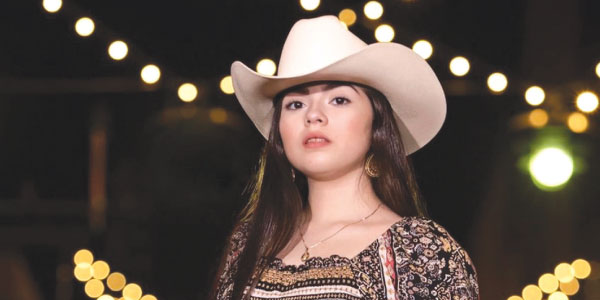 By Roberta Pardo
Elizabeth "Eli" Lugo's music career is growing.
Lugo started singing when she was 6. A DJ at an event at her local church heard her sing and invited her to the stage. Even at that age, Lugo never felt embarrassed about performing, she said.
After that, Lugo's mother encouraged her passion and found her music teachers. Her first teacher was Sandra Zamora. Under her guidance, Lugo participated in the Mi Talento Kids, a Kansas City area children's contest. She took second place.
Now 13, Lugo takes classes with Victor Olvera. Previously, she received guitar lessons from Luis Portillo and singing lessons from Fedra Cooper.
"I'm really happy for every teacher I've had because they taught me so many things on how to do better and how I should be better in the future," she said.
Lugo has performed at multiple events throughout the year, but her favorite is performing at Fiesta Hispana, where she has participated the past few years.
"I love to represent my culture, which is Mexico … and to show my culture," she said.
Lugo's love for her culture is expressed through her singing. She primarily sings in Spanish.
"There's just something about it – the connection," she said. "I love the words, the music."
Lugo's main musical influence is the late Selena Quintanilla, she said. Recently, she has gained more popularity by going viral on TikTok, getting more than 1 million views.
But not everything centers around music in Lugo's life. She also wants to finish her education and eventually become a nurse.
Lugo encourages other children and teens to follow their passions.
"If someone wants to be big in whatever they want to do, (they should) just do what they want, do what makes them happy and never let anybody stop them from doing it," she said. "Never give up, never let anybody take it from you."
Find Lugo on Facebook and YouTube as Eli Lugo, TikTok as @eli.lugomusic and Instagram as @eli.lugo_music.
---
Eli Lugo hace crecer su carrera musical
La carrera musical de Elizabeth "Eli" Lugo está creciendo.
Lugo comenzó a cantar cuando tenía 6 años. Un DJ en un evento en su iglesia local la escuchó cantar y la invitó al escenario. Incluso a esa edad, Lugo nunca se sintió avergonzada de cantar en público.
Después de eso, la madre de Lugo alentó su pasión y encontró a sus profesores de música. Su primera maestra fue Sandra Zamora. Bajo su dirección, Lugo participó en Mi Talento Kids, un concurso infantil del área de Kansas City. Ella obtuvo el segundo lugar.
Lugo, que ahora tiene 13 años, toma clases con Víctor Olvera. Anteriormente, recibió lecciones de guitarra de Luis Portillo y lecciones de canto de Fedra Cooper.
"Estoy muy feliz por cada maestro que he tenido porque me enseñaron muchas cosas sobre cómo hacerlo mejor y cómo debería ser mejor en el futuro", dijo.
Lugo se ha presentado en múltiples eventos a lo largo del año, pero su favorita es la Fiesta Hispana, donde ha participado los últimos años.
"Me encanta representar mi cultura, que es México… y mostrar mi cultura", dijo.
Su amor por su cultura se expresa a través de su canto. Ella canta principalmente en español.
"Hay algo en eso, una conexión", dijo. "Me encantan las palabras, la música".
Su principal influencia musical es la fallecida Selena Quintanilla, dijo. Recientemente, ha ganado más popularidad al volverse viral en TikTok, obteniendo más de 1 millón de visitas.
Pero no todo gira en torno a la música en la vida de Lugo. Ella también quiere terminar su educación y eventualmente convertirse en enfermera.
Lugo anima a otros niños y adolescentes a seguir sus pasiones.
"Si alguien quiere ser grande en lo que quiera hacer, (debe) hacer lo que quiera, lo que lo haga feliz y nunca dejar que nadie le impida hacerlo", dijo. "Nunca se rindan, nunca dejen que nadie se los quite".
Encuentra a Lugo en Facebook y YouTube como Eli Lugo, TikTok como @eli.lugomusic e Instagram como @eli.lugo_music.