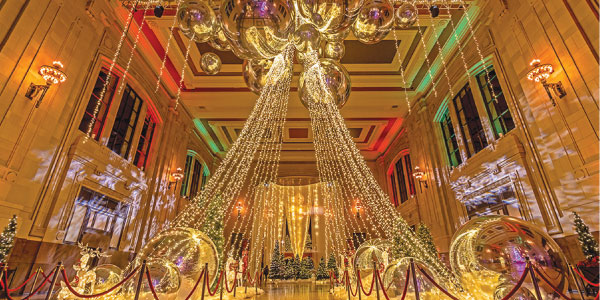 Commentary by Tere Siqueira 
It is Christmastime again.
Across the Kansas City area and elsewhere, families are decorating their homes and businesses with lights and bringing some much-needed holiday cheer. They also are attending Christmas-themed events.
If you are looking to go out to celebrate the holidays, fortunately, there are plenty of area options. They include the following:
*The Soul of Santa: Organized by The Soul of Santa Do Good Foundation, this event brings a full lineup of holiday cheer to Kansas City, Missouri's 18th & Vine neighborhood, including a tree-lighting ceremony, community breakfast, toy giveaway and a concert at the historic Gem Theater. This year, an expanded celebration includes a second weekend of events at the Shops on Blue Parkway. The event opens Friday-Saturday (Dec. 3-4) and concludes Dec. 10-11.
*Crown Center: The Kansas City, Missouri, shopping center is gearing up for a festive holiday season, complete with some of the city's favorite traditions. The slate of activities at Crown Center includes the Ice Terrace, Santa's Gingerbread Station and diverse concerts. Visit https://www.crowncenter.com to learn more details about each festivity. 
*Holiday Light and Magic: This magical, mile-long, drive-thru display in Bonner Springs, Kansas, showcases mesmerizing holiday lights. The attraction, which opened Nov. 18, will run into the new year. Tour slots are available 6-9 p.m. Sunday-Thursday, and 6-11 p.m. Friday-Saturday. All proceeds benefit Unified Government Parks. Tickets are $20, plus taxes/fees, per standard vehicle.
*Holiday Reflections at Union Station: The Christmas experience fills Union Station's massive Grand Plaza and features sky-reaching lights, dozens of decorated trees, forest friends and giant, floating mirrored ornaments. Besides enjoying the light display, kids can ride the historic Jones Store Train. Tickets are $5. 
*Kansas City Aquarium: The aquarium will shimmer with winter holiday spirit in December with the Sea of Lights experience, the only underwater light spectacular in Kansas City. Additionally, the Kansas City Aquarium will feature "Scuba Claus Dive" shows on select days and times. The experience is included with general admission tickets.
---
Eventos con temas navideños para el área
Es Navidad de nuevo.
En todo el área de Kansas City y en otros lugares, las familias están decorando sus hogares y negocios con luces y aportando la alegría navideña que tanto necesitan. Las personas también comienzan el ritual de asisitir a eventos con temas navideños.
Si está buscando salir a celebrar las fiestas, afortunadamente, hay muchas opciones en la zona. Entre ellas se encuentran las siguientes:
The Soul of Santa: Organizado por The Soul of Santa Do Good Foundation, este evento trae una alineación completa de alegría navideña a Kansas City. El evento del vecindario 18th y Vine de Missouri, incluye una ceremonia de iluminación de árboles, desayuno comunitario, obsequio de juguetes y un concierto en el histórico Teatro Gem. Este año, una celebración incluye un segundo fin de semana de eventos en las tiendas de Blue Parkway. El evento abre de viernes a sábado (3-4 de diciembre) y concluye del 10 al 11 de diciembre.
Crown Center: El centro comercial de Kansas City, Missouri, se está preparando para una temporada festiva, con algunas de las tradiciones favoritas de la ciudad. La lista de actividades del Crown Center incluye Ice Terrace, Santa's Gingerbread Station y diversos conciertos. Visite https://www.crowncenter.com para conocer más detalles sobre cada festividad.
Holiday Light and Magic: Esta mágicexhibición de una milla de largo en Bonner Springs, Kansas, exhibe fascinantes luces navideñas. La atracción, que abrió el 18 de noviembre, comenzará el año nuevo. Los espacios para recorridos están disponibles de 6 a 9 p.m. de domingo a jueves y de 6 a 11 p.m. los viernes y sábados. Todos los ingresos benefician a Unified Gvernment Parks. Los boletos cuestan $20, más impuestos/ tarifas, por vehículo estándar.
*
Reflexiones navideñas en Union Station: La experiencia navideña llena la enorme Grand Plaza de Union Station y presenta luces que llegan hasta el cielo, docenas de árboles decorados, los amigos del bosque y adornos de figuras flotantes gigantes. Además de disfrutar de la exhibición de luces, los niños pueden viajar en el histórico Jones Store Train. Los boletos cuestan $5.
Kansas City Aquarium: El acuario brillará con el espíritu de las vacaciones de invierno en diciembre con la experiencia Sea of ​​Lights, la única luz submarina espectacular en Kansas City. Además, el Acuario de Kansas City contará con espectáculos de "Scuba Claus Dive" en días y horarios seleccionados. La experiencia está incluida con las entradas de admisión general.