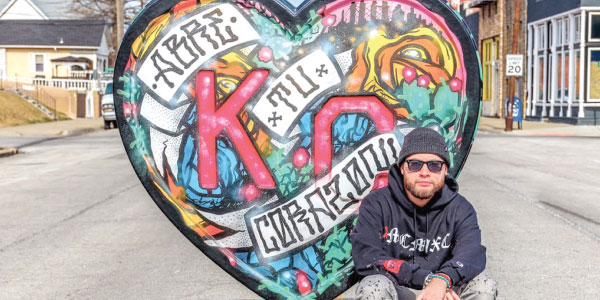 ---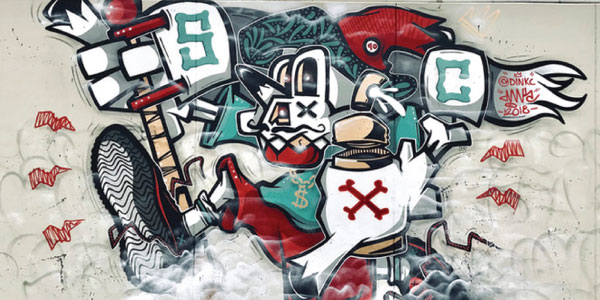 Viaje de un artista latino incluye la campaña desfile de corazones
Parte I de una serie de dos partes
Una campaña de arte y recaudación de fondos en toda el área está dando a un nativo del condado de Wyandotte, Kansas, la oportunidad de compartir su marca y presentar su trabajo a miles de transeúntes.
La exhibición/campaña es el Desfile de Corazones (Parade of Hearts). Como reportó Dos Mundos, los artistas del área han creado diseños en esculturas de corazones, ahora en exhibición hasta mayo en varios lugares públicos en el área. Cuando finalice la exhibición, los corazones se venderán y las ganancias beneficiarán a múltiples causas, incluidas las relacionadas con la atención médica.
Laedan Galicia, conocido como "DINKC", se encuentra entre los artistas destacados. El nombre de su diseño es "Abre tu Corazón". Está ubicado en Westside Fountain en Summit Street en el vecindario Westside de Kansas City, Missouri, según el sitio web Parade of Hearts, que incluye enlaces a los corazones a través de Google Maps. Como dice DINKC en el sitio web, su diseño hace un guiño a su herencia mexicana a través de toques como nopales y calaveritas de azúcar.
DINKC considera un honor el participar en el Parade of Hearts.
"Los corazones (están) siendo exhibidos alrededor de la ciudad para promover las artes, y (la) comunidad es grandiosa", dijo.
DINKC decidió postularse para mostrar su arte después de escuchar a sus amigos.
"Creé un diseño que representaba todos los aspectos que abarcan mi marca y me eligieron entre 700 solicitantes", dijo. "(Fue) muy emocionante".
El honor es parte de un viaje artístico que comenzó en la infancia, cuando DINKC dibujaba sus personajes de dibujos animados favoritos y asistía a programas de arte extraescolares y de verano.
"Desde que tengo memoria, siempre he estado dibujando", dijo DINKC. "Empecé simplemente dibujando algunos de mis personajes favoritos de 'Dragon Ball Z', 'Power Rangers', 'Looney Tunes', 'Rocket Power', 'Pokemón', 'El Chavo del 8', Little Homies de las máquinas expendedoras y personajes de revistas y, por supuesto, Mickey (Mouse) y dibujos animados de la vieja escuela".
El honor también es parte de un viaje que incluyó unirse a un equipo de grafiti a principios de la escuela intermedia. Su mejor amigo era parte de ese equipo, dijo.
"Aprendí mucho sobre la cultura, el respeto, los libros negros, los marcadores, las letras y la rapidez de la pintura en aerosol", dijo DINKC.
Mientras asistia a Shawnee Mission East High School en Prairie Village, Kansas, sus maestros motivaron a DINKC a crear un portafolio y solicitar la admisión a las escuelas de arte. En 2010, fue admitido en el Instituto de Arte de Kansas City (KCAI, por sus siglas en inglés).
"Allí, aprendí los fundamentos en el primer año y trabajé en ciertas áreas en las que era más débil", dijo. "En segundo año, me especialicé en Ilustración y ayudé a desarrollar el departamento".
En su paso por KCAI, DINKC también hizo una pasantía en Boulevard Brewing Co. en Kansas City, Missouri, dijo. Allí "aprendió más sobre diseño y marketing", dijo. Además, persiguió proyectos independientes que implicaban "crear logotipos, diseñar gráficos y otros proyectos de marca para ganar dinero mientras comenzaba a construir una clientela", dijo.
"La combinación de todo esto eran elementos necesarios que necesitaba aprender para comenzar a construir mi marca e identidad como artista, que es lo que comencé oficialmente en 2012 como DINKC Studios", dijo DINKC.
DINKC es un acrónimo de Death Is Not Knowing Certainty.
Después de graduarse, DINKC se mudó en 2014 a la ciudad de Nueva York, donde aprendió sobre graffiti, murales a gran escala, exposiciones en galerías y la diversa comunidad artística.
"Fue un gran choque cultural, seguro", dijo. "Pero también, sentí que era absolutamente necesario para mi crecimiento".
Nota de autor: Obtenga más información sobre la carrera artística de DINKC y sus consejos para los artistas jóvenes la próxima semana.