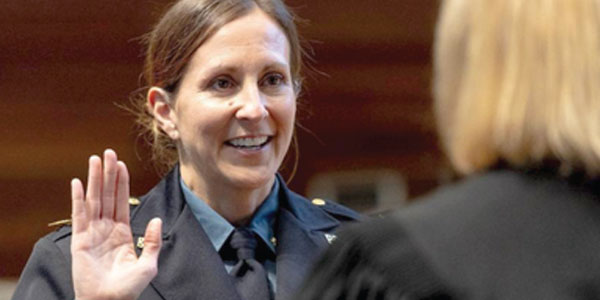 Kansas City's new police chief has now been on the job for two months, but community criticism of the selection process persists.
Stacey Graves was sworn in Dec. 15. She's a 25-year veteran of the department and the first permanent female police chief in the department's 148-year history. Graves was the only internal candidate among the three finalists for chief. They were culled from a pool of 21 potential candidates who applied during the six-week period the job was advertised, according to the Board of Police Commissioners (BOPC).
The other two finalists the board screened and selected were Inspector DeShawn Beaufort of the Philadelphia Police Department and retired Lt. Col. Scott Ebner of the New Jersey State Police. Shortly after their names were announced, local community groups and reporters discovered that Beaufort had been demoted in 2021 because of a road rage incident. And Ebner is named in two ongoing lawsuits claiming unfair and discriminatory hiring practices.
The search firm hired by the BOPC to find a chief claims that it conducted an "exhaustive" search and recruitment. But community leaders are incensed. The records of two of the finalists were flawed.
What's more, the BOPC held only one meeting to introduce the finalists to Kansas City residents, and the entire process lacked transparency.
Who were the 21 applicants? What was the screening process for vetting applications? What was the process for narrowing down the number of applications? How many questions were asked during candidate interviews, and what were they? Did all five BOPC members participate in all interviews? How many interviews were there for each applicant? Were any other city officials present? If so, who invited them?
Dos Mundos has learned that one of the candidates for the top cop job is a decorated veteran of the Kansas City Police Department. The candidate has a degree in criminal justice administration and has worked as commander in various units. The candidate is a Hispanic Kansas City native.
The Hispanic candidate compares favorably to Graves, who won the job, and considering that Hispanics account for 11% of Kansas City's population, I add my voice to those seeking to discover exactly how the BOPC chose the police chief. Understanding the process by which candidates were vetted might help dispel public doubts, disaffection and distrust. The public must have faith that the process wasn't rigged.
---
Se urge transparencia en el proceso de contratación
El nuevo jefe de policía de Kansas City ya lleva dos meses en el cargo, pero persisten las críticas de la comunidad al proceso de selección.
Stacey Graves asumió el cargo el 15 de diciembre. Tiene 25 años de antigüedad en el departamento y es la primera jefa de policía permanente en los 148 años de historia del departamento. Graves fue la única candidata interna entre los tres finalistas para jefe. Fueron seleccionados de un grupo de 21 candidatos potenciales que se postularon durante el período de seis semanas en que se anunció el trabajo, según la Junta de Comisionados de Policía (BOPC, por sus siglas en inglés).
Los otros dos finalistas que la junta evaluó y seleccionó fueron el inspector DeShawn Beaufort del Departamento de Policía de Filadelfia y el teniente coronel retirado Scott Ebner de la Policía Estatal de Nueva Jersey. Poco después de que se anunciaran sus nombres, los grupos comunitarios locales y los reporteros descubrieron que Beaufort había sido degradado en 2021 debido a un incidente de ira al volante. Y Ebner es mencionado en dos juicios en curso que alegan prácticas de contratación injustas y discriminatorias.
La empresa de búsqueda contratada por el BOPC para encontrar a un jefe afirma que realizó una búsqueda y reclutamiento "exhaustivos". Pero los líderes comunitarios están indignados. Los registros de dos de los finalistas no dieron la talla.
Además, el BOPC sólo organizó una reunión para presentar a los finalistas a los residentes de Kansas City, y todo el proceso careció de transparencia.
¿Quiénes eran los 21 solicitantes? ¿Cuál fue el proceso de selección para las solicitudes de investigación? ¿Cuál fue el proceso para reducir el número de solicitudes? ¿Cuántas preguntas se hicieron durante las entrevistas a los candidatos y cuáles fueron? ¿Los cinco miembros de BOPC participaron en todas las entrevistas? ¿Cuántas entrevistas hubo para cada solicitante? ¿Había otros funcionarios de la ciudad presentes? Si es así, ¿quién los invitó?
Dos Mundos se ha enterado de que uno de los candidatos para el puesto de policía principal es un veterano condecorado del Departamento de Policía de Kansas City. El candidato es licenciado en administración de justicia penal y se ha desempeñado como comandante en varias unidades. El candidato es un nativo hispano de Kansas City.
El candidato hispano se compara favorablemente con Graves, quien ganó el puesto, y considerando que los hispanos representan el 11% de la población de Kansas City, sumo mi voz a quienes buscan descubrir exactamente cómo la BOPC eligió a la jefe de policía. Comprender el proceso por el cual los candidatos fueron examinados podría ayudar a disipar las dudas, el descontento y la desconfianza del público. El público debe tener fe en que el proceso no fue manipulado.