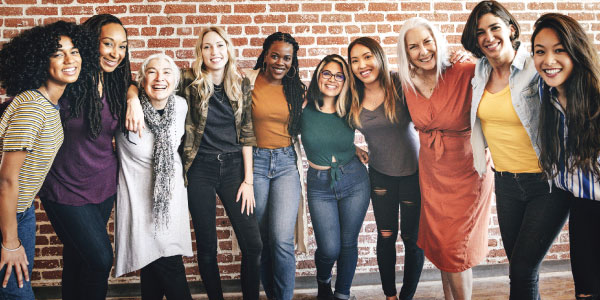 By Tere Siqueira
Each year in March, the United States, Australia and Great Britain recognize women's contributions to history by celebrating Women's History Month.
In the United States, Women's History Month resulted from a weeklong celebration that started in 1978 organized by the Sonoma, California, school district, the National Women's History Museum website and other sources state. In 1980, President Carter issued the first presidential proclamation declaring March 8 as National Women's History Week.
In 1986, the National Women's History Project's petition to expand the honoring of women from a week into a month was approved. In 1987, Congress passed a law establishing National Women's History Month.
Each year since then, the National Women's History Project has designated a theme for its observance and encourages people to spread awareness about women in history. The 2023 theme is "Celebrating Women Who Tell Our Stories."
The theme is "honors women in every community who have devoted their lives and talents to producing art, pursuing truth, and reflecting the human condition decade after decade," the National Women's History Alliance website states. These include a recognition to authors, songwriters, scholars, playwrights, performers, and grandmothers throughout time.
In observance of Women's History Month, every year, Dos Mundos honors Latinas whose accomplishments have helped and/or inspired the community.
The Dos Mundos team selects eight honorees from among the great women who build and are part of the Hispanic community. Our honorees include women who are driving an area of the community within their profession and/or social service.
After an interview, we dedicate an article to each honoree and give them a platform to tell their story. Starting with this issue, we continue that tradition.
---
Celebrando el Mes de laHistoria de la Mujer
Cada año, en marzo, Estados Unidos, Australia y Gran Bretaña reconocen la contribución de las mujeres a la historia celebrando el Mes de la Historia de la Mujer.
En Estados Unidos, el Mes de la Historia de la Mujer surgió a partir de una celebración de una semana de duración que comenzó en 1978 organizada por el distrito escolar de Sonoma (California), según afirman el sitio web del Museo Nacional de Historia de la Mujer y otras fuentes. En 1980, el Presidente Carter emitió la primera proclama presidencial declarando el 8 de marzo Semana Nacional de la Historia de la Mujer.
En 1986, se aprobó la petición del Proyecto Nacional de Historia de las Mujeres de ampliar el homenaje a las mujeres de una semana a un mes. En 1987, el Congreso aprobó una ley por la que se establecía el Mes Nacional de la Historia de la Mujer.
Desde entonces, el Proyecto Nacional de Historia de las Mujeres ha designado cada año un tema para su celebración y anima a la gente a difundir la concienciación sobre las mujeres en la historia. El tema del 2023 es "Celebrando a las mujeres que cuentan nuestras historias".
El tema "rinde homenaje a las mujeres de todas las comunidades que han dedicado su vida y su talento a producir arte, buscar la verdad y reflejar la condición humana década tras década", afirma el sitio web de la Alianza Nacional por la Historia de las Mujeres. Entre ellas se incluye un reconocimiento a autoras, compositoras, eruditas, dramaturgas, intérpretes y abuelas a lo largo del tiempo.
Con motivo del Mes de la Historia de la Mujer, Dos Mundos rinde homenaje cada año a latinas cuyos logros han ayudado y/o inspirado a la comunidad.
El equipo de Dos Mundos selecciona a ocho homenajeadas entre las grandes mujeres que construyen y forman parte de la comunidad hispana. Nuestras homenajeadas incluyen mujeres que impulsan un área de la comunidad dentro de su profesión y/o servicio social.
Después de una entrevista, dedicamos un artículo a cada homenajeada y les damos una plataforma para contar su historia. A partir de esta edición, continuamos con esa tradición