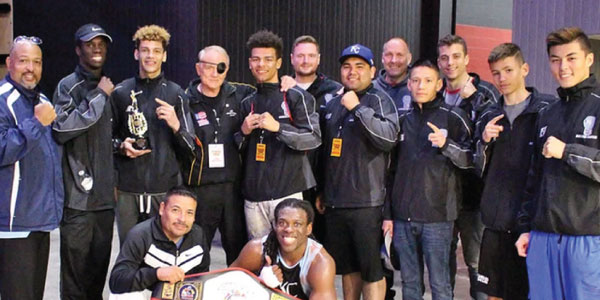 By Chara
More than 100 amateur boxers will soon head to Kansas City, Kansas, hoping to secure spots in a national tournament.
From April 13 to 15, the young fighters will compete in The KC Golden Gloves Tournament at Memorial Hall, located at 600 N. Seventh St. Trafficway. Champions at the regional tournament will then compete at the Golden Gloves National Tournament of Champions, scheduled for May 8-13 in Philadelphia.
Like the national tournament, the Kansas City tournament has weight and age categories for males and females. There are 20 weight classes – 10 male, 10 female.
Already, 125 boxers have registered.
Chris Walden, KC Golden Gloves president, is encouraging people to attend and support Kansas City area boxers.
"Fans will see exciting amateur boxing action featuring several nationally ranked boxers and two who have qualified for the Olympic trials," Walden said.
Admission starts at $10. For more information or to buy tickets, visit kcgoldengloves.com.
Established in 1936, the Kansas City tournament is staged as part of the mission of KC Golden Gloves. That mission is to utilize "amateur boxing as a way to develop discipline, respect and wellness in its athletes and empower the next generation of leaders and citizens in the Kansas City area," its website states.
---
Memorial Hall organizará el torneo de KC Golden Gloves
Más de 100 boxeadores amateurs pronto se dirigirán a Kansas City, Kansas, con la esperanza de asegurar lugares en un torneo nacional.
Del 13 al 15 de abril, los jóvenes boxeadores competirán en el Torneo de los Guantes de Oro (Golden Gloves) de KC en el Memorial Hall, ubicado en 600 N. Seventh St. Trafficway. Los campeones del torneo regional luego competirán en el Torneo Nacional de Campeones Golden Gloves, programado del 8 al 13 de mayo en Filadelfia.
Al igual que el torneo nacional, el torneo de Kansas City tiene categorías de peso y edad para hombres y mujeres. Hay 20 clases de peso: 10 masculinos, 10 femeninos.
Ya se han registrado 125 boxeadores.
Chris Walden, presidente de KC Golden Gloves, anima a la gente a asistir y apoyar a los boxeadores del área de Kansas City.
"Los fanáticos verán una emocionante acción de boxeo amateur con varios boxeadores clasificados a nivel nacional y dos que se clasificaron para las pruebas olímpicas", dijo Walden.
La entrada comienza en $10. Para obtener más información o comprar boletos, visite kcgoldengloves.com.
Establecido en 1936, el torneo de Kansas City se organiza como parte de la misión de KC Golden Gloves. Esa misión es utilizar "el boxeo amateur como una forma de desarrollar disciplina, respeto y bienestar en sus atletas y empoderar a la próxima generación de líderes y ciudadanos en el área de Kansas City", afirma su sitio web.