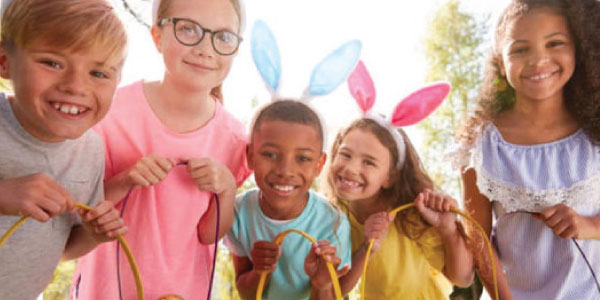 Commentary by Tere Siqueira
Easter is a time of great joy and hope, representing the triumph of life over death.
Whether you celebrate Easter for religious reasons or as an opportunity to spend time with loved ones, the following ideas will help you make the holiday a memorable and meaningful experience:
*Plant an Easter garden: Easter celebrates renewal, rebirth and forgiveness. Thus, planting a symbolic garden is a great way to honor its purpose. Take advantage of the season and include some spring flowers and decorations, such as miniature Easter eggs and bunnies. This can be a fun, creative way to bring the spirit of Easter to your home while connecting you with nature.
*Take a spiritual retreat: If you want to deepen your connection with the spiritual significance of Easter, consider a retreat in an isolated space. You can take the whole family and encourage everyone to unplug from their routines. This can be a great way to reflect, meditate and reconnect with your faith.
*Volunteer at a charity: Like Christmas, Easter also is a time of giving and helping others, so consider assisting a local charity or nonprofit organization.
*Try making a small gesture to make someone around you happy: It could be helping a friend or neighbor struggling with something. It could be a meaningful way to make a difference in your community and spread the spirit of Easter.
*Write Easter letters: Write to loved ones, expressing your gratitude for their presence in your life and reflecting on the holiday's spiritual significance. This can be a heartfelt and meaningful way to connect and celebrate the spirit of Easter.
*Attend area events: If you're looking for a fun and festive way to celebrate Easter, take in some of the events in the Kansas City area. Those events will offer you opportunities to have a great time and support the community and area businesses. Some area events include the Easter egg hunt at Worlds of Fun, the Easter-themed Craft Brewery Crawl Tour and the Kansas City Zoo holiday celebrations.
---
Hay muchas formas creativas de celebrar la Pascua
La época de Pascua esta llena de alegría y esperanza, pues representa el triunfo de la vida sobre la muerte.
Tanto si celebra la Pascua por motivos religiosos como si lo hace para pasar tiempo con sus seres queridos, las siguientes ideas le ayudarán a hacer de esta fiesta una experiencia memorable y significativa:
*Planta un jardín de Pascua: La Pascua celebra la renovación, el renacimiento y el perdón. Por eso, plantar un jardín simbólico es una forma estupenda de honrar su propósito. Aprovecha la estación e incluye algunas flores y adornos primaverales, como huevos y conejitos de Pascua en miniatura. Esta puede ser una forma divertida y creativa de llevar el espíritu de la Pascua a tu hogar, al mismo tiempo que conectas con la naturaleza.
*Realiza un retiro espiritual: Si quieres profundizar en tu conexión con el significado espiritual de la Pascua, prepara un retiro en un espacio aislado. Puedes llevar a toda la familia y animar a todos a desconectarse de sus rutinas. Está es una forma estupenda de reflexionar, meditar y volver a conectar con tu fe.
*Haz voluntariado en una organización benéfica: Al igual que la Navidad, la Pascua también es una época de dar y ayudar a los demás, así que considera la posibilidad de ayudar a una organización benéfica local o a una organización sin ánimo de lucro.
*Intenta hacer un pequeño gesto para hacer feliz a alguien de tu entorno: Puede ser ayudar a un amigo o vecino con problemas. Podría ser una forma significativa de marcar la diferencia en tu comunidad y difundir el espíritu de la Pascua.
*Escribe cartas de Pascua: Escribe a tus seres queridos expresando tu gratitud por su presencia en tu vida y reflexionando sobre el significado espiritual de la Pascua. Esta puede ser una forma sincera y significativa de conectar y celebrar el espíritu de la Pascua.
*Asiste a los eventos de la zona: Si busca una forma divertida y festiva de celebrar la Pascua, asiste a algunos de los actos de la zona de Kansas City. Estos eventos le ofrecerán la oportunidad de pasarlo en grande y apoyar a la comunidad y a las empresas de la zona. Algunos de los eventos de la zona son la búsqueda de huevos de Pascua en Worlds of Fun, el Craft Brewery Crawl Tour con temática de Pascua y las celebraciones navideñas del zoo de Kansas City.