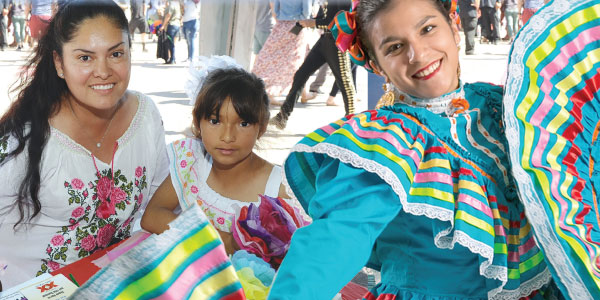 By Angie Baldelomar
The original Cinco de Mayo fiesta in Kansas City, Missouri, is around the corner.
Guadalupe Centers Inc. (GCI) will host its traditional fiesta as a two-day event on May 5 and 6 at its location at 1015 Avenida Cesar E. Chavez.
Presented by Community America Credit Union, this year's fiesta will feature an "incredible" lineup of entertainment and music, according to Alyx Bartrom, vice president of development and marketing at GCI.
"We are being intentional about the growth of our fiesta, with an emphasis on enhancing the overall experience for attendees through a stronger lineup of entertainment that will include two stages on both Friday and Saturday, offering a wide variety of musical performances from local and national artists," she said.
The main entertainment includes Kansas City-based disc jockeys DJ Astro and FK Menace, who'll perform onstage together from 7 to 11 p.m. on May 6. In addition, Rick Fuentes & The Brown Express will perform from 8 to 9 p.m. that same night on the second stage, followed by Ruben Ramos and the Mexican Revolution from 9:15 to 10:30 p.m.
The main entertainment for May 5 will be Chicos del Barrio, who'll be onstage from 8:30 to 10:30 p.m.
In addition to the music, the fiesta will feature nearly 40 unique vendors, authentic Mexican food and drinks, inflatables, dancers, a carnival and a petting zoo, Bartrom said.
"Whether you come every year or you have never been before, the Cinco de Mayo Fiesta has something for everyone," she said.
The now-traditional fiesta, which offers free admission, started in 1922.
"While GCI focuses on improving the experience each year, the history and traditions remain a part of the heart and soul of the event," Bartrom said.
Volunteers are still needed for the fiesta. If interested, visit https://guadalupecenters.org/event/cinco-de-mayo-fiesta/ to sign up and/or for more information.
---
Guadalupe Centers se prepara para la Fiesta del Cinco de Mayo
La fiesta original del Cinco de Mayo en Kansas City, Missouri, está a la vuelta de la esquina.
Guadalupe Centers Inc. (GCI) llevará a cabo su fiesta tradicional como un evento de dos días el 5 y 6 de mayo en su espacio en 1015 Avenida Cesar E. Chavez.
Presentada por Community America Credit Union, la fiesta de este año contará con una programación "increíble" de entretenimiento y música, según Alyx Bartrom, vicepresidenta de desarrollo y marketing de GCI.
"Estamos siendo intencionales sobre el crecimiento de nuestra fiesta, con énfasis en mejorar la experiencia general de los asistentes a través de una línea de entretenimiento más sólida que incluirá dos escenarios el viernes y el sábado, ofreciendo una amplia variedad de actuaciones musicales de artistas locales y nacionales", dijo.
El entretenimiento principal incluye a los disc jockeys de Kansas City DJ Astro y FK Menace, quienes actuarán juntos en el escenario de 7 a 11 p.m. el 6 de mayo. Además, Rick Fuentes & The Brown Express se presentarán de 8 a 9 p.m. esa misma noche en el segundo escenario, seguido de Rubén Ramos y la Revolución Mexicana de 21:15 a 22:30 horas.
El espectáculo principal del 5 de mayo será Chicos del Barrio, quienes estarán en el escenario de 8:30 p.m. a 10:30 p.m.
Además de la música, la Fiesta contará con cerca de 40 vendedores únicos, auténtica comida y bebidas mexicanas, inflables, bailarines, un carnaval y un zoológico interactivo, dijo Bartrom.
"Ya sea que vengas todos los años o nunca antes hayas venido, la Fiesta del Cinco de Mayo tiene algo para todos", dijo.
La Fiestas ahora tradicional, que ofrece entrada gratuita, comenzó en 1922.
"Si bien GCI se enfoca en mejorar la experiencia cada año, la historia y las tradiciones siguen siendo parte del corazón y el alma del evento", dijo Bartrom.
Todavía se necesitan voluntarios para la fiesta. Si está interesado, visite https://guadalupecenters.org/event/cinco-de-mayo-fiesta/ para registrarse y/o para obtener más información.