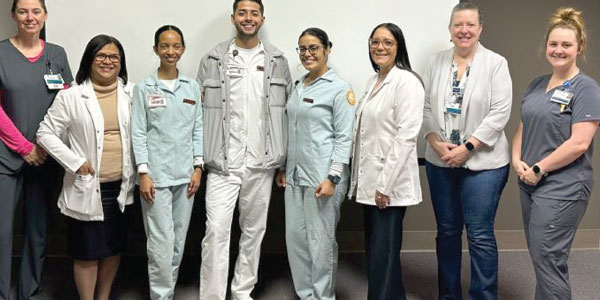 By Chara
Looking to learn and exchange knowledge, a group of five nurses from the University of Puerto Rico-Humacao recently visited the Washburn University School of Nursing in Topeka, Kansas, as part of a collaboration between the two institutions and Woodland Charity, a nonprofit organization that supports underserved communities.
Taking place from April 17 to 23, the visit was the first of its kind between the two schools. The group from Puerto Rico included two professors and three students, who had opportunities to interact with faculty and students at Washburn and to learn about Washburn's curriculum, clinical practices and the nursing profession in the United States.
"We are so grateful to Washburn University for this first exchange in which two professors and three students from the University of Humacao Puerto Rico visited Topeka, Kansas, during the week of April 17-23," stated Jorge Coromac of Woodland Charity, as quoted on the organization's website.
Amy White, a professor at Washburn in the nursing school, called the experience "very fruitful in enriching the educational and professional growth of our students and faculty here in Washburn but also for Humacao University."
The exchange is intended to be the beginning of a continuing partnership between the two schools. In July, a Washburn nursing team plans to visit Puerto Rico "to continue coordination with University of Humacao to support Woodland's initiatives in Yabucoa and Caguas," Woodland Charity's website states.
For more information on Woodland Charity and its initiatives, visit www.woodlandcharity.org.
---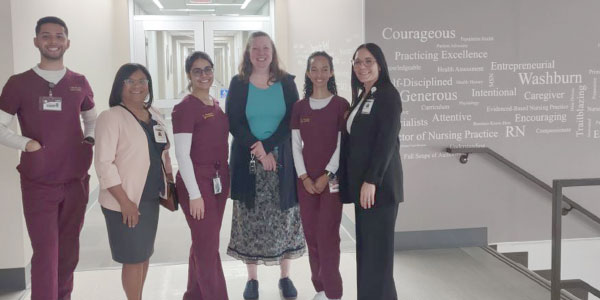 Enfermeras de Puerto Rico visitan Washburn
Buscando aprender e intercambiar conocimientos, un grupo de cinco enfermeras de la Universidad de Puerto Rico-Humacao visitó recientemente la Facultad de Enfermería de la Universidad de Washburn en Topeka, Kansas, como parte de una colaboración entre las dos instituciones y Woodland Charity, una organización sin fines de lucro que apoya a las comunidades desatendidas.
La visita, que tuvo lugar del 17 al 23 de abril, fue la primera de este tipo entre las dos escuelas. El grupo de Puerto Rico incluyó a dos docentes y tres estudiantes, que tuvieron la oportunidad de interactuar con profesores y estudiantes de Washburn y aprender sobre el plan de estudios, las prácticas clínicas y la profesión de enfermería en Estados Unidos.
"Estamos muy agradecidos con la Universidad de Washburn por este primer intercambio en el que dos docentes y tres estudiantes de la Universidad de Humacao Puerto Rico visitaron Topeka, Kansas, durante la semana del 17 al 23 de abril", afirmó Jorge Coromac de Woodland Charity, según cita en el sitio web de la organización.
Amy White, docente de la facultad de enfermería en Washburn, calificó la experiencia como "muy fructífera para enriquecer el crecimiento educativo y profesional de nuestros estudiantes y profesores aquí en Washburn, pero también para la Universidad de Humacao".
El intercambio pretende ser el comienzo de una asociación continua entre las dos escuelas. En julio, un equipo de enfermería de Washburn planea visitar Puerto Rico "para continuar la coordinación con la Universidad de Humacao para apoyar las iniciativas de Woodland en Yabucoa y Caguas", afirma el sitio web de Woodland Charity.
Para obtener más información sobre Woodland Charity y sus iniciativas, visite www.woodlandcharity.org.