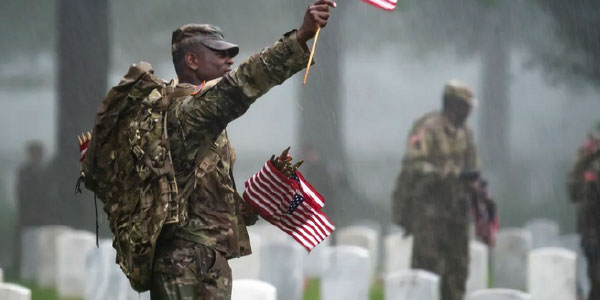 The U.S. is among fewer than a dozen countries worldwide that celebrate a Memorial Day honoring their fallen fighters. In Australia and New Zealand, it's known as Anzac Day, observed on April 25. Germany observes Volkstrauertag, German for Memorial Day, on the Sunday closest to November 16.
Israel's Memorial Day or Remembrance Day (Yom Hazikaron) is observed on the fourth day of the Hebrew month of Iyar, which fell this year on April 24. The Netherlands celebrates Dodenherdenking, Dutch for Remembrance Day, on May 4.
In Russia, the holiday is known as Victory Day and is celebrated on May 9. The United Kingdom honors armed forces who died in the line of duty on November 11, Remembrance Day. (The U.S. observes November 11 as Veterans Day to honor all members of the U.S. military, especially those living.)
We celebrate Memorial Day on the last Monday in May. It falls on the 29th this year – next Monday. The occasion has evolved since its inception in 1868 as Decoration Day. It's taken on significance tangential to honoring our war dead. Families still decorate with flags and flowers the graves of our war dead and attend parades and concerts dedicated to them. But the holiday now signals the unofficial start of summer, marked by schools closing for summer vacation, public swimming pools opening, picnics, backyard barbecues and other various outdoor events.
While we welcome the arrival of more leisurely, relaxing, slower-paced summer vacation, it's incidental to remembering those who gave their lives to protect and preserve our way of life. Since the Revolutionary War, 646,596 American troops have died in battle and some 539,000 from other non-combat-related causes, according to the U.S. Military. More than 12,000 of those war casualties were Hispanic, according to the U.S. Department of Defense and Congressional Research Services. "Hispanics have served with great honor and valor in defense of our nation since the founding," reads a Department of Defense memorial. "Hispanics continue to make vital contributions toward the protection of our nation." As of 2019, Hispanics comprised 21.39% of active duty servicemembers. "They risk their lives daily," reads the memorial.
---
Homenajeando a nuestros muertos en guerra
Estados Unidos se encuentra entre menos de una docena de países en todo el mundo que celebran un Día de los Caídos en honor a sus combatientes caídos. En Australia y Nueva Zelanda, se conoce como el Día de Anzac, que se celebra el 25 de abril. Alemania celebra el Volkstrauertag, Día de los Caídos en alemán, el domingo más cercano al 16 de noviembre.
El Día de los Caídos o Día del Recuerdo de Israel (Yom Hazikaron) se observa el cuarto día del mes hebreo de Iyar, que cayó este año el 24 de abril. Los Países Bajos celebran Dodenherdenking, Día del Recuerdo en holandés, el 4 de mayo.
En Rusia, la festividad se conoce como Día de la Victoria y se celebra el 9 de mayo. El Reino Unido rinde homenaje a las fuerzas armadas que murieron en el cumplimiento del deber el 11 de noviembre, Día del Recuerdo. (Estados Unidos observa el 11 de noviembre como el Día de los Veteranos para honrar a todos los miembros de las fuerzas armadas estadounidenses, especialmente a los que están vivos).
Celebramos el Día de los Caídos el último lunes de mayo. Cae el 29 de este año, el próximo lunes. La ocasión ha evolucionado desde sus inicios en 1868 como Día de la Decoración. Ha adquirido una importancia tangencial a la de honrar a nuestros muertos en la guerra. Las familias todavía decoran con banderas y flores las tumbas de nuestros muertos en guerra y asisten a desfiles y conciertos dedicados a ellos. Pero el feriado ahora marca el comienzo no oficial del verano, marcado por el cierre de las escuelas para las vacaciones de verano, la apertura de piscinas públicas, picnics, barbacoas en el patio trasero y otros eventos al aire libre.
Si bien damos la bienvenida a la llegada de unas vacaciones de verano más pausadas, relajantes y de ritmo más lento, es incidental recordar a aquellos que dieron sus vidas para proteger y preservar nuestra forma de vida. Desde la Guerra Revolucionaria, 646.596 soldados estadounidenses han muerto en batalla y unos 539.000 por otras causas no relacionadas con el combate, según las Fuerzas Armadas de EE.UU. Más de 12.000 de esas bajas de guerra eran hispanas, según el Departamento de Defensa y los Servicios de Investigación del Congreso. "Los hispanos han servido con gran honor y valor en defensa de nuestra nación desde su fundación", se lee en un memorial del Departamento de Defensa. "Los hispanos continúan haciendo contribuciones vitales para la protección de nuestra nación". Hasta el 2019, los hispanos constituían el 21,39 % de los miembros en servicio activo. "Arriesgan sus vidas a diario", dice el memorial.