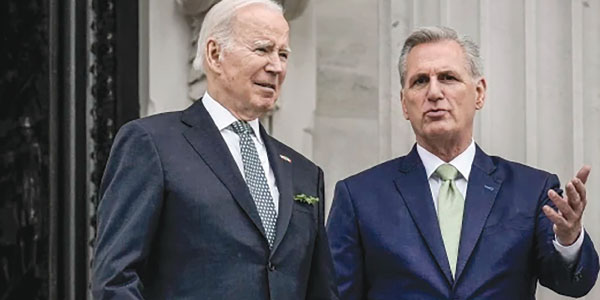 Millions of Americans watched the nail-biting drama in Washington. For some of the nation's poorest and most vulnerable, it's personally alarming. As high-profile negotiations and political posturing persist in the nation's capital, many of the 66-plus million retirees, disabled workers, eligible dependents and others covered by Social Security worry that their monthly payments could be delayed. The largest federal social insurance program's first round of June payments is scheduled to go out tomorrow (June 2). Many beneficiaries rely on Social Security for half or more of their monthly income. They depend on payments to cover basic living expenses – utilities, insurance, out-of-pocket healthcare costs, groceries, etc.
Last Sunday, President Biden and House Speaker Kevin McCarthy announced that they'd reached final agreement on a deal to raise the nation's national debt ceiling, thereby potentially averting a U.S. default. The two must now convince the House and Senate to approve the bill before June 5, the date America's projected to run out of money.
This moment should never have happened. The president and Congress have long known that hitting the nation's $31.4 trillion debt ceiling was inevitable. The country routinely takes in less revenue than is needed to pay its bills, and it can't borrow more money until Congress approves raising the borrowing limit. For weeks, both sides – left and right — have maintained intractable positions, refusing to compromise. Making them appear even more out-of-touch with the concerns and harsh realities of constituents, they left D.C. last Friday for the Memorial Day holiday without reaching a deal, even knowing that a default deadline was just days away.
Biden and McCarthy stayed in Washington to hammer out a weekend agreement and at last agreed in principle, but it's not a done deal. The drop-dead June 5 deadline looms, and once Congress returned to Washington, the narrowly divided House and Senate had to agree on and pass the bill for Biden's signature, providing he agrees with any changes that lawmakers propose. Yesterday, (Wednesday) was the earliest day that the House could vote because by law, they must have 72 hours to read a bill. They got it on Sunday.
The anxiety and suspense that Washington has caused Social Security beneficiaries and federal workers whose paychecks could be delayed with this avoidable shillyshallying is unnecessary and indefensible.
Nota bene:
Read the 99-page bill to raise the debt limit and restrain government spending online at https://docs.house.gov/billsthisweek/20230529/BILLS-118hrPIH-fiscalresponsibility.pdf
---
Qué vergüenza, Washington
Millones de estadounidenses vieron el drama para morderse las uñas en Washington. Para algunos de los más pobres y vulnerables del país, es personalmente alarmante. Mientras persisten las negociaciones de alto perfil y las posturas políticas en la capital de la nación, muchos de los más de 66 millones de jubilados, trabajadores discapacitados, dependientes elegibles y otros cubiertos por el Seguro Social temen que sus pagos mensuales puedan retrasarse. La primera ronda de pagos de junio del programa federal de seguro social más grande está programada para mañana (2 de junio). Muchos beneficiarios dependen del Seguro Social para la mitad o más de sus ingresos mensuales. Dependen de los pagos para cubrir los gastos básicos de subsistencia: servicios públicos, seguros, gastos médicos de bolsillo, comestibles, etc.
El domingo pasado, el presidente Biden y el presidente de la Cámara de Representantes, Kevin McCarthy, anunciaron que habían llegado a un acuerdo final sobre un acuerdo para elevar el techo de la deuda nacional de la nación, lo que podría evitar un incumplimiento de pago. Los dos ahora deben convencer a la Cámara de Representantes y al Senado para que aprueben el proyecto de ley antes del 5 de junio, la fecha en que se prevé que Estados Unidos se quede sin dinero.
Este momento nunca debería haber ocurrido. El presidente y el Congreso sabían desde hace mucho tiempo que era inevitable alcanzar el límite máximo de deuda de la nación de $31,4 billones. El país habitualmente recibe menos ingresos de los que necesita para pagar sus cuentas, y no puede pedir prestado más dinero hasta que el Congreso apruebe aumentar el límite de endeudamiento. Durante semanas, ambos lados, izquierda y derecha, han mantenido posiciones intratables, negándose a ceder. Haciéndolos parecer aún más desconectados de las preocupaciones y las duras realidades de los electores, se fueron de D.C. el viernes pasado para el feriado del Día de los Caídos sin llegar a un acuerdo, incluso sabiendo que la fecha límite predeterminada estaba a sólo unos días de distancia.
Biden y McCarthy se quedaron en Washington para negociar un acuerdo de fin de semana y finalmente acordaron en principio, pero no es un trato cerrado. Se avecina la fecha límite del 5 de junio, y una vez que el Congreso regresó a Washington, la Cámara y el Senado estrechamente divididos tuvieron que ponerse de acuerdo y aprobar el proyecto de ley para la firma de Biden, siempre que esté de acuerdo con cualquier cambio que propongan los legisladores. Ayer (miércoles) fue el primer día en que la Cámara pudo votar porque por ley deben tener 72 horas para leer un proyecto de ley. Lo recibieron el domingo.
La ansiedad y el suspenso que ha causado Washington a los beneficiarios del Seguro Social y trabajadores federales cuyos cheques de pago podrían retrasarse con esta evitable timidez es innecesaria e indefendible.
Nota bene:
Lea el proyecto de ley de 99 páginas para aumentar el límite de la deuda y restringir el gasto público en línea en https://docs.house.gov/billsthisweek/20230529/BILLS-118hrPIH-fiscalresponsibility.pdf.