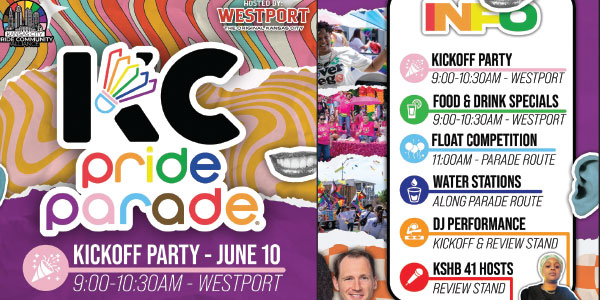 By Chara
Kansas City, Missouri, is among the many communities around the world with activities planned to celebrate June as Pride Month.
In Kansas City, the activities include the KC PrideFest and Pride Parade, both scheduled for this weekend (June 9-11). PrideFest is slated for Friday-Sunday (June 9-11) at Theis Park, located at 47th Street and Oak. Admission is $5 each day, with free admission for ages 12 and younger. The Pride Parade is set to begin at 11 a.m. Saturday (June 10) at Broadway and Westport Road, The Kansas City Star recently reported.
The events follow the Kansas City Council's approval in May of a resolution declaring Kansas City a sanctuary city for the LGBTQ+ community. As The Associated Press (AP) reported, that means the city designates itself as a place "for people seeking or providing gender-affirming care." As other news agencies recently reported, that includes care for transgendered minors.
And as the AP reported, the approval also follows the Missouri General Assembly's approval to deny minors gender-affirming care "and restrict it for some adults."
The city has a commitment toward serving as a "welcoming, inclusive, and a safe place for everyone, including the transgender and LGBTQ+ community," the AP quoted Mayor Quinton Lucas as saying.
Every year in June, Pride Month is celebrated around the world. Heterosexual, lesbian, gay, bisexual, transgender, and queer individuals come together to commemorate a month of love and respect. Pride Month honors the Stonewall Uprising, an event that marked a significant turning point for the Gay Liberation Movement, which took place in 1969 in the United States. During this month, Pride Month is celebrated worldwide through parades, picnics, parties, workshops, concerts, and various activities.
Before Pride Month was established, there was "Gay Pride Day," celebrated on the last Sunday in June. Pride Month provides an opportunity to acknowledge the historical, local, national, and international impact of lesbian, gay, bisexual, and transgender individuals. Additionally, during Pride Month, people honor members of the LGBTQ+ community who have been lost to hate crimes or HIV/AIDS.
The first Pride march was organized by several activists, including Frank Kameny and Lilli Vincenz, who were part of the Mattachine Society of Washington. The first march took place in New York City and had nearly 5,000 attendees. Nowadays, the Pride march is joined by millions of people with the purpose of demonstrating equal rights and celebrating their identities.
---
KC PrideFest anuncia fechas
Kansas City, Missouri, se encuentra entre las muchas comunidades alrededor del mundo que tendrán actividades para celebrar junio como el mes del orgullo gay.
En Kansas City, las actividades incluyen el KC PrideFest y Pride Parade, ambos programados para este fin de semana (del 9 al 11 de junio). PrideFest está programado para el viernes y el domingo (del 9 al 11 de junio) en Theis Park, ubicado en 47th Street y Oak. La entrada cuesta $5 cada día, con entrada gratuita para menores de 12 años. El Pride Parade está programado para comenzar a las 11 a.m. del sábado (10 de junio) en Broadway y Westport Road, reportó recientemente The Kansas City Star.
Los eventos siguen a la aprobación por parte del Consejo de Kansas City en mayo de una resolución que declara a Kansas City una ciudad santuario para la comunidad LGBTQ+. Como reportó The Associated Press (AP), eso significa que la ciudad se designa a sí misma como un lugar "para personas que buscan o brindan atención de afirmación de género". Como reportaron recientemente otras agencias de noticias, eso incluye el cuidado de menores transgénero.
Y como reportó AP, la aprobación también sigue a la aprobación de la Asamblea General de Missouri para negar a los menores la atención de afirmación de género "y restringirla para algunos adultos".
La ciudad tiene el compromiso de servir como un "lugar acogedor, inclusivo y seguro para todos, incluida la comunidad transgénero y LGBTQ+", dijo el alcalde Quinton Lucas citado por la AP.
Cada junio, se celebra el Mes del Orgullo Gay en todo el mundo. Personas heterosexuales, lesbianas, gays, bisexuales, transgénero y queer se unen para conmemorar un mes de amor y respeto. El Mes del Orgullo Gay honra el Levantamiento de Stonewall, un evento que marcó un punto de inflexión significativo para el Movimiento de Liberación Gay, que tuvo lugar en 1969 en los Estados Unidos. Durante este mes, el Mes del Orgullo Gay se celebra a nivel mundial a través de desfiles, picnics, fiestas, talleres, conciertos y diversas actividades.
Antes de que se estableciera el Mes del Orgullo Gay, existía el "Día del Orgullo Gay", que se celebraba el último domingo de junio. El Mes del Orgullo Gay brinda la oportunidad de reconocer el impacto histórico, local, nacional e internacional de las personas lesbianas, gays, bisexuales y transgénero. Además, durante el Mes del Orgullo Gay, las personas honran a los miembros de la comunidad LGBTQ+ que han muerto por crímenes de odio o VIH/SIDA.
La primera marcha del Orgullo Gay fue organizada por varios activistas, incluidos Frank Kameny y Lilli Vincenz, que formaban parte de la Sociedad Mattachine de Washington. La primera marcha tuvo lugar en la ciudad de Nueva York y contó con casi 5.000 asistentes. Hoy en día, a la marcha del Orgullo Gay se suman millones de personas con el propósito de demostrar la igualdad de derechos y celebrar sus identidades.