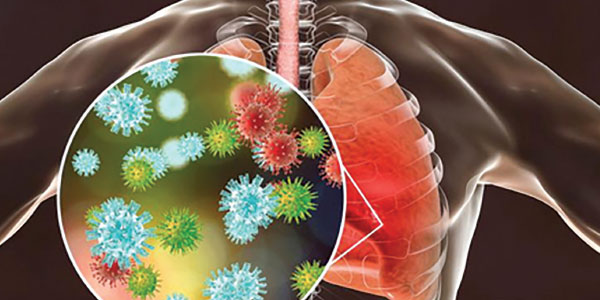 By Chara
The U.S. Centers for Disease Control and Prevention (CDC) is advising doctors to test patients for human metapneumovirus (HMPV) during the spring and winter, when the illness is at its peak. 
HMPV causes lower and upper respiratory issues, especially in older adults and young children.
"Discovered in 2001, HMPV is in the pneumoviridae family, along with respiratory syncytial virus (RSV)," the CDC states on its website. "Broader use of molecular diagnostic testing has increased identification and awareness of HMPV as an important cause of upper and lower respiratory infection."
The CDC estimates the incubation time for HMPV to be between three and six days. The federal health agency also lists the symptoms as including coughing, shortness of breath and a fever, and it warns that HMPV can lead to bronchitis or pneumonia if the symptoms continue.
How long HMPV lasts varies by individual, the CDC states.
According to the CDC, HMPV can be transmitted via coughing and/or sneezing; "close personal contact, such as touching or shaking hands"; and by "touching objects or surfaces that have the virus on them, then touching the mouth, nose or eyes." The CDC advises handwashing for 20 seconds minimum and avoiding contact with people who are ill to avoid contracting HMPV.
---
CDC recomienda realizar pruebas de metapneumovirus humano en invierno y primavera
Los Centros para el Control y la Prevención de Enfermedades (CDC, por sus siglas en inglés) recomiendan a los médicos que analicen a los pacientes para detectar el metapneumovirus humano (HMPV, por sus siglas en inglés) durante la primavera y el invierno, cuando la enfermedad está en su apogeo.
El HMPV causa problemas respiratorios superiores e inferiores, especialmente en adultos mayores y niños pequeños.
"Descubierto en 2001, el HMPV pertenece a la familia pneumoviridae, junto con el virus respiratorio sincitial (RSV)", afirma el CDC en su sitio web. "El uso más amplio de las pruebas de diagnóstico molecular ha aumentado la identificación y la conciencia del HMPV como una causa importante de infección de las vías respiratorias superiores e inferiores".
El CDC estima que el tiempo de incubación del HMPV es de tres a seis días. La agencia federal de salud también lista los síntomas que incluyen tos, dificultad para respirar y fiebre, y advierte que el HMPV puede provocar bronquitis o neumonía si los síntomas continúan.
La duración del HMPV varía según el individuo.
Según los CDC, el HMPV se puede transmitir al toser y/o estornudar; "contacto personal cercano, como tocar o dar la mano"; y al "tocar objetos o superficies que tengan el virus y luego tocarse la boca, la nariz o los ojos". El CDC recomienda lavarse las manos durante un mínimo de 20 segundos y evitar el contacto con personas enfermas para evitar contraer el HMPV.