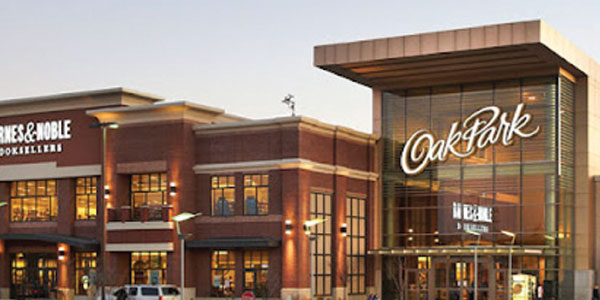 Oak Park Mall in Overland Park, Kansas, has announced seven new businesses will open inside its building this spring and fall, as multiple area media outlets have reported.
The new places include the following:
*AME Golf & Brew Lounge: Slated to open in May, the sports bar and grill will feature such attractions as simulated golf games, craft beer and appetizers. It also will reportedly feature sports memorabilia on the walls for visitors to buy.
*Fresh Cane Juicery: Also set to open in May, Fresh Cane will sell "fresh, healthy fruit juices and cocktails" with no added syrups or sugars, as stated in a May 4 story posted online for Fox 4.
*Gearhead Outfitters: Set to open this fall, the store will feature such brands as Chaco and The North Face. Oak Park claims it will have the only Gearhead Outfitters location in the Kansas City metro area.
*Grace Linen: This women's boutique is set to open this summer. According to its official website, it offers "fun, fashionable and affordable clothing and accessories." The opening of the Oak Park location follows the September 2022 opening of a Manhattan, Kansas, store.
*SoftMoc: Set to open its first area store in the area, the Canada-based company offers various brands of footwear, including Crocs, Dr. Martens, Heydude, Sorel and Sperry.
*Skin Health & Wellness Spa: This business specializes in customized facial options for every skin type and concern.
*B. Royal Boutique: Now open, B. Royal Boutique also is part of the new business section of Oak Park's environment. The boutique aims to be inclusive to women of all sizes, carrying sizes ranging from XS to 3X. It also will offer hand-crafted jewelry, footwear and gifts. According to The Kansas City Star, owner Tonya Winston started the boutique as a pop-up. In November, Winston opened a location in Manhattan.
---
Nuevas tiendas abrirán en el Oak Park Mall
Oak Park Mall en Overland Park, Kansas, anunció que siete nuevos negocios abrirán dentro de su edificio esta primavera y otoño, como reportaron varios medios de comunicación del área.
Los nuevos lugares incluyen lo siguiente:
*AME Golf & Brew Lounge: Programado para abrir en mayo, el bar y grill contará con atracciones como juegos de golf simulados, cerveza artesanal y aperitivos. Según se reporta, también contará con recuerdos deportivos en las paredes para que los visitantes los compren.
*Fresh Cane Juicery: también inaugurado en mayo, Fresh Cane venderá "jugos y cócteles de frutas frescos y saludables" sin jarabes ni azúcares añadidos, indicó una historia del 4 de mayo publicada en línea para Fox 4.
*Gearhead Outfitters: Programada para abrir este otoño, la tienda contará con marcas como Chaco y The North Face. Oak Park afirma que tendrá la única ubicación de Gearhead Outfitters en el área metropolitana de Kansas City.
*Grace Linen: Esta boutique para mujeres abrirá este verano. Según su sitio web oficial, ofrece "ropa y accesorios divertidos, a la moda y asequibles". La apertura de la sucursal en Oak Park sigue a la apertura en septiembre de 2022 de una tienda en Manhattan, Kansas.
*SoftMoc: lista para abrir su primera tienda en el área, la empresa con sede en Canadá ofrece varias marcas de calzado, incluidas Crocs, Dr. Martens, Heydude, Sorel y Sperry.
*Skin Health & Wellness Spa: Este negocio se especializa en opciones faciales personalizadas para cada tipo de piel y preocupación.
*B. Royal Boutique: Ahora abierta, B. Royal Boutique también forma parte de la nueva sección de negocios del entorno de Oak Park. La boutique pretende ser inclusiva para mujeres de todos los tamaños, con tallas que van desde la XS hasta la 3X. También ofrecerá joyería, calzado y regalos hechos a mano. Según The Kansas City Star, la propietaria Tonya Winston abrió la boutique como una tienda emergente. En noviembre, Winston abrió una ubicación en Manhattan.