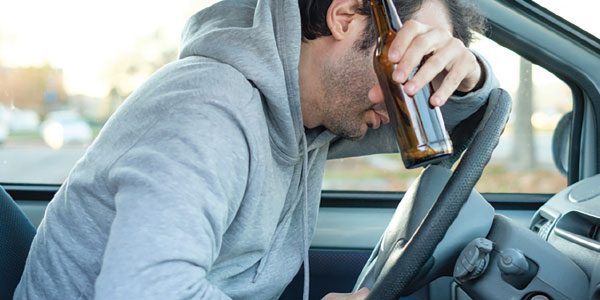 A 19-year-old recent high school graduate was buried yesterday (June 21) in Lenexa. Just a week ago, the young man was planning with his fiancée to see a movie later that day. Somewhere else in the metro, a 24-year-old Grain Valley man was getting drunk. Their two lives intersected that night with tragic consequences. Benjamin "Benny" Kleczka died, and the 24-year-old accused drunk driver is charged with first-degree murder. If convicted, he could be sentenced to life in prison. Two young men's lives effectively over. Two families devastated. A community of friends grieving.
Kleczka and his fiancée were violently rearended while stopped for a traffic light on the way home after the movie. The alleged drunk driver was speeding to escape arrest by a policeman who suspected him of driving drunk. (The officer, according to recorded radio traffic, hadn't chased the suspected drunk driver.) Kleczaka's fiancée sustained minor injuries. The man charged with Kleczka's murder walked away from the fatality wreck uninjured.
The frequency of these heartbreakingly gratuitous traffic deaths is on the rise.
In 2020, there were 35,766 fatal automobile crashes with 13,695 fatalities in the U.S., reports the National Highway Safety Administration. Of those, 35% were caused by intoxicated or impaired drivers.
Experts attribute the increase, in part, to the legalization of recreational marijuana.
"A potentially unintended consequence of legalizing recreational cannabis is an increase in intoxicated driving and crash deaths," a University of Illinois Chicago research associate told UPI on March 31.
Federal and state safety highway experts, the Centers for Disease Control and Prevention and the Insurance Institute for Highway Safety agree. But unanimously, they warn against operating a motor vehicle while under the influence of any legal or illegal substance that distorts the user's sense of time, results in feelings of relaxation or euphoria, alters perception or awareness, affects mood, slows reaction, dulls the senses, causes drowsiness or impairs motor skills. That includes marijuana; alcohol; prescription drugs; and illicit psychotropic substances, such as cocaine or heroin.
According to Benny Kleczka's family, he was an organ and tissue donor. In death he's saving lives. He'll live on in the hearts and minds of his loved ones and the organ and tissue recipients and their loved ones. But he didn't have to die before he'd even lived.
The man charged in his murder is also accused of driving with a suspended license. He's been arrested for driving drunk before, reported local news media.
Now, he's "very remorseful," reported his defense attorney.
If only someone would've loved the accused killer as much as Benny Kleczka loved others and stopped him before he got drunk and drove … If only.
---
Manejar bajo la influencia del alcohol
Un recién graduado de secundaria de 19 años fue enterrado ayer (21 de junio) en Lenexa. Hace apenas una semana, el joven planeaba con su prometida ir a ver una película ese mismo día. En otro lugar del área metropolitana, un hombre de Grain Valley de 24 años se estaba emborrachando. Sus dos vidas se cruzaron esa noche con trágicas consecuencias. Benjamin "Benny" Kleczka murió, y el conductor ebrio de 24 años está siendo acusado de asesinato en primer grado. Si es declarado culpable, podría ser condenado a cadena perpetua. La vida de dos jóvenes efectivamente terminada. Dos familias destrozadas. Una comunidad de amigos en duelo.
Kleczka y su prometida fueron golpeados violentamente por detrás mientras se detenían en un semáforo de camino a casa después de la película. El presunto conductor ebrio aceleraba para escapar del arresto de un policía que sospechaba que conducía ebrio. (El oficial, según el tráfico de radio grabado, no había perseguido al presunto conductor ebrio). La prometida de Kleczaka sufrió heridas leves. El hombre acusado del asesinato de Kleczka salió ileso del accidente fatal.
La frecuencia de estas muertes de tránsito desgarradoramente gratuitas va en aumento.
En 2020, hubo 35.766 accidentes automovilísticos fatales con 13.695 muertes en Estados Unidos, según la Administración Nacional de Seguridad en las Carreteras. De ellos, el 35% fueron causados por conductores ebrios o incapacitados.
Los expertos atribuyen el aumento, en parte, a la legalización de la marihuana recreativa.
"Una consecuencia potencialmente no intencionada de legalizar el cannabis recreativo es un aumento en la conducción bajo los efectos del alcohol y las muertes por accidentes", dijo a UPI un investigador asociado de la Universidad de Illinois en Chicago el 31 de marzo.
Los expertos en seguridad vial federales y estatales, los Centros para el Control y la Prevención de Enfermedades y el Instituto de Seguros para la Seguridad en las Carreteras están de acuerdo. Pero unánimemente, advierten contra operar un vehículo motorizado bajo la influencia de cualquier sustancia legal o ilegal que distorsione el sentido del tiempo del usuario, resulte en sentimientos de relajación o euforia, altere la percepción o la conciencia, afecte el estado de ánimo, retarde la reacción, altere los sentidos, cause somnolencia o afecte las habilidades motoras. Eso incluye marihuana; alcohol; medicamentos con receta; y sustancias psicotrópicas ilícitas, como la cocaína o la heroína.
Según la familia de Benny Kleczka, él era donante de órganos y tejidos. En la muerte está salvando vidas. Vivirá en los corazones y las mentes de sus seres queridos y de los receptores de órganos y tejidos y sus seres queridos. Pero él no tenía que morir antes de haber vivido.
El hombre acusado de su asesinato también está acusado de conducir con una licencia suspendida. Ha sido arrestado por conducir ebrio antes, reportaron los medios de comunicación locales.
Ahora, está "muy arrepentido", dijo su abogado defensor.
Si tan sólo alguien hubiera amado al asesino acusado tanto como Benny Kleczka amaba a los demás y lo hubiera detenido antes de que se emborrachara y condujera… si tan sólo.