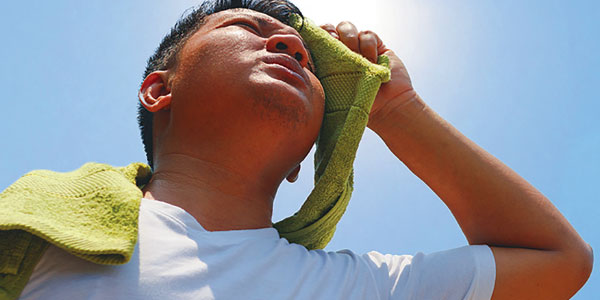 Commentary By Chara
The heat can significantly affect you.
Prolonged exposure to extreme heat and sunlight puts a strain on your body as it works to regulate your temperature. Therefore, it's important to take care of yourself when working in conditions of extreme heat or temperature. To ensure your safety during extreme temperatures, try following these tips:
*Stay hydrated: As many health experts have advised, drink plenty of water throughout the day, even if you don't feel thirsty. Avoid excessive amounts of caffeine or sugary drinks, as they can contribute to dehydration. Take regular water breaks and consider carrying a reusable water bottle with you.
*Check the forecast: Before going out, check if there's a heat advisory in your area. Heat advisories are usually issued 12 hours before dangerous weather conditions are expected.
*Dress appropriately: If you know that your area will be affected by a heat advisory, wear clothes that protect you from the sun. Try to wear lightweight, loose-fitting and breathable materials. If possible, protect your head with a hat or cap. And wear sunscreen.
*Take frequent breaks: To prevent heat-related illnesses and help your body cool down and recover, take breaks in shaded areas or indoors.
*Monitor how you feel: Listen to your body. Specifically, pay attention to any potential signals of a heat-related illness. If you feel exhausted or dizzy, or experience symptoms like nausea, headaches or muscle cramps, inform your co-workers and supervisor, and try to take a break in a cooler place. If you feel weak or excessively fatigued, seek medical assistance.
---
Cómo protegerse del calor
El calor puede afectarle en gran manera.
La exposición prolongada al calor extremo y la luz solar ejerce presión sobre su cuerpo mientras trabaja para regular su temperatura. Por lo tanto, es importante cuidarse cuando se trabaja en condiciones de calor o temperatura extrema. Para garantizar su seguridad durante temperaturas extremas, intente seguir estos consejos:
*Manténgase hidratado: como han aconsejado muchos expertos en salud, beba mucha agua durante el día, incluso si no tiene sed. Evite cantidades excesivas de cafeína o bebidas azucaradas, ya que pueden contribuir a la deshidratación. Tome descansos regulares para tomar agua y considere llevar consigo una botella de agua reutilizable.
*Revise el pronóstico: antes de salir, revise si hay una advertencia de calor en su área. Las advertencias de calor generalmente se emiten 12 horas antes de que se esperen condiciones climáticas peligrosas.
*Vístase apropiadamente: Si sabe que su zona se verá afectada por una advertencia de calor, use ropa que lo proteja del sol. Trate de usar materiales ligeros, holgados y transpirables. Si es posible, protéjase la cabeza con un sombrero o gorra. Y use protector solar.
*Tome descansos frecuentes: para prevenir enfermedades relacionadas con el calor y ayudar a que su cuerpo se enfríe y se recupere, tome descansos en áreas sombreadas o en interiores.
*Monitoree cómo se siente: escuche a su cuerpo. Específicamente, preste atención a cualquier posible señal de una enfermedad relacionada con el calor. Si se siente agotado o mareado, o tiene síntomas como náuseas, dolores de cabeza o calambres musculares, informe a sus compañeros de trabajo y supervisor, e intente tomar un descanso en un lugar más fresco. Si se siente débil o excesivamente fatigado, busque asistencia médica.