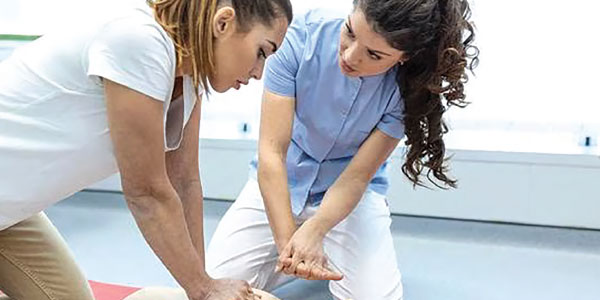 By Chara
In the Latino community, fear and language barriers often prevent individuals from providing cardiopulmonary resuscitation (CPR), a life-saving first-aid technique used when someone goes into cardiac arrest.
Various organizations are trying to address those issues.
One such organization is the University of Virginia Latino Health Initiative (LHI). As the American Heart Association (AHA) reported in a June 1 story on its website, the LHI conducts CPR classes in Spanish in central Virginia.
"We address the hesitation, we address the fears," Dr. Max Luna, a cardiologist and director of the LHI at the University of Virginia in Charlottesville, was quoted by the AHA as saying. "We focus on getting people comfortable with CPR."
Research shows that Hispanics and African-Americans, including kids, who experience cardiac arrest in public spaces "are less likely than their white peers to receive CPR from a lay responder," the AHA stated.
---
Iniciativa apunta a superar obstáculos sobre RCP en la comunidad Latina
En la comunidad latina, el miedo y las barreras del idioma a menudo impiden que las personas brinden reanimación cardiopulmonar (RCP), una técnica de primeros auxilios que salva vidas y que se usa cuando alguien sufre un paro cardíaco.
Varias organizaciones están tratando de abordar esos problemas.
Una de ellas es la Iniciativa de Salud Latina de la Universidad de Virginia (LHI, por sus siglas en inglés). Como reportó la American Heart Association (AHA) en un artículo del 1 de junio en su sitio web, LHI imparte clases de RCP en español en el centro de Virginia.
"Abordamos las dudas, abordamos los temores", dijo la AHA citando al Dr. Max Luna, cardiólogo y director del LHI de la Universidad de Virginia en Charlottesville. "Nos enfocamos en lograr que las personas se sientan cómodas con la RCP".
Las investigaciones muestran que los hispanos y los afroamericanos, incluidos los niños, que sufren de un paro cardíaco en espacios públicos "tienen menos probabilidades que sus pares blancos de recibir RCP de un socorrista lego", afirmó la AHA.