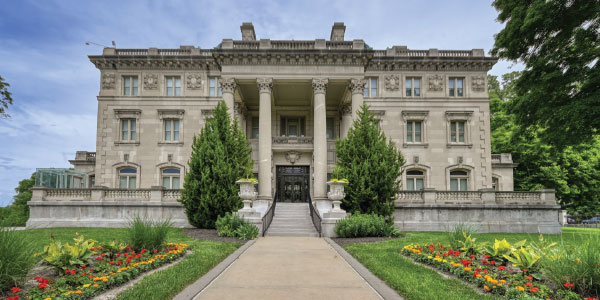 The Kansas City Museum plans to reopen Corinthian Hall to the public on Thursday, July 6, 2023, after a temporary closure.
A malfunction of the HVAC system occurred on January 11, 2023, causing water damage to select areas on all four floors of Corinthian Hall. The Kansas City Museum Foundation and the City of Kansas City Missouri mobilized quickly to engage contractors to address the water damage restoration and begin to repair and upgrade the HVAC system. HVAC is a critical operational system because the Museum strives to have precise temperature and humidity control for the preservation of artifacts and historic buildings on the property.
On April 20, 2023, the City Council approved funding for the repairs, and JE Dunn Construction began work on April 24, 2023. No damage was done to collection materials and repairs have been made to ceilings, floors, and electrical and mechanical systems.
The buildings and grounds of the Kansas City Museum are owned by the City of Kansas City, Missouri and fully governed, operated, and managed by the Kansas City Museum Foundation, a 501 (c)(3) nonprofit organization, through a cooperative agreement with the City of Kansas City, Missouri Parks and Recreation Department.
For information on upcoming programs and events, visit kansascitymuseum.org.
BACKGROUND
Located at 3218 Gladstone Boulevard in the Historic Northeast community of Kansas City, Missouri, the Kansas City Museum is comprised of five original buildings, including the mansion Corinthian Hall, which was built in 1910 by Robert Alexander Long. The estate became a public museum in 1940. The mission of the Kansas City Museum is to preserve, interpret, and celebrate Kansas City through collections, exhibitions, and bold programs that reflect the City's evolution and spirit, and engage visitors in unfolding stories about Kansas City's vibrant history, cultural heritage, and pride.
---
Museo de Kansas City reabre sus puertas el 6 de julio
El Museo de Kansas City planea reabrir Corinthian Hall al público el jueves 6 de julio de 2023, después de un cierre temporal.
El 11 de enero de 2023 se produjo un mal funcionamiento del sistema HVAC, lo que causó daños por agua en áreas seleccionadas en los cuatro pisos de Corinthian Hall. La Fundación del Museo de Kansas City y la ciudad de Kansas City, Missouri, se movilizaron rápidamente para involucrar a los contratistas para comenzar la restauración de los daños causados por el agua y comenzar a reparar y actualizar el sistema HVAC. El HVAC es un sistema operativo crítico porque el Museo se esfuerza por tener un control preciso de temperatura y humedad para la preservación de artefactos y edificios históricos en la propiedad.
El 20 de abril de 2023, el Concejo Municipal aprobó los fondos para las reparaciones y JE Dunn Construction comenzó a trabajar el 24 de abril de 2023. No se dañaron los materiales de recolección y se repararon techos, pisos y sistemas eléctricos y mecánicos.
Los edificios y los terrenos del Museo de Kansas City son propiedad de la Ciudad de Kansas City, Missouri y están completamente gobernados, operados y administrados por la Fundación del Museo de Kansas City, una organización sin fines de lucro 501 (c)(3), a través de un acuerdo de cooperación con Departamento de Parques y Recreación de la Ciudad de Kansas City, Missouri.
Para obtener información sobre los próximos programas y eventos, visite kansascitymuseum.org.
HISTORIA
Ubicado en 3218 Gladstone Boulevard en la comunidad histórica del noreste de Kansas City, Missouri, el Museo de Kansas City se compone de cinco edificios originales, incluida la mansión Corinthian Hall, que fue construida en 1910 por Robert Alexander Long. La propiedad se convirtió en un museo público en 1940. La misión del Museo de Kansas City es preservar, interpretar y celebrar Kansas City a través de colecciones, exhibiciones y programas audaces que reflejan la evolución y el espíritu de la ciudad, e involucran a los visitantes en el desarrollo de historias sobre Kansas. La vibrante historia, el patrimonio cultural y el orgullo de la ciudad.