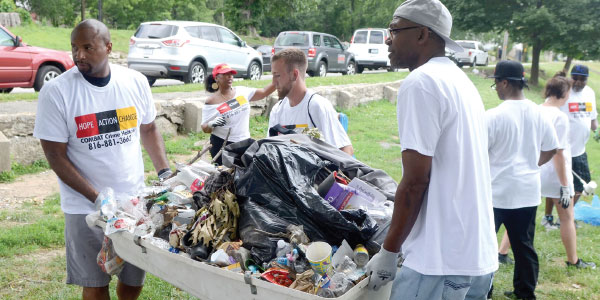 Kansas City taxpayers rightly expect their municipal government's public works department to build and maintain streets, sidewalks, bridges and parking infrastructure and to regularly remove solid waste (trash and recycling). That isn't happening equivalently across Kansas City neighborhoods as evidenced in random cruises through various parts of the city. Taxpayers there aren't getting their money's worth; in paying for services they're not regularly receiving, they're being shortchanged by city government. By the same token, owners of properties considered to be nuisance or blighted are injuring their city and their neighbors.
Alone or combined, public works' and select property owners' dereliction add up to blight. And that leads to crime, dilapidated and nuisance properties, decreasing property values, uptick in absentee landlords, stable businesses and residents fleeing, breeding grounds for insect and animal pests, deteriorating quality of life and health and eventually blocks of abandoned properties.
As in all other municipalities, Kansas City owners are required to observe codes and ordinances governing the condition of their properties. Yards must be free of litter, trash, rubbish, fallen tree limbs, dead shrubs, motor vehicles parked in the grass, indoor or upholstered furniture, unstable or unsightly retaining walls and fences and grass or weeds taller than 10 inches. Gutters, eaves, soffits and fascia boards must be in good repair. A building's surface must be unblemished, free of peeling or blistered paint; damaged siding; or graffiti. Doors and windows must be intact, without any broken, cracked or missing panes.
The city typically gives property owners 10 days to mitigate a code violation; after that, the city may deign to repair the problem and bill the property owner, as well as impose a fine.
The City Council elected by voters adopts the city's codes and ordinances, and the Code Enforcement department enforces them. Their shared goal is to establish the highest standards of property aesthetics and maintenance to best enhance Kansas Citians' quality of life.
Here are a couple key questions for property owners. How can those who fail to comply with codes and ordinances criticize the city for not living up to its public works responsibilities? And don't we hometown proud residents really want to show off our neighborhoods to best advantage when millions of 2026 World Cup visitors from around the world tour our Kansas City communities?
Nota bene:
Read Kansas City's common code violations online at https://www.kcmo.gov/city-hall/departments/neighborhoods-housing-services/neighborhood-preservation/common-code-violations.
---
Límpielo
Los contribuyentes de Kansas City esperan con razón que el departamento de obras públicas de su gobierno municipal construya y mantenga calles, aceras, puentes e infraestructura de estacionamiento y que elimine regularmente los desechos sólidos (basura y reciclaje). Eso no está sucediendo de manera equivalente en los vecindarios de Kansas City, como lo demuestran las vueltas aleatorias por varias partes de la ciudad. Los contribuyentes allí no obtienen el valor de su dinero; al pagar por servicios que no reciben regularmente, el gobierno de la ciudad los está estafando. Del mismo modo, los dueños de propiedades consideradas molestas o deterioradas están perjudicando a su ciudad y a sus vecinos.
Solos o combinados, el abandono de obras públicas y propietarios selectos se suman a la ruina. Y eso conduce a la delincuencia, propiedades en ruinas y molestas, disminución del valor de las propiedades, aumento de propietarios ausentes, negocios estables y residentes que huyen, criaderos de plagas de insectos y animales, deterioro de la calidad de vida y la salud y, finalmente, bloques de propiedades abandonadas.
Como en todos los demás municipios, los propietarios de Kansas City deben observar los códigos y ordenanzas que rigen la condición de sus propiedades. Los jardines deben estar libres de desperdicios, ramas caídas de árboles, arbustos muertos, vehículos motorizados estacionados en el césped, muebles interiores o tapizados, muros de contención y cercas inestables o antiestéticas, y césped o maleza de más de 10 pulgadas. Las canaletas, los aleros, los plafones y las tablas de fascia deben estar en buen estado. La superficie de un edificio debe estar impecable, sin pintura descascarada o ampollada; revestimiento dañado; o grafiti. Las puertas y ventanas deben estar intactas, sin cristales rotos, agrietados o faltantes.
La ciudad normalmente les da a los propietarios 10 días para mitigar una violación del código; después de eso, la ciudad puede dignarse reparar el problema y facturar al dueño de la propiedad, así como imponer una multa.
El Concejo Municipal elegido por los votantes adopta los códigos y ordenanzas de la ciudad, y el departamento de Cumplimiento de Códigos los hace cumplir. Su objetivo compartido es establecer los más altos estándares de estética y mantenimiento de propiedades para mejorar la calidad de vida de los residentes de Kansas City.
Aquí hay un par de preguntas clave para los propietarios. ¿Cómo pueden quienes no cumplen con los códigos y ordenanzas criticar a la ciudad por no cumplir con sus responsabilidades de obras públicas? ¿Y nosotros, los orgullosos residentes de nuestra ciudad natal, no queremos realmente mostrar nuestros vecindarios de la mejor manera cuando millones de visitantes de la Copa Mundial 2026 de todo el mundo recorran nuestras comunidades de Kansas City?
Nota bene:
Lea las violaciones del código común de Kansas City en línea en https://www.kcmo.gov/city-hall/departments/neighborhoods-housing-services/neighborhood-preservation/common-code-violations.