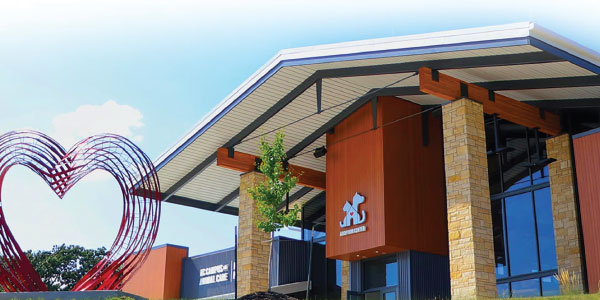 By Chara
A Kansas City area nonprofit organization is working to help pets and their owners – and has done so for 11 years.
The organization is the KC Pet Project. Established in 2012 and based in Kansas and Missouri, it operates the KC Campus for Animal Care, the main animal shelter in Kansas City, Missouri. Each year, the organization takes care of more than 15,000 animals, and it has "14 locations across Missouri and Kansas to adopt out pets," its website states.
The organization also supports progressive programs "to help pet owners keep their pets," such as lost and found services and Keep 'Em Together, KC, a program launched in May 2020, according to the organization's website. The KC Pet Project also prioritizes pet safety with such initiatives as pet identification and microchipping, organization information states. In addition, the KC Pet Project handles animal control tasks for the city of Kansas City, Missouri.
Since handling animal control duties for Kansas City, the KC Pet Project has accomplished the following, its website states:
*Reached a 90-percent save rate within months of running the city's animal shelter and has stayed above that mark – a turnaround from a euthanizing rate of 98 percent for cats and between 60 and 70 for animals in general before the organization took over.
*Launched the area's "largest (and only open admission) animal shelter."
*Witnessed the building of a new animal care facility, the KC Campus for Animal Care, accomplished via the approval of public funding for it by voters in 2017; and private-sector contributions. It opened in January 2020.
*Celebrated its 10th anniversary in January 2022.
To adopt or foster a pet or donate to the KC Pet Project, visit the organization at 7077 Elmwood Ave. in Kansas City, Missouri or its website, kcpetproject.org. The phone number is 816-683-1383.
---
Organización sin fines de lucro se esfuerza por marcar la diferencia para mascotas
Una organización sin fines de lucro del área de Kansas City trabaja para ayudar a las mascotas y sus dueños – y lo ha estados haciendo por 11 años.
La organización es el KC Pet Project. Establecido en 2021 y con base en Kansas y Missouri, opera el KC Campus para el Cuidado Animal, el principal refugio en Kansas City, Missouri. Cada año, la organización se hace cargo de más de 15.000 animales y tiene "14 sucursales en todo Missouri y Kansas para adoptar mascotas", afirma su sitio web.
La organización también apoya programas progresivos "para ayudar a los dueños de mascotas a conservar a sus mascotas", como los servicios de objetos perdidos y encontrados y Keep 'Em Together, KC, un programa lanzado en mayo de 2020, según el sitio web de la organización. El KC Pet Project también prioriza la seguridad de las mascotas con iniciativas como la identificación de mascotas y microchips, afirma la información de la organización. Además, KC Pet Project se encarga de las tareas de control de animales para la ciudad de Kansas City, Missouri.
Desde que se encargó de las tareas de control de animales en Kansas City, KC Pet Project ha logrado lo siguiente, dice su sitio web:
*Alcanzó una tasa de ahorro del 90% a los pocos meses de administrar el refugio de animales de la ciudad y se ha mantenido por encima de esa marca: un cambio respecto de una tasa de eutanasia del 98% para gatos y entre 60 y 70 para animales en general antes de que la organización asumiera el control.
*Inauguró el "refugio de animales más grande (y el único de admisión abierta)" de la zona.
*Fue testigo de la construcción de una nueva instalación de cuidado de animales, el KC Campus para el cuidado de animales, logrado mediante la aprobación de fondos públicos por parte de los votantes en 2017; y contribuciones del sector privado. Se inauguró en enero de 2020.
*Celebró su décimo aniversario en enero de 2022.
Para adoptar o criar una mascota o hacer una donación al KC Pet Project, visite la organización en 7077 Elmwood Ave. en Kansas City, Missouri o su sitio web, kcpetproject.org. El número de teléfono es 816-683-1383.