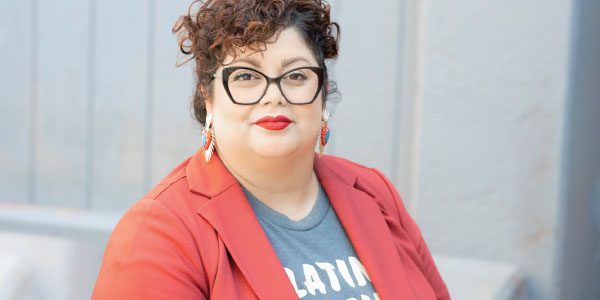 By Angie Baldelomar
El Centro Inc. has a new person in charge.
Erica Andrade took over as president and CEO on July 1. Most recently serving as chief program officer, Andrade has worked for El Centro since 2001. For the past five years, serving as chief program officer has given her insight into the role of CEO, she said.
"I was able to work directly with Irene (Caudillo, former CEO/president) for the last five years as chief program officer, just overseeing all of the programming, learning everything about the organization – not just one program – and so, when the time came, I knew I was prepared," she said.
When the application process opened in early March, Andrade knew she had to apply. It was in May that the board announced she had been selected.
For Andrade, the key to a successful tenure will be to center any actions and initiatives around those El Centro serves.
"We know … that who we are primarily serving – and that doesn't mean that that's the only people we serve because we serve everyone that walks in the doors, but we do pay special care to individuals that are immigrants, that are in mixed-status families, that have language barriers, that are already struggling to find their way in this community that they decided to call home," she said.
El Centro's programming and services and social media presence center around that knowledge, which is why all the organization's information is always in Spanish, she said.
Other changes Andrade anticipates include the appointment of a new chief program officer and the creation of a resource development team in charge of funding development.
As far as programming, Andrade doesn't plan any immediate changes because the programs in place serve the four core areas El Centro focuses on: early education, community health programs, economic empowerment programs, and advocacy and engagement.
Andrade encourages people to reach out if they have any doubts or just want to get involved with El Centro.
"If you have a question, if you have a doubt, come and talk to us," she said. "We have a lot of staff who speak English and Spanish, so we truly want to be here as a bridge, a link, between our community and all the resources in it. If you want to donate or if you want to volunteer, reach out to us and we're here for that, too."
*Editor's note: To listen to the full interview, visit dosmundos.com.
---
Erica Andrade toma el timón en El Centro
El Centro Inc. tiene una nueva persona al mando.
Erica Andrade asumió el cargo de presidenta y directora ejecutiva el 1 de julio. Andrade se desempeñó recientemente como directora de programas y ha trabajado para El Centro desde 2001. Durante los últimos cinco años, desempeñarse como directora de programas le ha dado una idea del papel de directora ejecutiva, dijo.
"Pude trabajar directamente con Irene (Caudillo, ex directora ejecutiva/presidenta) durante los últimos cinco años como directora de programas, simplemente supervisando toda la programación, aprendiendo todo sobre la organización, no sólo un programa, y así, cuando llegó el momento, supe que estaba preparada", dijo.
Cuando se abrió el proceso de solicitud a principios de marzo, Andrade sabía que tenía que presentar una solicitud. Fue en mayo que la junta anunció que había sido seleccionada.
Para Andrade, la clave para una permanencia exitosa será centrar cualquier acción e iniciativa en torno a aquellos a los que sirve El Centro.
"Sabemos… a quienes servimos principalmente, y eso no significa que sean las únicas personas a las que servimos porque servimos a todos los que cruzan la puerta, pero prestamos especial atención a las personas que son inmigrantes, que están en familias de estatus mixto, que tienen barreras idiomáticas, que ya están luchando por encontrar su camino en esta comunidad a la que decidieron llamar hogar", dijo.
Los programas y los servicios de El Centro y la presencia en las redes sociales se centran en ese conocimiento, razón por la cual toda la información de la organización está siempre en español.
Otros de los cambios que Andrade anticipa incluyen el nombramiento de un nuevo director de programas y la creación de un equipo de desarrollo de recursos a cargo del financiamiento del desarrollo.
En cuanto a los programas, no se planea ningún cambio inmediato porque los programas existentes sirven a las cuatro áreas principales en las que se enfoca El Centro: educación temprana, programas de salud comunitaria, programas de empoderamiento económico y defensa y participación.
Andrade alienta a las personas a comunicarse si tienen alguna duda o simplemente quieren involucrarse con El Centro.
"Si tiene una pregunta, si tiene una duda, venga y hable con nosotros", dijo. "Tenemos mucho personal, y todos hablan inglés y español, por lo que realmente queremos estar aquí como un puente, un vínculo entre nuestra comunidad y todos los recursos que hay en ella. … Si desea donar o si desea ser voluntario, comuníquese con nosotros y también estamos aquí para eso".
*Nota del editor: Para escuchar la entrevista completa, visite dosmundos.com.