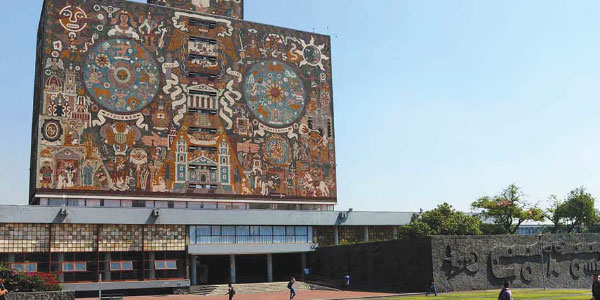 By Tere Siqueira
Two online programs offered by Universidad Nacional Autonoma de Mexico (UNAM) are open for applications, according to the Mexican Consulate in Kansas City, Missouri.
Spanish speakers can get a GED/high school diploma online from UNAM. Applications are open through Aug. 29 to Mexican nationals or Spanish-speakers of any age who have a device with internet access and possess basic computer skills.
There also is a bachelor's degree program. For the bachelor's degree application, the only requirement is to fill out a pre-registration form online with basic questions before Aug. 17. This pre-registration is to enter the selection contest in November.
Deputy Consul Oscar Soberanes said the low cost to get a degree is a plus for people getting a GED and/or bachelor's degree from UNAM. The overall cost of a degree is around $100. The price includes the cost of admission, 420 Mexican pesos (around $25); enrollment costs, 0.05 cents per semester; and the cost of a degree, 1,261 Mexican pesos (around $75).
UNAM is among the top three universities in Latin America, and has more than 200,000 students, Soberanes said. Getting a degree from there is a big advantage, he said.
"The main advantage is that (UNAM) offers you a virtual option to get either your GED or bachelor's degree from your home with extremely low costs," Soberanes said.
Teresa Arcos from the Department of Community and Education Affairs at the consulate said there's another advantage to getting one's GED or high school diploma at UNAM.
"If someone gets their GED from UNAM, they have direct enrollment into the university," she said. "For those who know the selection contest to enter UNAM, they know this is a gift because they immediately get in to get their bachelor's. Almost like a reward."
Arcos also said the Institute for Mexicans Abroad constantly sends opportunities like this one, so she suggests people follow the consulate on social media on @consulmexkan. It is there where people also can find more information about the programs.
The consulate in Kansas City will talk more about the programs during its upcoming Binational Week of Education Aug. 14-18.
---
UNAM ofrece programas de bachillerato y licenciaturas en línea
Dos programas en línea ofrecidos por la Universidad Nacional Autónoma de México (UNAM) están abiertos para solicitudes, según el Consulado de México en Kansas City, Missouri.
Los hispanohablantes pueden obtener un GED/diploma de escuela secundaria en línea de la UNAM. Las solicitudes están abiertas hasta el 29 de agosto para ciudadanos mexicanos o hispanohablantes de cualquier edad que tengan un dispositivo con acceso a Internet y posean conocimientos básicos de informática.
También hay un programa de licenciatura. Para la solicitud de la licenciatura, el único requisito es llenar un formulario de pre-registro en línea con preguntas básicas antes del 17 de agosto. Este pre-registro es para participar en el concurso de selección en noviembre.
El cónsul adscrito, Oscar Soberanes, dijo que el bajo costo para obtener un título es una ventaja para las personas que obtienen un GED y/o una licenciatura de la UNAM. El costo total de un título es de alrededor de $100. El precio incluye el costo de la entrada, 420 pesos mexicanos (alrededor de $25); costos de matrícula, 0,05 centavos por semestre; y el costo de la carrera, 1,261 pesos mexicanos (alrededor de $75).
La UNAM está entre las tres mejores universidades de América Latina y cuenta con más 200.000 estudiantes, Soberanes explicó, lo cual hace que obtener un título de allí se convierte en una gran ventaja.
"La principal ventaja es que te está ofreciendo de manera virtual con acceso en tu casa la posibilidad de cursar tu bachillerato o carrera universitaria sin costo o a costos muy, muy, muy reducidos", dijo.
Teresa Arcos del Departamento de Asuntos Comunitarios y Educativos del consulado, dijo que hay otra ventaja de obtener el bachillerato en la UNAM.
"Si una persona concluye el bachillerato con la UNAM, tiene pase directo para estudiar la carrera", dijo. "Para el que conoce el concurso de selección para ingresar a la UNAM, es un regalo porque pasan directamente a la carrera. … Van de la mano".
Arcos también dijo que el Instituto de los Mexicanos en el Exterior constantemente envía oportunidades como esta, por lo que sugiere que las personas sigan al consulado en las redes sociales en @consulmexkan. Es allí donde la gente también puede encontrar más información sobre los programas.
El consulado en Kansas City hablará más sobre los programas durante su próxima Semana Binacional de Educación del 14 al 18 de agosto.