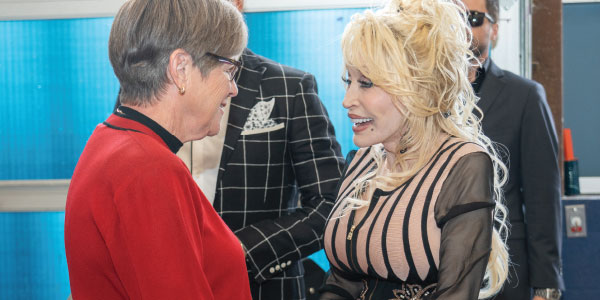 Books for Kansas kids statewide
By Edie R. Lambert
Kansas kids statewide can now get a book in the mail every month at no cost to families. On Monday, Dolly Parton visited Overland Park with Kansas Gov. Laura Kelly to celebrate the statewide expansion of Parton's Imagination Library.
Dedicated to inspiring a love of reading early, the Imagination Library mails a high-quality, age-appropriate book every month to participating kids, birth to age five.
Gov. Kelly urged all families to enroll their eligible kids at Imagination Library Kansas at https://kschildrenscabinet.org/imaginationlibrary/ or at https://imaginationlibrary.com/
in English or Spanish.
"Start the path to literacy early," Kelly said "Register prenatally. And read the books to your children and with them."
The Imagination Library's Blue Ribbon Book Selection Committee picks the books, which include English-Spanish, Braille and audiobooks.
Country and rockˈnˈroll music superstar, author and actress, Dolly Parton founded the Imagination Library in 1995 in honor of her dad, one of the smartest people she's ever known, but who couldn't read or write.
"That seemed to trouble him a lot, and it troubled me that my daddy was troubled," Parton told Kelly in a sit-down interview before 400-plus guests at White Theater at the Jewish Community Center.
"Daddy got to live long enough to see the Imagination Library take off," she added.
The program relies on local affiliates in the respective communities to distribute the books. Parton's Imagination Library has expanded into Australia, Canada, Ireland and the UK. Her philanthropic organization, the Dollywood Foundation manages the international program.
The Imagination Library with its 2,700 local program partners distributed 2,443,948 books in July, bringing the total number of books to date to 213,859,527.
Kansas has the distinction of being home to Pratt, the first Imagination Library site in 2005 outside of Parton's home state of Tennessee, Kelly noted. Kansas has some 60,000 kids enrolled. Since 2005, they've received more than 3.8 million books.
The Imagination Library is active in all 50 states, but Kansas is just the 15th state where the program is available statewide. Additional funding that Kelly included and the legislature approved in the 2023 budget funded the statewide expansion.
The invitation-only audience Monday was treated to a gift exchange and sit-down conversation between Kelly and Parton and anecdotes and songs by Parton.
Talking to reporters before the event, Kelly explained her enthusiastic support for the Imagination Library. Early childhood education will be her legacy.
"Today's event showcases my emphasis on early childhood," she said. "Investment in education provides steppingstones to all industries. Learn to read, read to learn."
Parton credits her parents, Avie and Robert who surrounded her and her 11 siblings with a lot of love and support. She owes her business savvy to her dad and her musical talent to her mom.
Parton intends to expand the Imagination Library, applying part of a $100 million award from Jeff Bezos. When the billionaire announced the gift, he cited Parton's efforts to do good, especially relating to education and literacy.
"I'm a firm believer in putting your money where your heart is," Parton said, "and I really believe in doing as much as you can for children."
Editor's Note:
Anyone interested in supporting the Kansas Imagination Library can make a donation online at https://kschildrenscabinet.org/imaginationlibrary/.
---
Libros para los niños de Kansas en todo el estado
Los niños de Kansas en todo el estado ahora pueden recibir un libro por correo todos los meses sin costo alguno para las familias. El lunes, Dolly Parton visitó Overland Park con la gobernadora de Kansas, Laura Kelly, para celebrar la expansión estatal de la Biblioteca de la Imaginación de Parton.
Dedicada a inspirar el amor por la lectura desde temprana edad, la Biblioteca de la Imaginación envía por correo un libro de alta calidad apropiado para la edad todos los meses a los niños participantes, desde el nacimiento hasta los cinco años.
La gobernadora Kelly instó a todas las familias a inscribir a sus hijos elegibles en la Biblioteca de la Imaginación de Kansas en https://kschildrenscabinet.org/imaginationlibrary/ o en https://imaginationlibrary.com/ en inglés o español.
"Comience temprano el camino hacia la alfabetización", dijo Kelly. "Inscríbase prenatalmente. Y léale los libros a sus hijos y con ellos".
El Comité de Selección de Libros Blue Ribbon de la Biblioteca de la Imaginación elige los libros, que incluyen inglés-español, braille y audiolibros.
Dolly Parton, superestrella de la música country y del rock, autora y actriz, fundó la Biblioteca de la Imaginación (Imagination Library, en inglés) en 1995 en honor a su padre, una de las personas más inteligentes que jamás haya conocido, pero que no sabía leer ni escribir.
"Eso pareció preocuparle mucho, y me preocupó que mi papá tuviera problemas", le dijo Parton a Kelly en una entrevista sentada ante más de 400 invitados en el Teatro White del Centro Comunitario Judío.
"Papá tuvo que vivir lo suficiente para ver despegar la Biblioteca de la Imaginación", agregó.
El programa depende de afiliados locales en las respectivas comunidades para distribuir los libros. La Biblioteca de la Imaginación de Parton se ha expandido a Australia, Canadá, Irlanda y el Reino Unido. Su organización filantrópica, la Fundación Dollywood, administra el programa internacional.
La Biblioteca de la Imaginación con sus 2700 socios locales del programa distribuyó 2.443.948 libros en julio, elevando el número total de libros hasta la fecha a 213.859.527.
Kansas tiene la distinción de ser el hogar de Pratt, el primer sitio de la Biblioteca de la Imaginación en 2005 fuera del estado natal de Parton, Tennessee, señaló Kelly. Kansas tiene unos 60.000 niños inscritos. Desde 2005, han recibido más de 3,8 millones de libros.
La Biblioteca de la Imaginación está activa en los 50 estados, pero Kansas es sólo el decimoquinto estado donde el programa está disponible en todo el estado. Los fondos adicionales que Kelly incluyó y el presupuesto aprobado por la legislatura de 2023 financiaron la expansión estatal.
La audiencia del lunes, a la que sólo se podía acceder con invitación, recibió un intercambio de obsequios y una conversación sentada entre Kelly y Parton y anécdotas y canciones de Parton.
Hablando con los reporteros antes del evento, Kelly explicó su entusiasta apoyo a la Biblioteca de la Imaginación. La educación de la primera infancia será su legado.
"El evento de hoy muestra mi énfasis en la primera infancia", dijo. "La inversión en educación proporciona peldaños para todas las industrias. Aprende a leer, lee para aprender".
Parton le da crédito a sus padres, Avie y Robert, quienes la rodearon a ella y a sus 11 hermanos con mucho amor y apoyo. Le debe su conocimiento de los negocios a su padre y su talento musical a su madre.
Parton tiene la intención de expandir la Biblioteca de la Imaginación, aplicando parte de un premio de $100 millones de Jeff Bezos. Cuando el multimillonario anunció el regalo, citó los esfuerzos de Parton por hacer el bien, especialmente en relación con la educación y la alfabetización.
"Creo firmemente en poner su dinero donde está su corazón", dijo Parton, "y realmente creo en hacer todo lo que pueda por los niños".
Nota del editor:
Cualquier persona interesada en apoyar a la Biblioteca de la Imaginación de Kansas puede hacer una donación en línea en https://kschildrenscabinet.org/imaginationlibrary/.