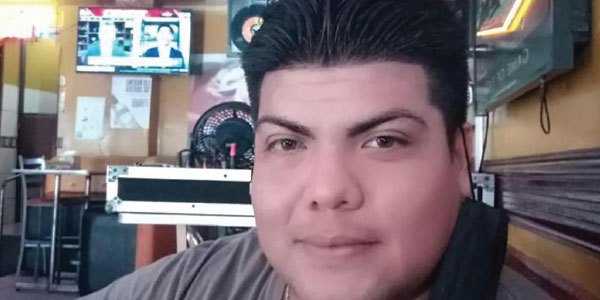 José Rodolfo Garcia-Sanchez came to Kansas City with high hopes. A temp agency, Infinity Resources Enterprises had hired him to perform asbestos abatement work on a downtown office building.
It was an ill-fated move that cost the young Nicaraguan his life. On July 17, the 34-year-old worker fell 14 floors down an elevator shaft and died.
Now, city and labor leaders are pushing for change, and the federal Occupational and Health Administration (OSHA) has launched an investigation into the tragedy and the three companies involved – Infinity Resources that hired Garcia-Sanchez; New Horizons LLC, contracted to perform the conversion work; and the Bernstein Companies that own the building.
Last week, city and labor leaders gathered alongside workers at the building where Garcia-Sanchez lost his life. City councilmembers announced plans to introduce ordinances to "ensure safer workplaces and fair wages," and a new initiative that calls for assigning city workers to monitor the work environment on job sites. It's set to take effect next month.
Manny Abarca was at the rally. The Fair Contracting Alliance executive director and Jackson County legislator advocated for a worker's bill of rights. Sal Valdez with the Missouri Kansas Laborers District Council announced that's he's heard concerns from workers about the lack of safety training on job sites. He pressed for investigations by city, local and federal prosecutors and the U.S. Labor Department.
All this attention is too late to save José Rodolfo Garcia-Sanchez. But if city and labor leaders follow through, and the OSHA and Labor investigations find violations, Garcia-Sanchez may be the catalyst for saving others, just as the Triangle Shirtwaist Factory fire fatalities drove many of the last century's reform in workplace conditions. Like many of them, José Rodolfo Garcia-Sanchez was an immigrant.
According to the U.S. Bureau of Labor Statistics (BLS), construction ranks among the nation's "most dangerous and lethal jobs," and it employs large numbers of immigrants. In 2021, there were 5,190 workplace fatalities according to the latest available OSHA data. Hispanic immigrants accounted for nearly a quarter of them – 1,130. "Latino workers face the greatest risk of dying on the job."
Immigrants serve a vital dual function. They work in jobs that Americans tend not to take, and they ease labor shortages created by our ageing workforce. Employing them obligates us to provide the same level of safety and health protections as native-born workers. Equity must prevail.
Immigrant workers in general are "disproportionately at risk for workplace safety and health problems," reports the BLS.
José Rodolfo Garcia-Sanchez lacked permanent legal status. But U.S. law guaranteed him "the right to work in a job free from known hazards" to his health and safety. The 1970 Occupational and Safety Health Act should've protected him. Why didn't it?
---
Cambio a raíz de la tragedia
José Rodolfo García-Sánchez llegó a Kansas City con grandes esperanzas. Una agencia temporal, Infinity Resources Enterprises, lo había contratado para realizar un trabajo de reducción de asbesto en un edificio de oficinas del centro.
Fue una jugada desafortunada que le costó la vida al joven nicaragüense. El 17 de julio, el trabajador de 34 años cayó 14 pisos por el hueco de un ascensor y murió.
Ahora, los líderes sindicales y de la ciudad están presionando por un cambio, y la Administración de Salud y Ocupacional federal (OSHA, por sus siglas en inglés) ha iniciado una investigación sobre la tragedia y las tres empresas involucradas: Infinity Resources que contrató a García-Sánchez; New Horizons LLC, contratada para realizar el trabajo de conversión; y las Empresas Bernstein propietarias del edificio.
La semana pasada, líderes municipales y sindicales se reunieron junto a los trabajadores en el edificio donde García-Sánchez perdió la vida. Los concejales de la ciudad anunciaron planes para introducir ordenanzas para "garantizar lugares de trabajo más seguros y salarios justos" y una nueva iniciativa que exige la asignación de trabajadores de la ciudad para monitorear el entorno laboral en los lugares de trabajo. Está previsto que entre en vigor el próximo mes.
Manny Abarca estuvo en el rally. El director ejecutivo de Fair Contracting Alliance y el legislador del condado de Jackson abogaron por una declaración de derechos de los trabajadores. Sal Valdez, del Consejo del Distrito de Trabajadores de Missouri Kansas, anunció que escuchó las preocupaciones de los trabajadores sobre la falta de capacitación en seguridad en los lugares de trabajo. Presionó para que los fiscales municipales, locales y federales y el Departamento de Trabajo realicen investigaciones.
Toda esta atención es demasiado tarde para salvar a José Rodolfo García-Sánchez. Pero si los líderes municipales y laborales siguen adelante, y las investigaciones de OSHA y el Departamento de Trabajo encuentran violaciones, García-Sánchez puede ser el catalizador para salvar a otros, al igual que las muertes por incendios en Triangle Shirtwaist Factory impulsaron muchas de las reformas del siglo pasado en las condiciones laborales. Como muchos de ellos, José Rodolfo García-Sánchez era inmigrante.
Según la Oficina de Estadísticas Laborales (BLS, por sus siglas en inglés), la construcción se encuentra entre los "trabajos más peligrosos y letales" del país y emplea a un gran número de inmigrantes. En 2021, hubo 5190 muertes en el lugar de trabajo según los últimos datos disponibles de OSHA. Los inmigrantes hispanos representaron casi una cuarta parte de ellos: 1.130. "Los trabajadores latinos enfrentan el mayor riesgo de morir en el trabajo".
Los inmigrantes cumplen una doble función vital. Trabajan en empleos que los estadounidenses tienden a no aceptar y alivian la escasez de mano de obra creada por nuestra fuerza laboral que envejece. Emplearlos nos obliga a brindar el mismo nivel de protección de seguridad y salud que los trabajadores nativos. La equidad debe prevalecer.
Los trabajadores inmigrantes en general están "desproporcionadamente en riesgo de problemas de seguridad y salud en el lugar de trabajo", reporta el BLS.
José Rodolfo García-Sánchez carecía de estatus legal permanente. Pero la ley estadounidense le garantizó "el derecho a trabajar en un trabajo libre de peligros conocidos" para su salud y seguridad. La Ley de Seguridad y Salud Ocupacional de 1970 debería haberlo protegido. ¿Por qué no lo hizo?