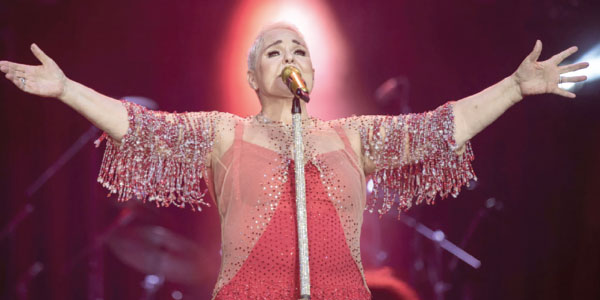 Considered one of the best performers in Latin America, and with an impeccable musical trajectory, Lupita D'Alessio announces the U.S. dates of her "GRACIAS TOUR," with which she wishes to thank the audience that has followed her for more than 50 years.
The tour, which kicked off in January 2023 in Mexicali, will begin its journey through the United States on Sept. 22 at the Vina Robles Amphitheatre Theater in Paso Robles, California, and will travel to 10 cities, including Los Angeles, Las Vegas, San Antonio, Houston and Chicago, before wrapping up on Oct. 22 in Dallas, TX.
Lupita D'Alessio will be accompanied by her son Ernesto D'Alessio as a guest artist to say goodbye to her audience in the United States.
Tickets for the "GRACIAS TOUR" will be available starting on Friday, April 28, at 10am local time through www.ticketmaster.com and www.seitrackus.com
With a career that spans more than 50 years and more than 40 million albums sold, Lupita D'Alessio is without a doubt a music icon in the Spanish-speaking world. Her voice and performing style are part of the music culture in Mexico, United States, and Central and South America.
---
Lupita D'alessio se despedide de estados unidos con "Gracias Tour" 
Considerada una de las mejores intérpretes de América Latina, y con una impecable trayectoria musical de más de 50 años, la legendaria Lupita D'Alessio está a un paso de comenzar la muy esperada etapa estadounidense de su gira "GRACIAS TOUR", y acaba de anunciar nuevas fechas en Atlanta y Miami para este noviembre.
Iniciando en enero, el "GRACIAS TOUR" de D'Alessio ha sido el medio a través del cual la icónica estrella agradece a los fanáticos que la han seguido durante más de cinco décadas.
La etapa estadounidense comenzará el 22 de septiembre en el Viña Robles Amphitheatre de Paso Robles, CA y continuará hasta noviembre con los nuevos espectáculos anunciados en Atlanta el 3 de noviembre y en Miami el 5 de noviembre.
Lupita estará acompañada por su hijo Ernesto D'Alessio como artista invitado para despedirse de su audiencia en Estados Unidos.
Con más de 40 millones de álbumes vendidos, Lupita D'Alessio es sin duda una de las estrellas de la música más reconocidas en el mundo de habla hispana. Su voz inconfundible y sus éxitos celebrados se han convertido en parte integral de la cultura musical en México, Estados Unidos y América Central y del Sur, y han ayudado a dar forma a la banda sonora de las vidas de innumerables fanáticos en todo el mundo.