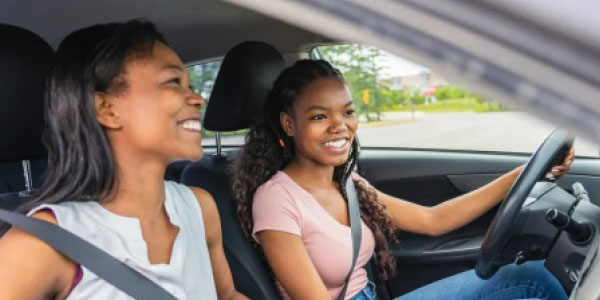 Many families will head out on one last trip or getaway as the school year begins. Safe Kids Kansas, sponsored in part by the Kansas Department of Health and Environment, State Farm and the Kansas Department of Transportation (KDOT), wants to encourage families to buckle up and drive safely to protect their most valuable asset, their families.
This year, from August 25 through September 10, a safety belt awareness campaign called "Bucks for Buckles" was held in 39 cities across Kansas. Local volunteers distributed dollar bills to drivers with all occupants buckled up securely in their vehicle. Those riding unrestrained received educational materials about the effectiveness of seat belts and child safety seats in saving lives and reducing injuries.
"No one can predict when they will be involved in a motor vehicle crash, yet almost all of us will be involved in an automobile crash in our lifetime. In 2021, 424 people lost their lives on Kansas roadways, and 54 percent were unbuckled," said Cherie Sage, State Director for Safe Kids Kansas. "The single most effective means of protecting the lives of you and your passengers is wearing seat belts and using appropriate child restraints every time you ride in the vehicle – even short distances."
According to the 2022 KDOT Seat Belt Survey, 87 percent of Kansans surveyed wore seat belts. This compares to the national average of 90 percent based on the most recent NHTSA National Occupant Protection Use Survey in 2021. Kansas ranked 38 in belt use in 2021 among 50 states and the District of Columbia. Seat belts save more than 15,000 lives yearly and are the best defense against drunk, aggressive and distracted drivers.
"Seat belts are the single most effective device you can use to save your life during a vehicle crash," said Sage. "They also reduce your chances of serious injury by as much as 50 percent. It's simple, so take your life into your own hands and buckle up."
For more information about safety belts or child safety seat use, call (785) 296-1223 or visit SafeKidsKansas.org, SafeKids.org and Facebook.com/safekidskansas.
---
Se recompensó en dólares a los conductores que se abrochan el cinturón
Muchas familias emprenderán un último viaje o escapada ahora que el año escolar ya ha comenzado. Safe Kids Kansas, patrocinado en parte por el Departamento de Salud y Medio Ambiente de Kansas, State Farm y el Departamento de Transporte de Kansas (KDOT, por sus siglas en inglés), quiere alentar a las familias a que se abrochen el cinturón y conduzcan de manera segura para proteger su activo más valioso: sus familias.
Este año, del 25 de agosto al 10 de septiembre, se llevó a cabo una campaña de concientización sobre el cinturón de seguridad llamada "Bucks for Buckles" en 39 ciudades de Kansas. Los voluntarios locales distribuyeron billetes de un dólar a los conductores con todos los ocupantes abrochados de forma segura en su vehículo. Aquellos que viajen sin cinturón de seguridad recibieron materiales educativos sobre la eficacia de los cinturones de seguridad y los asientos de seguridad para niños para salvar vidas y reducir lesiones.
"Nadie puede predecir cuándo se verá involucrado en un accidente automovilístico, sin embargo, casi todos nosotros estaremos involucrados en un accidente automovilístico a lo largo de nuestra vida. En 2021, 424 personas perdieron la vida en las carreteras de Kansas y el 54 por ciento no tenían el cinturón de seguridad", dijo Cherie Sage, directora estatal de Safe Kids Kansas. "El medio más eficaz para proteger sus vidas y las de sus pasajeros es usar cinturones de seguridad y sistemas de retención infantil adecuados cada vez que viaje en el vehículo, incluso en distancias cortas".
Según la encuesta sobre cinturones de seguridad del KDOT de 2022, el 87 por ciento de los habitantes de Kansas encuestados usaban cinturones de seguridad. Esto se compara con el promedio nacional del 90 por ciento según la Encuesta Nacional de Uso de Protección de Ocupantes de la NHTSA más reciente en 2021. Kansas ocupó el puesto 38 en el uso del cinturón en 2021 entre 50 estados y el Distrito de Columbia. Los cinturones de seguridad salvan más de 15.000 vidas cada año y son la mejor defensa contra conductores ebrios, agresivos y distraídos.
"Los cinturones de seguridad son el dispositivo más eficaz que puede utilizar para salvar la vida durante un accidente automovilístico", dijo Sage. "También reducen las posibilidades de sufrir lesiones graves hasta en un 50 por ciento. Es simple, así que toma el control de tu vida y abróchate el cinturón".
Para obtener más información sobre los cinturones de seguridad o el uso de asientos de seguridad para niños, llame al (785) 296-1223 o visite SafeKidsKansas.org, SafeKids.org y Facebook.com/safekidskansas.