By Tere Siqueira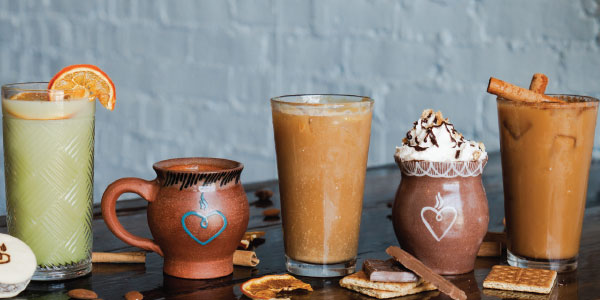 Autumn is almost here.
To commemorate the arrival of fall, Cafe Corazon in Kansas City, Missouri, is unveiling its exquisite fall drink menu of seven offerings that symbolize the essence of autumn, with its changing colors and emotional atmosphere.
A fusion of Latin influences and the tastes of autumn, the menu offers choices ranging from rich coffees and aromatic teas to indulgent cocktails available exclusively at Café Corazon's Crossroads Arts District location. The lineup includes dulce manzanita, pumpkin spice horchata and pumpkin spice ronchata.
As co-founder Dulcinea Herrera pointed out during a recent interview, the unveiling of the menu not only celebrates autumn but also Hispanic Heritage Month, which begins Friday (Sept. 15) and runs through Oct. 15.
"Introducing drinks at Cafe Corazon that pay homage to Latin American and indigenous heritage during Hispanic Heritage Month feels incredibly meaningful," Herrera said. "It's a proud celebration of our personal roots and a way to share our cultural essence with the world, fostering a sense of belonging and appreciation for the rich traditions that have shaped us and others."
Herrera said the drinks also are a way to help preserve cherished family memories. And they are part of a wider story that's told through the beans used to craft the drinks, she said. As part of the cafe chain's philosophy of "giving the bean a voice," its coffee beans are sourced from Latin America and are then roasted in Kansas City, according to Herrera. Thus, with each sip, the coffee beans tell their story of their journey from being farmed to ending up in patrons' cups, she suggested.
Cafe Corazon has two locations: 1721 Westport Road and the Crossroads branch, located at 110 Southwest Blvd. Both locations are open 7 a.m.-6 p.m. Monday-Friday and 8 a.m.-6 p.m. on weekends.
For more information about Cafe Corazon's latest offerings and updates, visit https://www.cafecorazonkc.com/ or follow the company on its social media platforms.
---
El menú de otoño de Café Corazón celebra las raíces latinas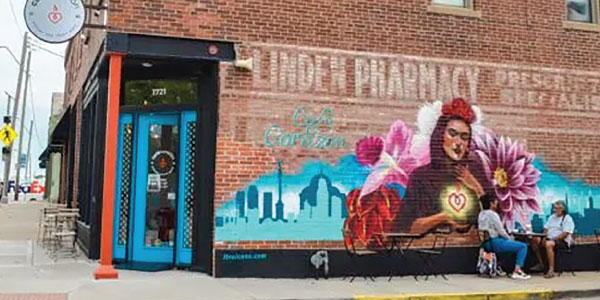 El otoño ya casi está aquí.
Para conmemorar la llegada del otoño, Café Corazón en Kansas City, Missouri, presenta su exquisito menú de bebidas de otoño con siete ofertas que simbolizan la esencia del otoño, con sus colores cambiantes y su atmósfera emocional.
Una fusión de influencias latinas y sabores del otoño, el menú ofrece opciones que van desde ricos cafés y tés aromáticos hasta deliciosos cócteles disponibles exclusivamente en la ubicación de Café Corazón en Crossroads Arts District. La programación incluye dulce manzanita, horchata de calabaza y ronchata de calabaza.
Como señaló la cofundadora Dulcinea Herrera durante una reciente entrevista, la presentación del menú no sólo celebra el otoño sino también el Mes de la Herencia Hispana, que comienza el viernes (15 de septiembre) y se extiende hasta el 15 de octubre.
"Presentar bebidas en Café Corazón que rinden homenaje a la herencia indígena y latinoamericana durante el Mes de la Herencia Hispana es increíblemente significativo", dijo Herrera. "Es una orgullosa celebración de nuestras raíces personales y una manera de compartir nuestra esencia cultural con el mundo, fomentando un sentido de pertenencia y aprecio por las ricas tradiciones que nos han moldeado a nosotros y a otros".
Herrera explicó que las bebidas también son una forma de ayudar a preservar preciados recuerdos familiares. Y son parte de una historia más amplia que se cuenta a través de los granos utilizados para elaborar las bebidas. Como parte de la filosofía de la cadena de cafeterías de "darle voz al grano", sus granos de café provienen de América Latina y luego se tuestan en Kansas City, según Herrera. Así, con cada sorbo, los granos de café cuentan la historia de su viaje desde su cultivo hasta su terminación en las tazas de los clientes.
Café Corazón tiene dos sucursales: 1721 Westport Road y la sucursal Crossroads, ubicada en 110 Southwest Blvd. Ambas ubicaciones están abiertas de 7 a. m. a 6 p. m. de lunes a viernes y de 8 a. m. a 6 p. m. en los fines de semana.
Para obtener más información sobre las últimas ofertas y actualizaciones de Café Corazón, visite https://www.cafecorazonkc.com/ o siga a la empresa en sus redes sociales.