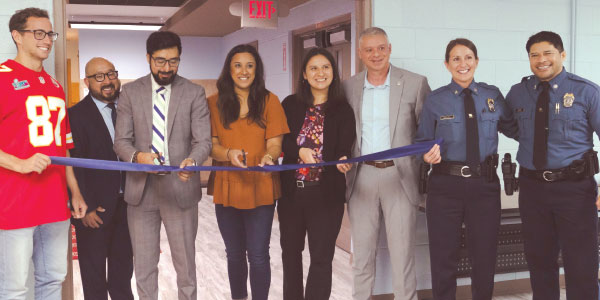 Photos by Sonia Falcon
On Sept. 22, the Mattie Rhodes Center in Kansas City, Missouri, hosted a ribbon-cutting ceremony to mark the grand opening of La Clinica, a bilingual one-stop shop community health center.
In partnership with The Medina Clinic, La Clinica will offer low-income residents "everything from primary care for acute and chronic conditions to domestic violence support," as stated in a pre-event press release. Insurance won't be required to receive attention.
"With the pandemic and the emergency work that we started doing with COVID outreach and all of that, our board just kind of really took a step back and looked at what it is that we're doing, and what did the community continue to need post-pandemic," said John Fierro, Mattie Rhodes president and CEO, in the press release.
A board-certified medical professional will staff the clinic, which will feature a family physician, access to therapists and a psychiatrist, and a women's health nurse practitioner. A bilingual receptionist and a community health worker will greet patients.
La Clinica operates 1-4:30 p.m. Fridays at Mattie Rhodes' Northeast facility in Kansas City by appointment only. To make an appointment, call (816) 581-5671.
---
Mattie Rhodes inaugura un centro de salud comunitario bilingüe
El 22 de septiembre, el Centro Mattie Rhodes en Kansas City, Missouri, organizó una ceremonia para marcar la gran inauguración de La Clínica, un centro de salud comunitario bilingüe.
En asociación con The Medina Clinic, La Clinica ofrecerá a los residentes de bajos ingresos "desde atención primaria para condiciones agudas y crónicas hasta apoyo para la violencia doméstica", como se indica en un comunicado de prensa previo al evento. No se requerirá seguro para recibir atención.
"Con la pandemia y el trabajo de emergencia que comenzamos a hacer con la divulgación de COVID y todo eso, nuestra junta realmente dio un paso atrás y analizó qué es lo que estamos haciendo y qué seguía necesitando la comunidad postpandemia", dijo John Fierro, presidente y director ejecutivo de Mattie Rhodes, en el comunicado de prensa.
Un profesional médico certificado formará parte del personal de la clínica, que contará con un médico de familia, acceso a terapeutas y un psiquiatra, y una enfermera especializada en salud de la mujer. Una recepcionista bilingüe y un trabajador de salud comunitario recibirán a los pacientes.
La Clínica opera de 1 a 4:30 p.m. Los viernes en las instalaciones de Mattie Rhodes en el noreste de Kansas City sólo con cita previa. Para programar una cita, llame al (816) 581-5671.