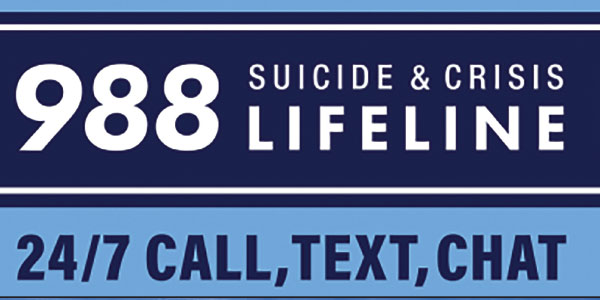 Suicide Prevention Month ends Saturday (Sept. 30). The 15th annual observance is meant to raise awareness about suicide prevention, connect people facing a mental health crisis with resources, remember lives ended by suicide and acknowledge those impacted. Last year, 49,449 individuals in the U.S. died by suicide, the Centers for Disease Control and Prevention reported in August. It's the 10th leading cause of death among adults and second leading cause among youth and young adults. It's a growing but preventable public health crisis, noted Health and Human Services Secretary Xavier Becerra in his remarks at the start of Suicide Prevention Month. He cited troubling data from a 2021 federal health survey showing that some 12.3 million adults and 3.3 million adolescents had experienced serious thoughts of suicide. It's a growing concern among Hispanics reported the American Society of Hispanic Psychiatry (ASHP), which estimates that 243,000 Hispanics each year "attempt to end their own lives." Many are adolescents. In 2019, 17% of Hispanic high school students reported seriously considering self-destructing. While Hispanic suicide risk factors seem greater because they're "disproportionately affected by economic, social and health consequences," they possess innate advantages, research shows. Cultural characteristics offer built-in safeguards against mental health disorders before they can "devolve into depression or suicidality," according to ASHP president, Dr. Ruby Castilla-Puentes. She cited characteristics such as close family ties that extend beyond the nuclear family; socialization networks; and open communication. A new program that streamlines how individuals in crisis seek help supports chat and text services in Spanish. The simplified tool became operational last year. It's a three-digit nationwide phone number connecting callers with mental health professionals near their homes 24/7. In July 2022, the 988 Suicide and Crisis Lifeline replaced a 10-digit phone number to the National Suicide Crisis Lifeline. The updated 988 number has expedited response times from "several minutes" to "just seconds," crisis workers told The New York Times at the one-year anniversary of the 988 debut. By late July, its crisis workers had fielded over five million phone calls, chats and texts. That represents a 66% increase over the previous year. Nonetheless, too few Americans – just 17% — are familiar with the 988 Suicide and Crisis Lifeline, showed a survey conducted in July by the National Alliance on Mental Illness. Takeaways from September's Suicide Prevention designation: Learn about 988 and the potentially lifesaving Suicide and Crisis Lifeline. And pass it on.Nota bene:If you or someone you know is struggling or in crisis and needs support now, contact the Suicide and Crisis Lifeline in English by phoning or texting 988 or chat 988lifeline.org. For Spanish callers, text AUYDA to 988 or WhatsApp at 442-AYUDAME. For hearing impaired callers, access American Sign Language services by clicking on the ASL now button on 988lifeline.org. Veterans can press "1" on their phones after dialing 988 to connect directly to the Veterans Crisis Lifeline or continue to text 838255, the Veterans Crisis Lifeline short code.
---
Recuerde esto: 988
El Mes de la Prevención del Suicidio finaliza el sábado (30 de septiembre). La decimoquinta celebración anual tiene como objetivo crear conciencia sobre la prevención del suicidio, conectar a las personas que enfrentan una crisis de salud mental con recursos, recordar las vidas que terminaron por suicidio y reconocer a los afectados.
El año pasado, 49.449 personas en Estados Unidos murieron por suicidio, reportaron en agosto los Centros para el Control y la Prevención de Enfermedades. Es la décima causa principal de muerte entre adultos y la segunda causa principal entre jóvenes y adultos jóvenes. Es una crisis de salud pública creciente pero prevenible, señaló el secretario de Salud y Servicios Humanos, Xavier Becerra, en sus comentarios al inicio del Mes de la Prevención del Suicidio. Citó datos preocupantes de una encuesta de salud federal de 2021 que muestra que unos 12,3 millones de adultos y 3,3 millones de adolescentes habían experimentado pensamientos graves de suicidio.
Es una preocupación creciente entre los hispanos, reportó la Sociedad Estadounidense de Psiquiatría Hispana (ASHP, por sus siglas en inglés), que estima que 243.000 hispanos cada año "intentan acabar con sus propias vidas". Muchos son adolescentes. En 2019, el 17% de los estudiantes hispanos de secundaria informaron haber considerado seriamente la autodestrucción.
Si bien los factores de riesgo de suicidio de los hispanos parecen mayores porque se ven "desproporcionadamente afectados por las consecuencias económicas, sociales y de salud", poseen ventajas innatas, según muestra una investigación. Las características culturales ofrecen salvaguardias integradas contra los trastornos de salud mental antes de que puedan "convertirse en depresión o tendencias suicidas", según la presidenta de ASHP, la Dra. Ruby Castilla-Puentes. Citó características como vínculos familiares estrechos que se extienden más allá de la familia nuclear; redes de socialización; y comunicación abierta.
Un nuevo programa que agiliza la forma en que las personas en crisis buscan ayuda respalda los servicios de chat y mensajes de texto en español. La herramienta simplificada entró en funcionamiento el año pasado. Es un número de teléfono nacional de tres dígitos que conecta a quienes llaman con profesionales de salud mental cerca de sus hogares las 24 horas, los 7 días de la semana. En julio de 2022, 988 Suicide and Crisis Lifeline reemplazó un número de teléfono de 10 dígitos del National Suicide Crisis Lifeline.
El número 988 actualizado ha acelerado los tiempos de respuesta de "varios minutos" a "sólo segundos", dijeron los trabajadores de crisis al New York Times en el primer aniversario del debut del 988. A finales de julio, sus trabajadores de crisis habían recibido más de cinco millones de llamadas telefónicas, chats y mensajes de texto. Esto representa un aumento del 66% respecto al año anterior. Sin embargo, muy pocos estadounidenses (sólo el 17%) están familiarizados con el 988 Suicide and Crisis Lifeline, según mostró una encuesta realizada en julio por la Alianza Nacional sobre Enfermedades Mentales.
Conclusiones de la designación de Prevención del suicidio de septiembre: conozca el 988 y la línea de vida en caso de crisis y suicidio, que puede salvar vidas. Y pase la voz.
Nota bene:
Si usted o alguien que conoce está luchando o en crisis y necesita apoyo ahora, comuníquese con Suicide and Crisis Lifeline en inglés llamando o enviando mensajes de texto al 988 o chateando en 988lifeline.org. Para personas que llaman en español, envíe un mensaje de texto con AYUDA al 988 o WhatsApp al 442-AYUDAME. Para las personas con problemas de audición, acceda a los servicios de lenguaje de señas americano haciendo clic en el botón ASL ahora en 988lifeline.org. Los veteranos pueden presionar "1" en sus teléfonos después de marcar 988 para conectarse directamente a Veterans Crisis Lifeline o continuar enviando mensajes de texto al 838255, el código corto de Veterans Crisis Lifeline