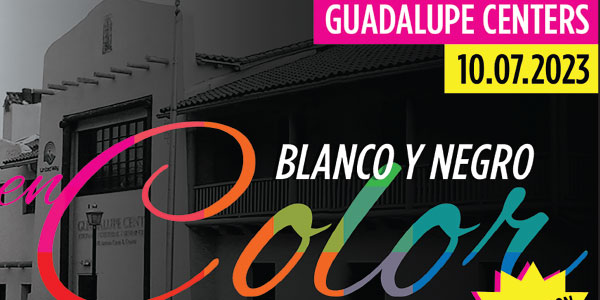 By Angie Baldelomar
The Blanco y Negro Gala is being given a twist this year.
Host Guadalupe Centers Inc. (GCI) is reimagining the annual gala by fusing "tradition and innovation, bringing guests a new experience while continuing the long tradition of celebrating Hispanic Heritage Month through the recognition of those whose contributions have made an impact on our community," as stated on its website.
Presented by Community America Credit Union, the event will return "home," as it'll be hosted on Oct. 7 at the GCI headquarters in Kansas City, Missouri's Westside neighborhood.
"GCI is eager to open its doors to (our) guests, to view our new spaces and see how our past is guiding our future," the website states.
Branded as Blanco y Negro en Color, the event will feature Oscar "El Tico" Monterroso as the master of ceremonies. Monterroso is the co-owner and founder of Tico Productions LLC, described on its website as "a full-service, multicultural, multimedia production and marketing company," located in the Westside.
Guests may sample foods and beverages from Kansas City area businesses at stations spread around the gala space, the website states. There also will be live music and other entertainment possessing "a Latin flair."
An admission ticket covers food, beverages and donor recognition on the event program. To buy tickets, visit https://betterunite.com/GuadalupeCenters-2023blancoynegrogala.
The website states that "discounted tickets are available for volunteers, community members and participants." For more information, contact Alyx Bartrom at abartrom@guadalupecenters.org.
---
Gala Blanco y Negro se llevará a cabo en la sede de Guadalupe Centers Inc.
La Gala Blanco y Negro viene con cambios este año.
El organizador, Guadalupe Centers Inc. (GCI), está reinventando la gala anual fusionando "tradición e innovación, brindando a los invitados una nueva experiencia mientras continúa la larga tradición de celebrar el Mes de la Herencia Hispana a través del reconocimiento de aquellos cuyas contribuciones han tenido un impacto en nuestra comunidad", como se indica en su sitio web.
Presentado por Community America Credit Union, el evento volverá a "casa", ya que se llevará a cabo el 7 de octubre en la sede de GCI en el vecindario Westside de Kansas City, Missouri.
"GCI está ansioso por abrir sus puertas a (nuestros) huéspedes, para ver nuestros nuevos espacios y ver cómo nuestro pasado guía nuestro futuro", afirma el sitio web.
Bajo el nombre de Blanco y Negro en Color, el evento contará con Oscar "El Tico" Monterroso como maestro de ceremonias. Monterroso es copropietario y fundador de Tico Productions LLC, descrita en su sitio web como "una empresa de marketing y producción multimedia multicultural y de servicio completo", ubicada en el Westside.
Los invitados pueden degustar alimentos y bebidas de las empresas del área de Kansas City en las estaciones repartidas por el espacio de gala, afirma el sitio web. También habrá música en vivo y otros entretenimientos con "un estilo latino".
Un boleto de admisión cubre alimentos, bebidas y el reconocimiento como donante en el programa del evento. Para comprar boletos, visite https://betterunite.com/GuadalupeCenters-2023blancoynegrogala.
El sitio web afirma que "hay entradas con descuento disponibles para voluntarios, miembros de la comunidad y participantes". Para obtener más información, comuníquese con Alyx Bartrom en abartrom@guadalupecenters.org.