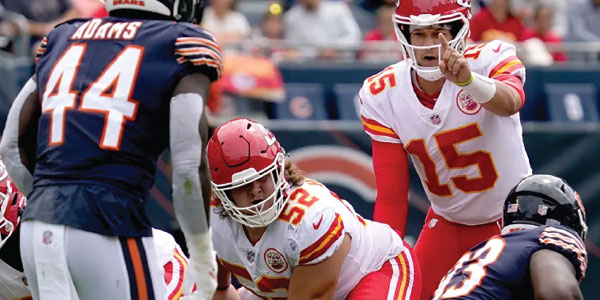 Kansas City "got things rolling" on offense against Chicago Sunday afternoon (Sept. 24) at GEHA Field at Arrowhead Stadium, according to Chiefs coach Andy Reid.
"That's a plus against a defense … that's banged up a little bit. … Our guys did a nice job," Reid told reporters after Kansas City's 41-10 shellacking of the Bears.
The Chiefs (2-1) did a "nice" enough job on offense that they netted 456 total yards – 303 passing, 153 rushing. Starting quarterback Patrick Mahomes II led the passing attack, completing 24 of 33 attempts for 272 yards and three touchdowns.
"It always feels good to kind of get the whole offense going. … Obviously, the first two weeks, we just kind of had been out of rhythm," Mahomes said during his postgame press conference.
The defending Super Bowl champions, however, had enough rhythm on offense to net 300-plus total yards in their first two football games. During their 21-20 season-opening loss to Detroit Sept. 7 at Arrowhead, the Chiefs netted 316 yards (226 passing, 90 rushing). They netted 399 (298 passing, 101 rushing) during their 17-9 Sept. 17 road win over Jacksonville.
Against Chicago (0-3), though, the Chiefs used their rhythm to not only generate yards, but also consistently produce scoring drives. After punting away their first possession, they scored on seven straight possessions – five touchdowns and two Harrison Butker field goals. With Blaine Gabbert spelling Mahomes at quarterback from late in the third quarter on, the Chiefs saw back-to-back drives end with turnovers. They ran out the clock for their final possession.
The Chiefs will look to keep their offense rolling Sunday (Oct. 1), when they face the New York Jets at MetLife Stadium. The Jets (1-2) are coming off a 30-10 thumping by Dallas.
Editor's note: To see the Reid and Mahomes press conferences, visit the team's YouTube channel.
---
La ofensiva se 'pone en marcha' en la victoria de los Chiefs vs los Bears
Kansas City "puso las cosas en marcha" en la ofensiva contra Chicago el domingo por la tarde (24 de septiembre) en el GEHA Field del Arrowhead Stadium, según el entrenador de los Chiefs, Andy Reid.
"Eso es una ventaja contra una defensa… que está un poco golpeada. … Nuestros muchachos hicieron un buen trabajo", dijo Reid a los periodistas después de la paliza de Kansas City por 41-10 a los Bears.
Los Chiefs (2-1) hicieron un trabajo "bueno" en la ofensiva y anotaron 456 yardas totales: 303 por aire y 153 por tierra. El mariscal de campo titular Patrick Mahomes II lideró el ataque aéreo, completando 24 de 33 intentos para 272 yardas y tres touchdowns.
"Siempre se siente bien poner en marcha toda la ofensiva. … Obviamente, las primeras dos semanas simplemente estábamos fuera de ritmo", dijo Mahomes durante su conferencia de prensa posterior al juego.
Los campeones defensores del Súper Bowl, sin embargo, tuvieron suficiente ritmo en la ofensiva para anotar más de 300 yardas totales en sus primeros dos partidos de fútbol. Durante su derrota inaugural de temporada 21-20 ante Detroit el 7 de septiembre en Arrowhead, los Chiefs anotaron 316 yardas (226 pases, 90 por tierra). Anotaron 399 (298 pases, 101 por tierra) durante su victoria como visitante por 17-9 el 17 de septiembre sobre Jacksonville.
Sin embargo, contra Chicago (0-3), los Chiefs usaron su ritmo no sólo para generar yardas, sino también para producir consistentemente series anotadoras. Después de despejar su primera posesión, anotaron en siete posesiones consecutivas: cinco touchdowns y dos goles de campo de Harrison Butker. Con Blaine Gabbert reemplazando a Mahomes como mariscal de campo desde finales del tercer cuarto, los Chiefs vieron series consecutivas terminar con pérdidas de balón. Se les acabó el tiempo para su posesión final.
Los Chiefs buscarán mantener su ofensiva en marcha el domingo (1 de octubre), cuando se enfrenten a los New York Jets en el MetLife Stadium. Los Jets (1-2) vienen de una paliza de 30-10 por parte de Dallas.
Nota del editor: para ver las conferencias de prensa de Reid y Mahomes, visite el canal de YouTube del equipo.