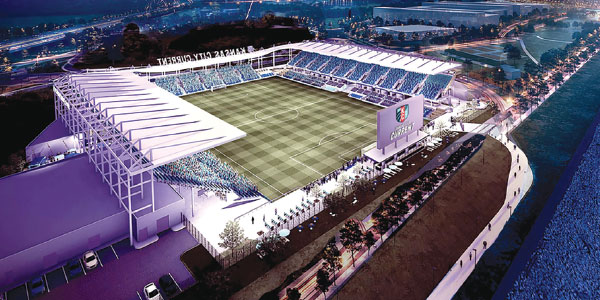 By Tere Siqueira
In 2024, Kansas City, Missouri, will open the first-ever stadium built specifically for a women's pro soccer team, multiple media outlets have reported.
Situated in the Berkley Riverfront area, the stadium will be the home ground for the Kansas City Current, a team in the National Women's Soccer League (NWSL). According to multiple media outlets, the stadium has been designed with an initial seating capacity of 11,500. Media outlets also have reported that future expansion plans reveal prospects for roughly doubling seating capacity.
The project is expected to cost $117 million, The Kansas City Star and other media outlets have reported. Originally, it was priced at $70 million.
Details on the project are gradually unfolding. Information on ticketing and other issues is expected to be released in the coming months.
Through at least the end of this season, the Current is playing its home games at Children's Mercy Park. The Kansas City, Kansas, venue also is the home stadium for the men's team Sporting Kansas City. Originally known as the Kansas City Wiz, then the Kansas City Wizards, Sporting is considered a charter club of MLS, the top-tier U.S. pro soccer league.
The Current – whose co-owners include Brittany Mahomes and her husband, Kansas City Chiefs quarterback Patrick Mahomes II – has two remaining home games scheduled for 2023. On Oct. 4, the ladies are slated to host CF Monterrey Femenil of Mexico's Liga MX Femenil in international friendly competition for Hispanic Heritage Night. On Oct. 7, the Current will host the Chicago Red Stars in NWSL play.
Kansas City will finish the NWSL regular season Oct. 15 against NJ/NY Gotham FC at Red Bull Arena in Harrison, New Jersey. The Current is positioned 11th among 12 teams in the league standings, with three games remaining. The top six teams when the regular season ends will advance to the NWSL playoffs.
---
KC abrirá estadio de fútbol para equipo femenil
En 2024, Kansas City, Missouri, inaugurará el primer estadio construido específicamente para un equipo profesional de fútbol femenino, según han informado varios medios de comunicación.
Ubicado en la zona de Berkley Riverfront, el estadio será el campo de casa del Kansas City Current, un equipo de la Liga Nacional de Fútbol Femenino (NWSL por sus siglas en inglés). De acuerdo con múltiples medios, el estadio ha sido diseñado con una capacidad inicial de 11,500 asientos. Los medios también han reportado que hay planes futuros para duplicar la capacidad de asientos.
Se espera que el proyecto tenga un costo de 117 millones de dólares, según informaron The Kansas City Star y otros medios. Originalmente, el precio estimado era de 70 millones de dólares.
Los detalles sobre el proyecto están saliendo a la luz gradualmente. Se espera que la información sobre la venta de boletos y otros detalles se dé a conocer en los próximos meses.
Al menos hasta el final de esta temporada, el Current está jugando sus partidos en casa en el Children's Mercy Park. El recinto de Kansas City, Kansas, también es el estadio del equipo masculino, el Sporting Kansas City. Conocido originalmente como Kansas City Wiz, luego Kansas City Wizards, el Sporting es considerado uno de los clubes fundadores de la MLS, la liga profesional de fútbol de máxima categoría de EE. UU.
El Current, cuyos copropietarios incluyen a Brittany Mahomes y su esposo, el mariscal de campo de los Kansas City Chiefs, Patrick Mahomes II, tiene programados dos juegos en casa más para 2023. El 4 de octubre, las damas recibirán al CF Monterrey Femenil de la Liga MX Femenil de México en un amistoso internacional por la Noche de la Herencia Hispana. El 7 de octubre, el Current recibirá al Chicago Red Stars en un juego de la NWSL.
Kansas City cerrará la temporada regular de la NWSL el 15 de octubre contra NJ/NY Gotham FC en el Red Bull Arena en Harrison, Nueva Jersey. El Current está ubicado en el puesto 11 de 12 equipos en la clasificación de la liga, con tres juegos restantes. Los seis primeros equipos al final de la temporada regular avanzarán a los playoffs de la NWSL.