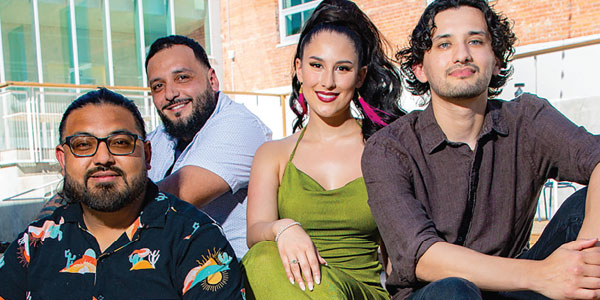 By Angie Baldelomar
Kansas City PBS is launching the second installment of a documentary highlighting Latinos in the Kansas City area in celebration of National Hispanic Heritage Month.
Premiering at 7 p.m. Oct. 12 on KCPBS Channel 19.1, "We Are Latinos II" is a series of three documentary shorts that "unveil the dynamic experiences of Latino trailblazers that have long molded Kansas City into the bustling metro it is today," as described in the official press release.
Victor Antillanca, director of "We Are Latinos II," said it will be powerful.
"We're going to tell stories that will open many people's eyes and ears, and (the film) will touch the hearts of those watching," he said.
The film will include stories from Dulcinea Herrera, co-founder of Cafe Corazon and former Miss Kansas City Latina; muralists Isaac Tapia and Rodrigo Alvarez, known as IT-RA Icons, who've painted 45-plus murals throughout the area; and Cesar Velez, a rising interdisciplinary artist who infuses his experiences as a first-generation American into his art.
"'We Are Latinos II' is a powerful compilation of cinematic vignettes that speak to Kansas City's vibrant Latinx community," said Kliff Kuehl, Kansas City PBS president and CEO, in a press release.
For Antillanca, the film is a personal project born out of his desire to tell Latino stories from Latinos themselves.
"I'm interested in giving a voice to those people that might not get the opportunity to do so in other places, and I'm interested in telling stories of people doing something for themselves or the community, but that are impacting in one way or another," he said.
KCPBS also is hosting a free screening event at 7 p.m. Oct. 11 at the Screenland Armour Theatre in North Kansas City, Missouri. For tickets, visit https://events.kansascitypbs.org/event/we-are-latinos-ii-screening/.
---
"We Are Latinos II" debuta el 12 de octubre en el canal de KCPBS
Kansas City PBS está lanzando la segunda entrega de un documental que destaca a los latinos en el área de Kansas City en celebración del Mes Nacional de la Herencia Hispana.
Con su estreno a las 7 p.m. del 12 de octubre en el canal 19.1 de KCPBS, "We Are Latinos II" es una serie de tres cortometrajes documentales que "revelan las experiencias dinámicas de los pioneros latinos que durante mucho tiempo han moldeado a Kansas City hasta convertirla en el bullicioso metrópoli que es hoy", como se describe en el comunicado de prensa.
Víctor Antillanca, director de "Somos Latinos II", dijo que será poderoso.
"Vamos a contar historias que abrirán los ojos y oídos de muchas personas, y (la película) tocará los corazones de quienes la vean", dijo.
La película incluirá historias de Dulcinea Herrera, cofundadora de Café Corazón y ex Miss Kansas City Latina; los muralistas Isaac Tapia y Rodrigo Álvarez, conocidos como Iconos IT-RA, que han pintado más de 45 murales en toda el área; y César Vélez, un artista interdisciplinario en ascenso que infunde sus experiencias como estadounidense de primera generación en su arte.
"'We Are Latinos II' es una poderosa compilación de viñetas cinematográficas que hablan de la vibrante comunidad latina de Kansas City", dijo Kliff Kuehl, presidente y director ejecutivo de Kansas City PBS, en un comunicado de prensa.
Para Antillanca, la película es un proyecto personal que nace de su deseo de contar historias latinas de los propios latinos.
"Me interesa darles voz a aquellos que tal vez no les dan la oportunidad en otros lugares y me interesa contar historias de gente que está haciendo algo, ya sea por ellos mismos o por la comunidad, que están impactando de una u otra forma", dijo.
KCPBS también organizará un evento de proyección gratuito a las 7 p.m. el 11 de octubre en el Screenland Armor Theatre en North Kansas City, Missouri. Para boletos, visite https://events.kansascitypbs.org/event/we-are-latinos-ii-screening/.