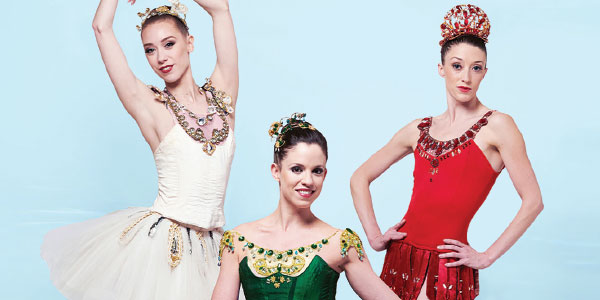 By Angie Baldelomar
A new season is approaching for the Kansas City Ballet. And with it, some changes.
The biggest change for the 2023-24 season is David Gray serving as executive director. He started July 1.
Ellen McDonald, Kansas City Ballet publicist, said programs throughout the season will have "something for everyone," starting with the North American premiere of Val Caniparoli's original telling of the classic gothic suspense thriller "Jekyll & Hyde."
"This production promises to be a visual and psychological masterpiece that will leave audiences on the edge of their seats," McDonald stated via email.
"Jekyll & Hyde" will open the season when it debuts Oct. 13-22.
The season also will feature "Peter Pan," George Balanchine's "Jewels" and the classic holiday show "The Nutcracker."
"It wouldn't be the holidays without it!" McDonald said of "The Nutcracker," which has become an annual tradition for the company.
McDonald also said audiences can expect the same values they have seen from previous years, such as the production values of sets and costumes.
"The beauty, athleticism and the stunning production values (sets, costumes, lights, etc.) are the cornerstone of what makes Kansas City Ballet one of the best regional companies in the U.S.," she stated.
In other news, this year marks the opening of the company's south campus in Meadowbrook, a new place for people of any age who are interested in learning ballet to take classes.
For more information on the Kansas City Ballet and its lineup this season, visit https://kcballet.org. For "Jekyll & Hyde" tickets, https://kcballet.org/events/jekyll-hyde/.
---
KC Ballet abrirá la temporada con "Jekyll & Hyde"
Se acerca una nueva temporada para Kansas City Ballet. Y con ello, algunos cambios.
El mayor cambio para la temporada 2023-24 es que David Gray se desempeña como director ejecutivo. Comenzó el 1 de julio.
Ellen McDonald, publicista del Kansas City Ballet, dijo que los programas a lo largo de la temporada tendrán "algo para todos", comenzando con el estreno en Norteamérica de la versión original de Val Caniparoli del clásico thriller gótico de suspenso "Jekyll & Hyde".
"Esta producción promete ser una obra maestra visual y psicológica que dejará al público al borde de sus asientos", afirmó McDonald por correo electrónico.
"Jekyll & Hyde" abrirá la temporada cuando se estrene del 13 al 22 de octubre.
La temporada también contará con "Peter Pan", "Jewels" de George Balanchine y el clásico espectáculo navideño "The Nutcracker".
"¡No serían vacaciones sin él!" McDonald dijo sobre "El Cascanueces", que se ha convertido en una tradición anual para la compañia.
McDonald también dijo que el público puede esperar los mismos valores que ha visto en años anteriores, como los valores de producción de decorados y vestuario.
"La belleza, el atletismo y los impresionantes valores de producción (decorados, vestuario, luces, etc.) son la piedra angular de lo que hace del Kansas City Ballet una de las mejores compañías regionales de Estados Unidos", afirmó.
En otras noticias, este año marca la apertura del campus sur de la compañía en Meadowbrook, un nuevo lugar para que personas de cualquier edad que estén interesadas en aprender ballet tomen clases.
Para obtener más información sobre el Kansas City Ballet y su programación esta temporada, visite https://kcballet.org. Para entradas para "Jekyll & Hyde", https://kcballet.org/events/jekyll-hyde/.