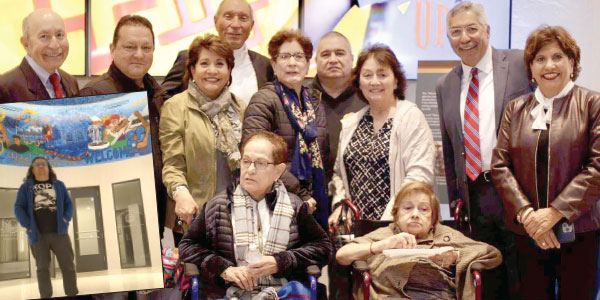 Story by Tere Siqueira and photos by Lia Caro
On Oct. 13, Union Station in Kansas City, Missouri, culminated the National Hispanic Heritage Month with a dedication gathering. From 4:00 PM to 6:00 PM at the B Level Rotunda Patio Entrance, Union Station unveiled the "Ramón Murguía Visitor Entrance" in tribute to Ramón Murguía, the immediate past chair of Union Station's esteemed Board of Directors.
Complementing this dedication, a captivating 360-degree "Welcome All" mural was presented. Designed by the renowned Kansas City artist, Chico Sierra, the artwork highlights Murguía's emphasis on cultural diversity and inclusivity. Sierra, a distinguished Chicano artist, seamlessly wove together iconic Kansas City landmarks, diverse familiar faces, and evocative references from Murguía's ancestral home in Mexico, creating a mesmerizing visual tapestry.
Murguía's tenure as the Board Chair, spanning from 2018 to 2023, was marked by numerous milestones. Under his guidance, Union Station, a historic emblem and favored regional destination, witnessed record-breaking attendance figures in 2019. Despite the challenges presented by the COVID-19 pandemic, the Station not only withstood the turmoil but flourished, amplifying its commitment to Diversity, Equity, and Inclusion (DEI) initiatives. While Murguía's term as Board Chair concluded in 2023, his association with Union Station persists as he continues to be a vital part of the Board of Directors.
The event saw the presence of notable figures such as George Guastello, President & CEO of Union Station Kansas City, Ramón Murguía, owner of Murguía Law Office, and Chico Sierra, an internationally celebrated Chicano artist.
---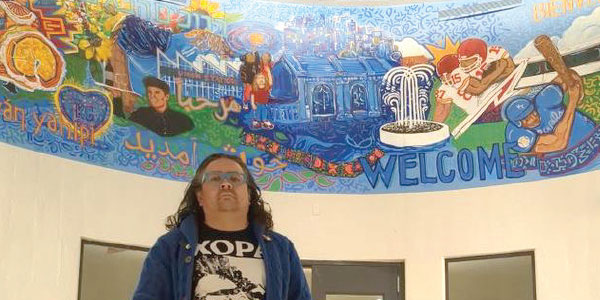 Chico Sierra homenajea a Ramon Murguía con mural en Union Station
El 13 de octubre, la Union Station en Kansas City, Missouri, puso el broche de oro al Mes Nacional de la Herencia Hispana con un acto de dedicación. De 4:00 PM a 6:00 PM en la Entrada del Patio Rotunda del Nivel B, la Union Station presentó la "Entrada para Visitantes Ramón Murguía" en homenaje a Ramón Murguía, el expresidente del prestigioso Consejo de Directores de Union Station.
Complementando esta dedicación, se presentó un cautivador mural de 360 grados titulado "Welcome All" (Bienvenidos Todos). Diseñado por el renombrado artista de Kansas City, Chico Sierra, la obra resalta el énfasis de Murguía en la diversidad cultural e inclusión. Sierra, un destacado artista chicano, entrelazó sin problemas icónicos puntos de referencia de Kansas City, rostros familiares diversos y referencias evocadoras del hogar ancestral de Murguía en México, creando un impresionante tapiz visual.
La gestión de Murguía como presidente del Consejo, que abarcó de 2018 a 2023, estuvo marcada por numerosos logros. Bajo su guía, Union Station, un emblema histórico y destino regional preferido, presenció cifras récord de asistencia en 2019. A pesar de los desafíos presentados por la pandemia del COVID-19, la Estación no solo resistió el embate sino que floreció, reforzando su compromiso con las iniciativas de Diversidad, Equidad e Inclusión (DEI). Aunque el mandato de Murguía como presidente del Consejo concluyó en 2023, su asociación con Union Station persiste, ya que continúa siendo una parte esencial del Consejo de Directores.
El evento contó con la presencia de figuras notables como George Guastello, Presidente y CEO de Union Station Kansas City, Ramón Murguía, propietario de la Oficina de Abogados Murguía, y Chico Sierra, un artista chicano celebrado internacionalmente.