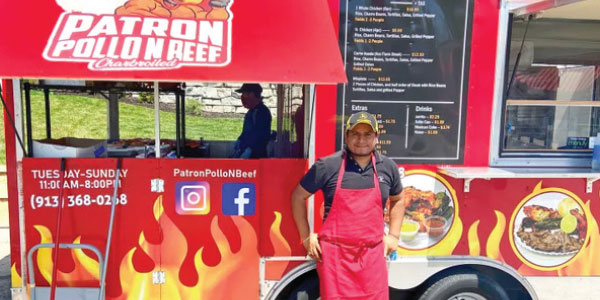 By Chara
A Kansas City area, Monterrey-style Mexican restaurant chain is celebrating its fifth anniversary this year.
In 2018, Lino Perez and his wife, who had a long history of working in the restaurant industry, opened the first location of their chain, Patron Pollo N Beef, in Olathe, Kansas. Since then, the chain has expanded with two other locations. Patron Pollo N Beef No. 2 is at 12325 State Line Road in Kansas City, Missouri. The third location is at 11019 W. 75th St. in Shawnee, Kansas. In addition, customers can order Patron Pollo N Beef food from multiple apps, including Uber Eats and Menufy.
"I never thought that I would have this great support from all my customers," Lino Perez said. "It is something that we appreciate."
The business means a lot to the Perez family, Lino Perez said.
The restaurant's specialty is charcoal-grilled chicken – hence the inclusion of "Pollo" in the name – prepared with the flavor of mesquite wood. The restaurant offers other grilled meats, including arrachera.
The Perez family decided to specialize in that type of food based on the desire to share the authentic flavor of Mexico's Monterrey region with the Kansas City area, according to Lino Perez.
To thank all Patron Pollo N Beef customers for their unwavering support and for being the pillar of the chain's success, the Perez family is offering a special promotion from 11 a.m. to 5 p.m. Thursdays. Customers who buy one chicken will receive a half-chicken for free.
---
Restaurante celebra aniversario de traer el sabor de Monterrey a KC
Una cadena de restaurantes mexicanos al estilo Monterrey del área de Kansas City celebra su quinto aniversario este año.
En 2018, Lino Pérez y su esposa, que tenían una larga trayectoria trabajando en la industria de restaurantes, abrieron el primer local de su cadena, Patron Pollo N Beef, en Olathe, Kansas. Desde entonces, la cadena se ha ampliado con otras dos sucursales. Patrón Pollo N Beef No. 2 está en 12325 State Line Road en Kansas City, Missouri. La tercera sucursal está en 11019 W. 75th St. en Shawnee, Kansas. Además, los clientes pueden pedir comida de Patron Pollo N Beef desde múltiples aplicaciones, incluidas Uber Eats y Menufy.
"Nunca pensé que tendría este gran apoyo de todos mis clientes", dijo Lino Pérez. "Es algo que apreciamos".
El negocio significa mucho para la familia Pérez, dijo.
La especialidad del restaurante es el pollo a la parrilla al carbón –de ahí la inclusión de "Pollo" en el nombre– preparado con sabor a madera de mezquite. El restaurante ofrece otras carnes a la parrilla, incluida la arrachera.
La familia Pérez decidió especializarse en ese tipo de comida basándose en el deseo de compartir el auténtico sabor de la región mexicana de Monterrey con el área de Kansas City, según Pérez.
Para agradecer a todos los clientes de Patrón Pollo N Beef por su apoyo incondicional y por ser el pilar del éxito de la cadena, la familia Pérez ofrece una promoción especial de 11 a.m. a 5 p.m. los jueves. Los clientes que compren un pollo recibirán medio pollo gratis.