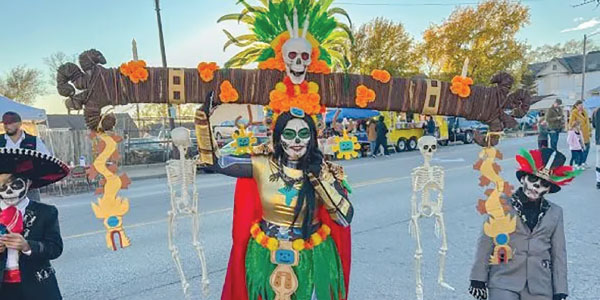 By Angie Baldelomar
The Central Avenue Betterment Association (CABA) is getting ready for another Day of the Dead celebration.
On Nov. 4, CABA will host its annual Dia de los Muertos event 11 a.m.-9 p.m. in the usual spot at 1120 Central Ave. in Kansas City, Kansas. Edgar Galicia, CABA executive director, is excited for another year to share the holiday with the community.
"It is an honor to be able to put (on) this event," Galicia said. "We have an amazing team that helps us and is dedicated to making sure this is the best experience for everybody."
Like previous years, the highlight will be the walking catrinas and parade. There also will be face painting, food, art, ofrendas, a car show and live entertainment. Throughout the afternoon, there will be a VIP Lounge available, too.
CABA's Dead of the Day celebration has become a staple of Kansas City, Kansas. Galicia can see it from the emails he receives from out-of-towners wanting to know the date ahead of time so they can plan trips around it.
"More people from other cities, like Omaha, Wichita, Topeka, even Oklahoma City (send emails) asking us about the day," he said. "They want to plan their weekend to visit our community."
Each year, the event keeps growing, Galicia said. This year, almost 100 vendors will be a part of the Dia de los Muertos celebration – up from 60 in previous years.
This year, safety is being emphasized, according to Galicia.
"We want to assure all of our visitors that we're making it as safe as possible and as easy to get to as possible," he said.
The event is free and open to anyone.
"We are waiting for everybody's visit, so we'll see you on Central!" Galicia said.
CABA is always accepting donations. Visit https://www.cabakck.org to donate or volunteer. There also will be a stand at the event where people can purchase T-shirts and other products to help the association.
---
CABA se prepara para otra celebración del Día de los Muertos
La Asociación para el Mejoramiento de la Avenida Central (CABA, por sus siglas en inglés) se está preparando para otra celebración del Día de los Muertos.
El 4 de noviembre, CABA organizara su evento anual del Día de los Muertos de 11 a.m. a 9 p.m. en el lugar de siempre en 1120 Central Ave. en Kansas City, Kansas. Edgar Galicia, director ejecutivo de CABA, está emocionado por otro año más pudiendo compartir esta festividad con la comunidad.
"Es un honor poder organizar este evento", dijo. "Tenemos un equipo increíble que nos ayuda y está dedicado a garantizar que esta sea la mejor experiencia para todos".
Como años anteriores, lo más destacado serán las catrinas andantes y el desfile. También habrá pintura de caras, comida, arte, ofrendas, exhibición de autos y entretenimiento en vivo. A lo largo de la tarde también habrá disponible una Sala VIP.
La celebración del Día de los Muertos de CABA se ha convertido en un elemento básico de Kansas City, Kansas. Galicia lo puede comprobar por los correos electrónicos que recibe de personas fuera de la ciudad que quieren saber la fecha con antelación para poder planificar viajes alrededor de ella.
"Más personas de otras ciudades, como Omaha, Wichita, Topeka e incluso Oklahoma City (envían correos electrónicos) preguntándonos sobre el día", dijo. "Quieren planificar su fin de semana para visitar nuestra comunidad".
Cada año, el evento sigue creciendo, afirmó Galicia. Este año, casi 100 vendedores formarán parte de la celebración del Día de los Muertos, frente a los 60 de años anteriores.
Este año se pone énfasis en la seguridad, según Galicia.
"Queremos asegurarles a todos nuestros visitantes que lo estamos haciendo lo más seguro posible y de fácil acceso", dijo.
El evento es gratuito y abierto a cualquier persona.
"¡Estamos esperando la visita de todos, así que nos vemos en Central!" Dijo Galicia.
CABA siempre está aceptando donaciones. Visite https://www.cabakck.org para donar o ser voluntario. También habrá un stand en el evento donde la gente podrá adquirir camisetas y otros productos para ayudar a la asociación.