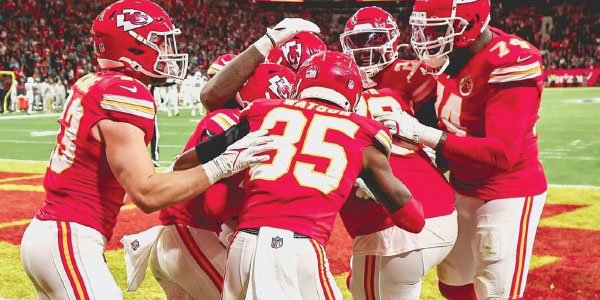 One of the biggest fans of Kansas City's defense might be one of its players on offense: Chiefs quarterback Patrick Mahomes II.
Mahomes was particularly appreciative of the defense after Kansas City's 21-14 victory over Miami Sunday (Nov. 5) at Deutsche Bank Park in Frankfurt, Germany – one of five International Series games scheduled this season by the NFL, the parent league of Kansas City and Miami.
"Obviously, penalties and then me not connecting … (with) guys deep down the field hurt us," he told reporters. "But luckily for us, our defense … (was) playing their tail off and we got the win."
Mahomes, however, connected on two short TD passes to help the Chiefs (7-2) build a 14-0 lead. The first was an 11-yarder to Rashee Rice with 12 minutes, 3 seconds left in the first quarter. The second was a 17-yarder to Jerick McKinnon with 2:31 left in the second quarter. Harrison Butker converted extra-point kicks after both touchdowns.
The defense scored Kansas City's final touchdown, also in the second quarter.
Facing second-and-7 from the Kansas City 30-yard line, Dolphins quarterback Tua Tagovailoa completed a screen pass behind the line of scrimmage to ex-Chief Tyreek Hill. Chiefs cornerback Trent McDuffie drove Hill backward about 3 yards and knocked the football loose. As video of the AFC meeting shows, Mike Edwards recovered the fumble at the 37 and returned the ball to about the 43. Wrapped up by Hill, Edwards lateraled back to fellow safety Bryan Cook, who took the ball 59 yards for the score with 33 seconds remaining. Butker booted the extra point.
"That was sweet," Mahomes said. "I mean, obviously, (it was) a huge play in the game."
Mahomes said Cook looked like he was the anchor runner on a track relay team during the return.
"He got those knees up and was rolling down the field," Mahomes said.
The scoop-lateral-and-score play helped the Chiefs withstand Miami's second-half rally attempt. The Dolphins (6-3) made it a seven-point ballgame in the third quarter. Tagovailoa threw a 31-yard TD pass to wide receiver Cedric Wilson Jr. with 4:47 remaining, and then Raheem Mostert ripped off a 13-yard TD run with 22 seconds remaining. Jason Sanders provided the extra point after both touchdowns.
Miami threatened to score twice during the fourth quarter. Starting from their own 11, the Dolphins reached the Kansas City 38 before being driven back to their own 45 and forced to punt. On their final possession, the Dolphins reached the Kansas City 31 and lost possession on downs, allowing the Chiefs to run out the clock and leave Germany victoriously.
Dolphins coach Mike McDaniel praised his team's resiliency in staging the comeback attempt. McDaniel also blamed himself for the breakdown that ended Miami's final possession.
"I told the team …, 'You don't have to worry about me learning from mistakes.' … It's going to be a hard one to digest," he said during his postgame press conference. "But we'll make it purposeful."
The Dolphins will look to rebound from their overseas loss Nov. 19, when they host Las Vegas. The Chiefs will look to build on their overseas win Nov. 20, when they face Philadelphia at GEHA Field at Arrowhead Stadium in a rematch of Super Bowl LVII. Look for coverage of that game and Kansas City's Nov. 26 road meeting with Las Vegas in Dos Mundos' Nov. 30 issue.
Note: To screen Mahomes' press conference in its entirety, visit the Chiefs' official YouTube channel. To screen McDaniel's press conference in its entirety, visit the Dolphins' official YouTube channel.
---
La defensa se mantiene firme en el triunfo de KC en el extranjero sobre Miami
Uno de los mayores fanáticos de la defensiva de Kansas City podría ser uno de sus jugadores ofensivos: el mariscal de campo de los Chiefs, Patrick Mahomes II.
Mahomes apreció particularmente a la defensa después de la victoria de Kansas City por 21-14 sobre Miami el domingo (5 de noviembre) en el Deutsche Bank Park en Frankfurt, Alemania, uno de los cinco juegos de la Serie Internacional programados esta temporada por la NFL, la liga matriz de Kansas City y Miami.
"Obviamente, los penaltis y luego no conectarme… (con) los muchachos en lo más profundo del campo nos perjudicaron", dijo a los periodistas. "Pero afortunadamente para nosotros, nuestra defensa… (estaba) jugando con todo y conseguimos la victoria".
Mahomes, sin embargo, conectó dos pases cortos de touchdown para ayudar a los Chiefs (7-2) a tomar una ventaja de 14-0. El primero fue un pase de 11 yardas a Rashee Rice cuando quedaban 12 minutos y 3 segundos en el primer cuarto. El segundo fue un pase de 17 yardas a Jerick McKinnon cuando quedaban 2:31 en el segundo cuarto. Harrison Butker convirtió patadas de puntos extra después de ambos touchdowns.
La defensa anotó el touchdown final de Kansas City, también en el segundo cuarto.
Enfrentándose a segunda y 7 desde la yarda 30 de Kansas City, el mariscal de campo de los Dolphins, Tua Tagovailoa, completó un pase de pantalla detrás de la línea de golpeo al ex Chief Tyreek Hill. El esquinero de los Chiefs, Trent McDuffie, empujó a Hill hacia atrás unas 3 yardas y soltó el balón. Como muestra el video del partido de la AFC, Mike Edwards recuperó el balón suelto en el 37 y devolvió el balón aproximadamente al 43. Envuelto por Hill, Edwards regresó a su compañero safety Bryan Cook, quien tomó el balón 59 yardas para anotar con 33 segundos restantes. Butker anotó el punto extra.
"Eso fue dulce", dijo Mahomes. "Quiero decir, obviamente, (fue) una gran jugada en el juego".
Mahomes dijo que Cook parecía ser el corredor ancla en un equipo de relevos en pista durante el regreso.
"Levantó las rodillas y rodó por el campo", dijo.
La jugada de saque lateral y anotación ayudó a los Chiefs a resistir el intento de remontada de Miami en la segunda mitad. Los Dolphins (6-3) lograron un juego de siete puntos en el tercer cuarto. Tagovailoa lanzó un pase de touchdown de 31 yardas al receptor abierto Cedric Wilson Jr. con 4:47 restantes, y luego Raheem Mostert realizó una carrera de touchdown de 13 yardas con 22 segundos restantes. Jason Sanders aportó el punto extra tras ambos touchdowns.
Miami amenazó con anotar dos veces durante el último cuarto. Comenzando desde su propia yarda 11, los Dolphins llegaron a la yarda 38 de Kansas City antes de ser obligados a retroceder a su propia yarda 45 y verse obligados a despejar. En su última posesión, los Dolphins llegaron a la yarda 31 de Kansas City y perdieron la posesión, permitiendo a los Chiefs quedarse sin tiempo y salir victoriosos de Alemania.
El entrenador de los Dolphins, Mike McDaniel, elogió la resiliencia de su equipo al organizar el intento de remontada. McDaniel también se culpó por la ruptura que acabó con la posesión final de Miami.
"Le dije al equipo… 'No tienen que preocuparse de que yo aprenda de los errores'… Va a ser difícil de digerir", dijo durante su conferencia de prensa posterior al partido. "Pero lo haremos útil".
Los Dolphins buscarán recuperarse de su derrota en el extranjero el 19 de noviembre, cuando reciban a Las Vegas. Los Chiefs buscarán aprovechar su victoria en el extranjero el 20 de noviembre, cuando se enfrenten a Filadelfia en el GEHA Field del Arrowhead Stadium en una revancha del Super Bowl LVII. Busque la cobertura de ese juego y del encuentro como visitante entre Kansas City y Las Vegas del 26 de noviembre en la edición del 30 de noviembre de Dos Mundos.
Nota: Para ver la conferencia de prensa de Mahomes en su totalidad, visite el canal oficial de YouTube de los Chiefs. Para ver la conferencia de prensa de McDaniel en su totalidad, visite el canal oficial de YouTube de los Dolphins.