By Jesus Lopez-Gomez
La Fiesta del Barrio volverá este verano.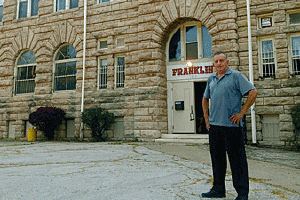 El segundo carnaval del Día del Trabajo del barrio de Argentine regresará el 30 de agosto de 10 a.m. a 7 p.m. en el Centro Franklin, ubicado en 1403 Metropolitan Ave. en Kansas City, Kan.
Ruperto Aguirre, un voluntario con el Centro Franklin y organizador del festival, comentó que los visitantes vendrán a un evento de más o menos el doble del tamaño que el año anterior. La celebración atraerá a 30 proveedores para la celebración del barrio —un aumento comparado con los 14 del 2013.
Junto con la comida tradicional como carnitas y paletas, la Fiesta del Barrio también tendrá barbacoa y hot-dogs a los asistentes. Además, un puesto de frutas y verduras ofrecerá bocadillos nutritivos para los visitantes.
Otros proveedores venderán artesanías junto a los representantes de State Farm y otorgarán información sobre los servicios comunitarios esenciales, como la sucursal de Argentine de la Biblioteca Pública de Kansas City Kan. El festival también contará con una gran variedad de invitados musicales incluyendo a Karino Band, Frost and the Cold Blues Band y el DJ Edmund, que tocará una mezcla de tejano y latino.
La entrada es gratuita. Además, las atracciones para los niños —un puesto de pintura de la cara y una casa inflable— se ofrecerán gratis. En lugar de atraer un flujo de ingresos, Aguirre dijo que el propósito principal de este evento es crear conciencia del Centro Franklin, la joya arquitectónica con un siglo de antigüedad que acogerá el festival.
Con la ayuda de los jóvenes del área y los voluntarios del Colegio Comunitario de Kansas City Kansas, él ha estado tratando de dejar el lugar limpio y arreglado para visitas. Los organizadores del edificio tienen planes ambiciosos para el espacio —un área de tutorías (clases particulares), un espacio de cómputo, una heladería— pero por ahora, sólo están enfocados en la limpieza de los escombros. Aguirre y el resto de los simpatizantes de la construcción esperan tener todo listo para el 2016.
"Está tan cerca de mi corazón, porque es algo para los niños. Y todos ellos me preguntan: '¿Cuándo lo van a abrir? ¿Cuándo va a estar listo?'", refirió.
Junto con la meta del festival, la Fiesta del Barrio también será una ocasión para que los organizadores del Centro Franklin honren a sus partidarios claves: Jo-Anne Meditz, Tom Fennel y los trabajadores de la Estación de Bomberos 7 de Kansas City Missouri.
[divider]
Labor Day fiesta planned in Argentine
Fiesta del Barrio will be back this summer.
The Argentine neighborhood's second-annual Labor Day carnival will be held 10 a.m.-7 p.m. on Aug. 30 at the Franklin Center, located at 1403 Metropolitan Ave. in Kansas City, Kan. Ruperto Aguirre, a Franklin Center volunteer and festival organizer, said visitors are coming to an event roughly double the size of the first year. The celebration will bring 30 vendors to the neighborhood celebration – up from 14 in 2013.
Along with traditional foods such as carnitas and paletas, Fiesta del Barrio will offer barbeque and hot dogs to attendees. In addition, a fruits and vegetables stand will offer nutritious snacks for visitors.
Other vendors will sell crafts alongside representatives from State Farm and disseminating information about vital community services, such as the Kansas City, Kan., Public Library-Argentine Branch Library. The festival also will feature an array of musical guests, including the Karino Band; Frost and the Cold Blues Band; and DJ Edmund, who'll play a Tejano and Latin mix.
Admission is free. Moreover, the children's attractions – a face painting booth and bounce house – are being offered free. Rather than drawing a revenue stream, Aguirre said the event is primarily to raise awareness for the Franklin Center – a century-old architectural treasure that will overlook the festival.
With the help of area youth and volunteers of Kansas City, Kan., Community College, Aguirre has tried to get the place cleaned up and spruced up for tours. The building's organizers have ambitious plans for the space – a tutoring area, a computer space, an ice cream shop – but for now, they're just focused on clearing away the debris. Aguirre and the rest of the building's supporters hope to have everything ready by 2016.
"It's just close to my heart because it's something for the kids," Aguirre said. "And they all ask me, 'When are you all going to open this? When is it going to be ready?' "
In conjunction with the goal for the festival, Fiesta del Barrio will be an occasion for the Franklin Center's organizers to honor key supporters: Jo-Anne Meditz, Tom Fennel and workers from Kansas City, Mo., Fire Station 7.