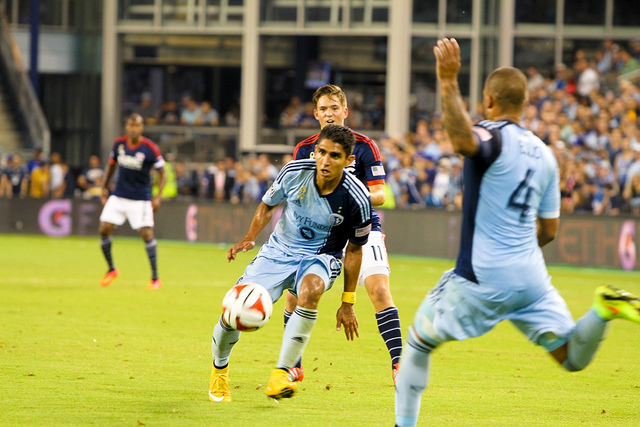 (September 26, 2014) – Sporting Kansas City were beaten 3-2 by the New England Revolution at Sporting Park on Friday. Dom Dwyer extended his single-season club record with his 20th goal of the season, while Paulo Nagamura added a goal and an assist in the defeat.
The visiting Revolution opened a 2-0 lead in the first half with goals from Kelyn Rowe and Jose Goncalves before Sporting KC struck twice in two minutes to pull level in the 56th minute. However,

U.S. Men's National Team  midfielder Jermaine Jones struck for the game-winning goal in the 85th minute with his first MLS goal since being acquired by New England in August.
Sporting KC has now suffered three consecutive home MLS losses for only the second time in club history, conceding three goals in each. The Revolution won in Kansas City for the first time since 2008 and swept the season series for only the second time in 19 years.
[flickr_set id="72157648115329652″]