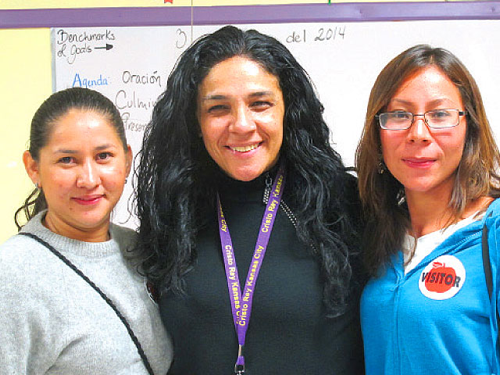 Por lo general, la estudiante de ingeniería informática salvadoreña Jenny Jiron pasa gran parte de su tiempo en el viaje de dos horas y media por autobús para llegar a clases o manejando su negocio, una compañía sin fines de lucro que vende tintes de ropa para apoyar un centro de recursos de la comunidad.
Pero ella y su compañera estudiante salvadoreña Miriam Merino han tomado un descanso de sus vidas ambiciosas para venir a Kansas City, Mo. Han venido a Estados Unidos como parte de un programa de intercambio administrado por el Centro de Intercambio y Solidaridad (CIS).
Su visita, todavía en curso al momento de cierre de esta edición, ocurre al mismo tiempo que la visita de un grupo de siete educadores hondureños que han llegado a este país a través de una visita coordinada por el grupo de defensa de maestros con sede en Independence, Missouri, "Amigos Unidos" (Friends United, en inglés), para desarrollar estrategias de enseñanza junto a sus homólogos estadounidenses. Tomando en cuenta que sus visitas coincidían, la gente a cargo de ambos encuentros decidieron que lo mejor que podían hacer sería que los grupos se reunieran.
"Simplemente estamos aquí para intercambiar ideas sobre el mejoramiento y el empoderamiento —y para comer unas buenas crepas", dijo Leslie Schuld, Directora Ejecutiva de CIS.
Y bueno, para unas crepas buenas, el restaurante Chez Elle fue una selección natural para acoger a los centroamericanos debido al trabajo de su propietaria, Ellen Trakas, en la región; el cual ella hace a través de un grupo sin fin de lucro enfocado en la alfabetización llamado Libros por la Paz. Schuld conoció a Trakas en uno de sus viajes para dejar libros en El Salvador.
El cruce de intereses hizo que la reunión fuera casi imposible de no tener.
El grupo de educadores hondureños —entre ellos, la funcionaria de gobierno Waldina González —pasará dos semanas en Estados Unidos siendo aprendiz y atendiendo a conferencias con maestros en Independence, Platte City y el Fuerte Osage. Durante el tiempo libre, el grupo se ha sumergido en la historia de la zona y ha disfrutado el estilo de tiempo libre particular del medio oeste que ha incluido, por ejemplo, paseos en carruajes, los cuales todos han reportado como su favorito.
El grupo fue honrado recientemente durante un banquete de caridad de Amigos Unidos.
En cuanto a Jiron y Merino, ellas dijeron que sólo están esperando llevar la experiencia de Estados Unidos de regreso a sus compañeros y obtener algunas ideas sobre cómo fortalecer sus esfuerzos para empoderar a sus comunidades.
[divider]
Central American students and teachers visit KC
by Jesus Gomez Lopez
Usually, much of Salvadorian computer engineering student Jenny Jiron's time is spent on the two-and-a-half hour bus ride to class or running her business, a non-profit that sells clothing dyes to support a community resource center.
But Jiron and fellow Salvadorian student Miriam Merino have taken a break from their go-getter lives to come to Kansas City, Mo. They've come to the United States as part of an exchange program run by the Centro de Intercambio y Solidaridad (Center for Exchange and Solidarity in English – or CIS).
Their visit, still underway at press time, falls at the same time as a visit from a group of seven Honduran educators who've come stateside through a visit coordinated through Independence, Mo.-based teacher advocacy group Friends United to develop teaching strategies alongside their U.S. counterparts. Given the group's coinciding visits, the folks running both visits decided the best thing to do would be to have the groups meet.
"We're just here to exchange ideas about improvement and empowerment — and eat good crepes," said Leslie Schuld, CIS executive director.
Good crepes notwithstanding, the restaurant Chez Elle was a natural pick for hosting the Central Americans because of owner Ellen Trakas' work in the region, which she does through a literacy-focused non-profit group Libros Para La Paz (Books for Peace in English). Schuld met Trakas on one of her trips to drop off books in El Salvador.
The intersecting interests made the meeting all but impossible not to have.
The group of Honduran educators — among them, government official Waldina Gonzalez — will spend two weeks in the United States shadowing and conferencing with teachers in Independence, Platte City and Fort Osage. During the off time, the group has taken in the history of the area and enjoyed a particularly Midwestern brand of leisure that has included, for example, hayrides, which everyone reported to have liked the best.
The group was honored recently during a Friends United charity banquet.
As for Jiron and Merino, they said they're just hoping to bring the experience of the United States back to their peers and get some ideas for how to strengthen their efforts to empower their communities.