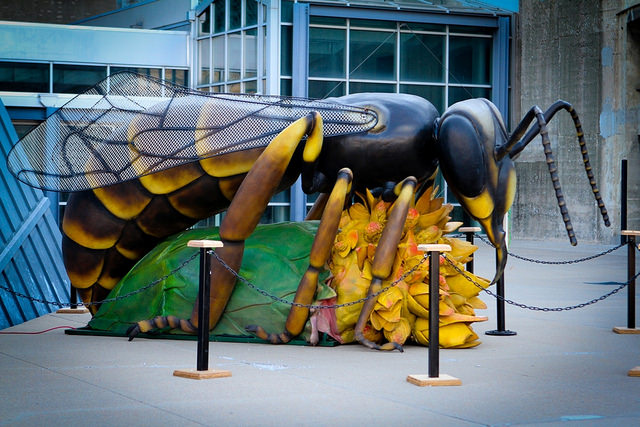 Durante los próximos meses, los visitantes de Union Station estarán contentos o alarmados de saber que el local de Kansas City, Missouri, se ha visto invadido por bichos.
Muchos de ellos. Hormigas, chinches, cucarachas; e incluso una araña de 10 pies de altura.
Más de 100 esculturas de bichos han sido reproducidas en proporciones absurdamente grandes para "BICHOS Xtremos" ("Xtreme BUGS" en inglés), una exposición que se inauguró oficialmente el 17 de octubre en Union Station; y que permanecerá hasta abril del 2015. Alrededor de una quinta parte de las estatuas gigantes de bichos son en realidad robots móviles que acechan el interior tenebroso de la exposición. La exhibición también cuenta con exposiciones interactivas de iPad, las cuales están cargadas con un software especial que revela características especiales de las estatuas de bichos enormes.
Michael Engel, un entomólogo principal de la Universidad de Kansas (KU), presentó "BICHOS Xtremos" a los estudiantes de la escuela primaria Eugene Ware que estaban reunidos en la antecámara de la exposición como un estudio sobre la infraestructura esencial del medio ambiente. Aunque ellos señalaron que tenían conocimiento previo de que los insectos ayudan a polinizar los cultivos, parecían menos conscientes de que los bichos están purificando el aire y actúan como barómetros de la frescura de agua.
"Son tan importantes para ustedes como su corazón", informó Engel.
Lo que es más, "hay más bichos que plantas, que personas… que ambos combinados", añadió.
Engel fue llamado para traer la importancia de la entomología a la región. KU fue, en parte, fundada bajo un programa de estudio de bichos robusto, "la casa de la ciencia de insectos", según Engel.
"BICHOS Xtremos" está abierto de 10 a.m. a 5 p.m. de martes a jueves; de 10 a.m. a 7 p.m. los viernes y sábados; y de 11 a.m. a 6 p.m. los domingos. La exhibición está cerrada los lunes. La entrada cuesta $9.50 para el público en general; y $ 7.50 para los miembros de Union Station. Los niños menores de 3 años entran gratis.
[divider]
Union Station overtaken by bugs
By Jesus Lopez-Gomez
During the upcoming months, visitors to Union Station will be either pleased or alarmed to learn that the Kansas City, Mo., venue has been overtaken by bugs.
Lots of them. Ants, stinkbugs, cockroaches. Even a 10-foot-tall spider.
More than 100 bug sculptures have been rendered in absurdly large proportions for "Xtreme BUGS," an exhibit that officially opened on Oct. 17 at Union Station, and will run until April 2015. About a fifth of the giant bug statues are actually moving robots that stalk the exhibit's spooky interior. The exhibit also features interactive exhibits with iPads, which are loaded with special software that reveals special features on the huge bug statues.
Michael Engel, a senior entomologist with the University of Kansas (KU), introduced "Xtreme BUGS" to the Eugene Ware Elementary School students gathered in the exhibit's antechamber as a study in the environment's essential infrastructure. Although the students signaled they had prior knowledge that bugs help pollinate crops, they seemed less aware that the bugs are purifying the air and act as bellwethers for water freshness.
"They're as important to you as your heart," Engel said.
What's more, "there are more insects than plants, than people, than both combined," Engel added.
Engel was summoned to bring the importance of entomology to the region. KU was, in part, founded on a robust bug study program, "the home of insect science," according to Engel.
"Xtreme BUGS" is open 10 a.m.-5 p.m. Tuesday-Thursday, 10 a.m.-7 p.m. Friday-Saturday and 11 a.m.-6 p.m. on Sundays. The exhibit is closed on Mondays. Admission is $9.50 for the general public, and $7.50 for Union Station members. Children under 3 are admitted free.