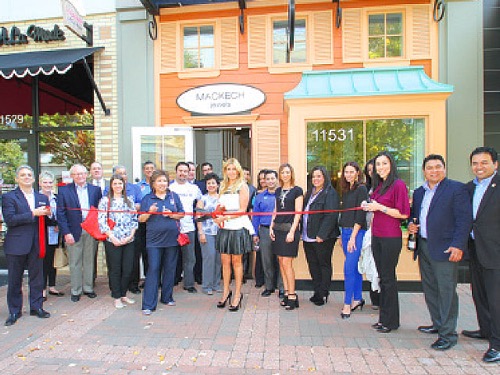 Una marca de joyería nueva para el área de Kansas City tiene lazos con una vieja leyenda.
La marca es Mackech, creada por los padres de Georgina Herrera para promover la cultura mexicana y la fuerza laboral de ese país, se vende en diferentes países en todo el mundo. Recientemente, una tienda Mackech Jewels abrió en Leawood, Kansas. La joyería hace referencia a la leyenda maya.
"Mackech es una historia de amor", explicó Georgina durante una entrevista reciente. "Cuzan, una princesa maya, se enamoró de un plebeyo llamado Chalpol. Cuando el padre de Cuzan … (se enteró) del romance, decidió castigar a Chalpol y lo iba a sacrificar".
"Su hija le pidió que lo perdonara y dijo que… nunca lo volvería a ver", continuó. "El rey perdonó a Chalpol, pero un brujo lo convirtió en escarabajo y se lo llevó a la princesa. Ella lo cubrió con piedras preciosas y lo abrochó cerca de su corazón".
Georgina, quien se crió en Guadalajara, Jalisco México, se inspiró para traer la joyería Mackech a Estados Unidos mediante el éxito de la marca en otros lugares… fue un proceso gradual.
"Al principio, comencé promovienndo nuestros productos en demostraciones pequeñas en los hogares", recordó. "Acostumbraba tener una demostración una vez al año. Luego para mayo del 2011, nos convertimos en el abastecedor oficial para Sam's Club. Ahora en el 2014, hemos abierto nuestra primera tienda de venta al menudeo".
Ella piensa que la originalidad y calidad caracterizan la joyería de Mackech.
"Utilizamos piedras preciosas, fabulosos diseños; y eso es algo que la gente disfruta… usar", dijo.
Todos los productos Mackech están basados en el escarabajo mexicano.
"Pienso que somos únicos porque mostramos nuestra marca de una manera muy particular", indicó.
Mackech Jewels está abierta de lunes a miércoles de 10 a.m. a 6 p.m.; de jueves a sábado de 10 a.m. a 7 p.m.; y los domingos de 11 a.m. a 4 p.m.; está localizado en Park Place en 11531 Ash St. Para más información llame al (913) 906-9122. Para recibir más información sobre los diseños de Mackech, visite https://www.facebook.com/mackech.jewels.
[divider]
Mackech jewelry arrives in KC
A brand of jewelry that's new to the Kansas City area has ties to an old legend.
The brand is Mackech. Created by Georgina Herrera's parents to promote Mexican culture and Mexico's workforce, Mackech is sold in several countries worldwide. Recently, a Mackech Jewels store opened in Leawood, Kan. The jewelry makes references to a Mayan legend.
"Mackech is a love story," Herrera explained during a recent interview. "Cuzan, a Mayan princess, fell in love with a plebeian named Chalpol. When Cuzan's father … (found out) about the romance, he decided to punish Chalpol. He was going to sacrifice him."
"His daughter asked him to forgive him and (said) she … (wouldn't) ever see him again," she continued. "The king spared Chalpol, but a sorcerer turned him into a beetle and brought him to the princess. She covered him with precious stones and pinned him close to her heart."
Herrera, who grew up in Guadalajara, Jalisco, Mexico, was inspired to bring Mackech jewelry to the United States by the brand's success elsewhere. It was a gradual process.
"At the beginning, I started moving our products in little parties at home," she recalled. "I used to have a party once a year. Then, by May 2011, we became an official supplier for Sam's Club. Now, it is 2014 and we have opened our first retail store."
Herrera believes that originality and quality characterize Mackech jewelry.
"We use precious stones, great designs – and it is just something that people enjoy … wearing," she said.
All the Mackech products are based on the Mexican beetle.
"I think we are unique because we show our brand but in a very particular way," Herrera said.
Open 10 a.m.-6 p.m. Monday-Wednesday, 10 a.m.-7 p.m. Thursday-Saturday and 11 a.m.-4 p.m. Sundays, Mackech Jewels is located at Park Place on 11531 Ash St. For more information, call (913) 906-9122. To learn about Mackech designs, visit https://www.facebook.com/mackech.jewels.