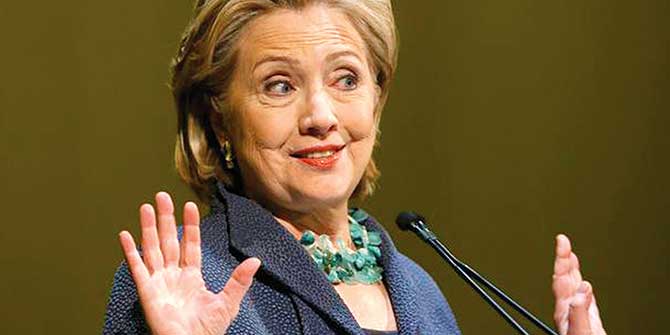 El martes, 10 de marzo, Hillary Clinton sostuvo una conferencia de prensa en la Ciudad de Nueva York para abordar las acusaciones sobre que había violado la ley federal al utilizar su cuenta privada de e-mail para realizar negocios mientras fungía como Secretaria de Estado.
"Pensé que sería más fácil llevar un dispositivo para mi trabajo", dijo Clinton según la citó CBS. "Al mirar hacia atrás, quizá habría sido más inteligente utilizar dos dispositivos, pero yo tengo absoluta confianza en que todo lo que podría estar en cualquier forma conectado con el trabajo está ahora en manos del Departamento de Estado".
Según el Departamento de Estado, ellos revisarán más de 55,000 páginas de e-mails – un proceso que esperan tomará varios meses. El Departamento de Estado anunció que los e-mails de Clinton serían publicado en línea.
Clinton speaks up about e-mail controversy
By Chara
On Tuesday (March 10), Hillary Clinton held a press conference in New York City to address accusations that she had violated federal law by using her private e-mail account to conduct business while serving as secretary of state. 
"I thought it would be easier to carry one device for my work," Clinton was quoted by CBS as saying. "Looking back, it would have probably been smarter to use two devices, but I have absolute confidence that everything that could be in any way connected to work is now in the hands of the State Department."
According to the Department of State, it will review more than 55,000 pages of e-mails – a process expected to take several months. The State Department announced that Clinton's e-mails would be published online.