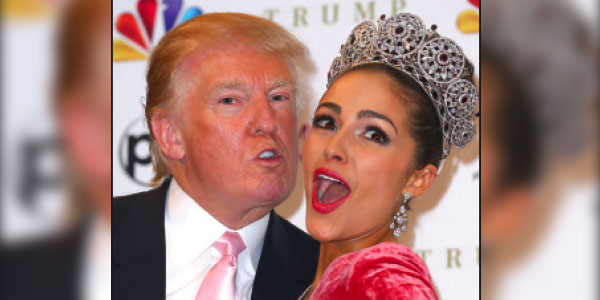 El 25 de junio, Univisión anunció que había cortado enlaces con el magnate y candidato presidencial de Estados Unidos, Donald Trump debido a las declaraciones que hizo recientemente sobre los inmigrantes mexicanos en los Estados Unidos.
Durante un discurso en Nueva York cuando Trump declaró su candidatura para la presidencia, dijo: "Cuando México envía a su gente, no está enviando a los mejores. Está enviando gente que tiene muchos problemas, y están trayendo esos problemas,  drogas, crimenes y violadores."
En respuesta, Univisión – el conglomerado hispano de medios de comunicación más grande en Estados Unidos -hizo una declaración diciendo que no transmitiría el desfile Miss USA de este año. Trump ha sido dueño del desfile anual de belleza y talento por casi 20 años mediante la Organización Miss Universo, una parte de las Trump Enterprises.
De acuerdo con reportes de noticias, el contrato de Univisión con la  Organización Miss Universo fue evaluada en más de $13 millones de dólares.
Además, Univisión indicó en su declaración que no trabajaría con ningún proyecto que esté relacionado con la organización de Trump.
Los representantes de Trump dijeron que tomarían acción legal en respuesta a las acciones de Univisión. En su cuenta de Twitter, Trump culpó al gobierno mexicano por las acciones de Univisión.
"Univisión está totalmente determinada para el gobierno mexicano", citó a Trump la Prensa Asociada. "Quieren silenciar a Donald Trump y  Donald Trump no puede ser silenciado. Tengo gran respeto por México y me encanta el pueblo mexicano, pero mi lealtad es para los Estados Unidos".
Además de Univisión , NBC y Televisa anunciaron el término de relaciones comerciales con Trump. Ambas compañías anunciaron que no pondrán al aire los concursos de Miss USA y Miss Universo.
En un comunicado, Televisa dijó que la compañía , "rechaza enérgicamente todas las formas de discriminación, el racismo y la xenofobia ".
Como respuesta a NBC y Televisa , Trump dijo que ambas compañías están haciendo lo que es correcto políticamente. "Lo que quieren hacer conmigo está bien, " Trump dijo a la cadena de noticias ABC.
El lunes 29 de junio , Lupita Jones , ex Miss Universo anunció México no enviará ningún participante al concurso de belleza.
"Es una vergüenza que a causa de sus comentarios racistas perdamos lo que el concurso ha promovido y representado durante tantos años, que es un ambiente de armonía y paz entre las naciones. No vamos a participar en MU ( Miss Universo ) . " Jones publicó, en su cuenta twitter.
Después de sus declaraciones, Trump se ha enfrentado a las críticas de varias compañías, incluyendo Macy's. La compañía emitió un comunicado diciendo que están a favor de la diversidad y que no toleran la discriminación. Además, Macy's anunció el retiro de mercancía de las marca de Donal Trump de sus tiendas .
---
Univison, NBC and Televisa cut ties with Trump
By Chara
On June 25, Univision announced it had cut ties with business mogul and U.S. presidential candidate Donald Trump because of remarks he had made recently about Mexican immigrants in the United States.
During a speech in New York when Trump declared his candidacy for the presidency, he said: "When Mexico sends its people, they're not sending their best. They're sending people that have lots of problems, and they're bringing those problems with … (them). They're bringing drugs. They're bringing crime. They're rapists."
In response, Univision – the largest Hispanic media conglomerate in the United States – released a statement saying it wouldn't air this year's Miss USA Pageant. Trump has owned the annual beauty and talent pageant for almost 20 years through the Miss Universe Organization, a part of Trump Enterprises. According to news reports, Univision's contract with the Miss Universe Organization was valued at more than $13 million. 
In addition, Univision indicated in its statement it wouldn't work on any project tied to Trump's organization.
Trump's representatives said he would pursue legal action in response to Univision's actions. On his Twitter account, Trump blamed the Mexican government for Univision's actions. 
"Univision is totally laying down for the Mexican government," Trump was quoted by the Associated Press as saying. "They want to silence Donald Trump. And Donald Trump can't be silenced. I have great respect for Mexico and I love the Mexican people, but my loyalty is to the United States." 
In addition to Univision, NBC and Televisa announced the ending of business relationships with Trump. Both companies announced they will not air the Miss USA and Miss Universe pageants.
In a statement, Televisa said the company, "strongly rejects all forms of discrimination, racism and xenophobia."
As a response to NBC and Televisa, Trump stated that both companies are doing what is politically correct. "Whatever they want to do is OK with me," Trump was quoted as saying by ABC News.
On Monday June 29, Lupita Jones, former Miss Universe announced Mexico won't be sending any participant to the contest. 
"It's a shame that because of his racist comments we lose what the contest has promoted and represented during so many years, which is an atmosphere of harmony and peace among nations. We will not participate in MU (Miss Universe)." Jones posted on twitter.
After his remarks, Trump has faced the criticism from several companies including Macy's. The company released a statement saying they stand for diversity and that they don't tolerate discrimination. Moreover, Macu's announced they are pulling Donald Trump brand merchandise from its stores.