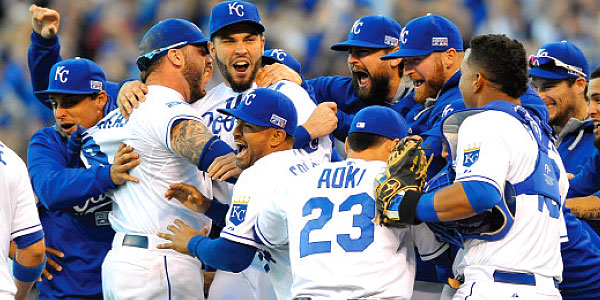 Transmisión será parte de celebración Vivan Los Reales
Los aficionados al béisbol que han querido escuchar una transmisión en español por radio de los Reales de Kansas City pronto tendrán su oportunidad.
La Grande (KDTD, 1340 AM) – una estación propiedad de Reyes Media Group cual también es dueño de Dos Mundos, ayudará a conmemorar la Noche Vivan Los Reales el 25 de julio transmitiendo el juego Reales-Houston en vivo desde el estadio Kauffman. La transmisión empezará con un programa preliminar al juego a las 5:30 p.m., y el primer lanzamiento está programado para las 6:10 esa noche desde "The K".
"KDTD 1340 AM La Grande/Reyes Media Group está emocionado sobre esta oportunidad de asociarse con los Reales de Kansas City para transmitir por primera vez en español un juego de los Reales " dijo Diana Reyes Raymer, gerente general de Reyes Media Group mediante un comunicado de prensa de los Reales. "Los admiradores de los Reales pueden experimentar la pasión y emoción que llevan al juego los locutores deportivos en español. Invitamos a que todos nos sintonicen el sábado 25 de julio y disfruten de un juego emocionante y  respalden a "Los Reales!".
Los "locutores en español" para este juego serán Cookie Rojas, Francisco Romero y Alex Treviño. Rojas, originario de Cuba, fue jugador de base interna para los Reales desde 1970 a 1977 y los ayudó a ganar los campeonatos de la división AL Western en 1976 y 1977. Él es miembro del Salón de la Fama de los Reales.
Romero y Treviño pertenecen al equipo de transmisión de radio en español para los Astros, quienes  transmiten simultáneamente para los radioescuchas del área de Houston. Romero, un locutor deportivo veterano y reportero, ha sido el locutor en español de Houston desde 2008. Treviño, mexicano y ex jugador de las ligas mayores, es el analista de juego de Romero.
El trío transmitirá un juego de la Liga Americana que presentará un buen número de jugadores latinos. De acuerdo con el comunicado de prensa de los Reales,  en la lista de jugadores de Kansas City incluye a siete jugadores latinoamericanos y un jugador americano pero criado en Latinoamérica. Como parte de las festividades de Vivan los Reales, los primeros 15,000 asistentes recibirán un muñeco de Yordano Ventura, lanzador de la República Dominicana que está en su tercera temporada con los Reales.
La lista de jugadores de Houston incluye a jugadores de la República Dominicana, Puerto Rico y Venezuela.
---
La Grande 1340 AM to broadcast Royals-Astros game
Broadcast to be part of Viva Los Reales celebration
Compiled by the Dos Mundos Staff 
Area baseball fans who've wanted to hear a Kansas City Royals radio broadcast in Spanish will soon have their chance.
La Grande (KDTD, 1340 AM) – a station owned by the Reyes Media Group, which also owns Dos Mundos – will help commemorate Viva Los Reales Night on July 25 by broadcasting the Royals-Houston Astros game live from Kauffman Stadium. The broadcast will begin with a 5:30 p.m. pregame show, with the first pitch scheduled for 6:10 that night from "The K."
"KDTD 1340 AM La Grande /Reyes Media Group is excited about this opportunity to partner with the Kansas City Royals to broadcast a Royals game in Spanish for the first time," said Diana Reyes Raymer, Reyes Media Group general manager via a Royals press release. "Royals fans can experience the passion and excitement that Spanish announcers bring to the game. We invite everyone to tune in on Saturday, July 25 and enjoy an exciting game and root for 'Los Reales!' " 
The "Spanish announcers" for this game will be Cookie Rojas, Francisco Romero and Alex Trevino (Treviño in Spanish). Rojas, a native Cuban, was a Royals infielder from 1970 to 1977 and helped them win the 1976 and 1977 AL Western Division titles. He's a member of the Royals Hall of Fame.
Romero and Trevino are the Spanish-language radio broadcasting team for the Astros, who are having the broadcast simulcast for Houston area listeners. Romero, a veteran sports announcer and reporter, has been Houston's Spanish-language play-by-play announcer since 2008. Trevino, a Mexican native and an ex-major leaguer, is Romero's game analyst. 
The trio will broadcast an American League matchup that will feature a fair number of Latino players. According to the Royals' press release, Kansas City's roster includes seven Latin American-born players and an American-born/Latin American-raised player. As part of the Viva Los Reales festivities, the first 15,000 fans will receive a Bobblehead doll of Yordano Ventura, a Dominican Republic-born pitcher who's in his third season with the Royals. 
Houston's roster includes players from the Dominican Republic, Puerto Rico and Venezuela.