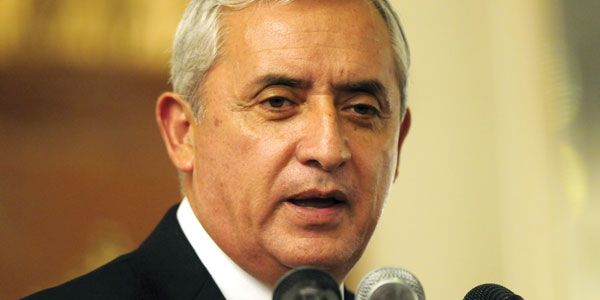 El presidente guatemalteco Otto Pérez Molina renunció el 3 de septiembre en medio de acusaciones de corrupción
Pérez Molina renunció después de protestas en las calles por parte de los guatemaltecos y la orden de un juez para su arresto. El Congreso guatemalteco aceptó unánimamente su renuncia, haciéndolo el primer presidente guatemalteco en renunciar.
Como medida temporal, el Congreso guatemalteco nombró al vicepresidente Alejandro Maldonado como el sucesor de Pérez Molina.
De acuerdo con varios analistas políticos, Guatemala se ha convertido en un ejemplo importante a seguir para los países latinoamericanos que enfrentan la corrupción. Por ejemplo, el pueblo de México está insistiendo en que el presidente mexicano Enrique Peña Nieto debe seguir el ejemplo de Pérez Molina y renunciar debido a su propio escándalo de corrupción.
Después de la entrega de la renuncia de Pérez Molina, varias personas en Guatemala empezaron a publicar en los medios sociales su placer por la decisión. El usuario de Twitter @avilarenata declaró: "Llegó la justicia. Los pueblos de Ixil, entre los más nobles y amables que he conocido, finalmente fueron testigos del descenso del comandante Tito".
Sin embargo, de acuerdo con USA Today, Pérez Molina insiste que es inocente y está utilizando los medios de comunicación para reclamar su inocencia. Durante una reciente entrevista de radio, él dijo que no "confía en la justicia guatemalteca". Él también persistió en su inocencia recientemente en la televisión guatemalteca.
"Categóricamente niego y rechazo la asociación en la que estoy implicado..ni recibí ningún dinero de ardid  de fraude de aduanas", dijo el ex presidente.
_________________________________________________________________________________________________
Guatemalan president resigns
By Chara
Guatemalan President Otto Perez Molina resigned on Sept. 3 amid accusations of corruption.
Perez Molina resigned following protests in the streets by Guatemalans and a judge's order for his arrest. The Guatemalan Congress unanimously accepted his submission of resignation, making him the first Guatemalan president to resign.
As a temporary measure, the Guatemalan Congress appointed Vice President Alejandro Maldonado as Perez Molina's successor.
According to several political analysts, Guatemala has become an important example for Latin American countries facing corruption to follow. People in Mexico, for example, are insisting that Mexican President Enrique Pena Nieto (Peña Nieto in Spanish) should follow Perez Molina's lead and resign because of his own corruption scandal.
After Perez Molina's submission of his resignation, several people in Guatemala started posting their pleasure with the decision on social media. Twitter user @avilarenata stated: "Justice arrives. The Ixil peoples, among the noblest and kindest I ever met, finally witnessed the decline of Comandante Tito."
According to USA Today, however, Perez Molina insists he's innocent. He's using the media to proclaim his innocence. During a recent radio interview, he said he doesn't "trust Guatemalan justice." He also insisted on his insistence recently on Guatemalan television.
"I categorically deny and reject the accusation that I was involved and … received any money from that customs fraud scheme," the former president said.